You've ridden under the Rialto in a Gondola, stood in awe at St. Mark's Square, and been captivated by the canals of the city, but now you're wondering, where to go from Venice?
The answer is deliciously simple: Emilia Romagna.
Perhaps most famous for its cuisine (tagliatelle al ragù anyone?), the region is also rich in history and heritage, architecture and art, and the capital city of the region, Bologna, is the perfect place to start admiring and tasting it. With seemingly never-ending porticos, the oldest university in the world, and UNESCO recognised status as a Creative City of Music, it's a city you could spend many days falling in love with.
Whether you are looking for places close to Venice by car or direct train, Bologna can be reached in under two hours by either. Once you're in this beloved city of cuisine and culture, it's quick and easy to explore other magical destinations in the region, such as Parma (famed for Prosciutto di Parma), Modena (complete with UNESCO World Heritage Site) and Reggio Emilia. All of which can either be day-trips, using Bologna as a base, or visited as a linear route.
Here you'll find an introduction to the destinations, and below a suggested itinerary focused on the Emilia side, perfect to continue your Italy trip from Venice, and make the most of your time here in just three days.
With a focus on the culture and history of these fantastic cities, coupled with some local culinary treats, prepare to feast, both with your eyes and your taste buds.
Bologna and Regional Cuisine
While Bologna even has its own, albeit somewhat hidden selection of canals, if you are coming from Venice, then you'll likely be more intrigued by the twin leaning towers, mouth-watering cuisine, and the impressive architecture of countless churches, cathedrals and plazas.
Bologna is a city of art, of music, and of gastronomy – and somewhere I love dearly. It's here you'll find the oldest western university in the world, founded in 1088, and today it's history can be found across the city. From grand libraries that will take your breath away, to historic medical training facilities set around a wooden amphitheatre.
To visit Bologna is to visit the university, as it sprawls out across the city. Bologna itself is linked together by some 40-kilometres of porticos (covered walkways), each one taking you to a new wonder. Medieval palaces sit alongside Romanesque cathedrals in grand squares, and the city's architecture spans centuries of different influences.
You could easily spend days exploring the numerous galleries and museums in the city thanks to the countless famed artists who have decorated the city, from Michelangelo's sculpture work to Morandi's paintings. Beyond the adorned walls and halls, there are numerous adorned plates with food being just as much a work of art in the region.
In Bologna, you can sample traditional ragù Bolognese, alongside local homemade pasta such as tagliatelle and tortellini, while the region as a whole offers many Protected Designation of Origin flavours.
From Prosciutto di Parma and Parmigiano Reggiano to Lambrusco and Traditional Balsamic Vinegar – all of which can be sampled on this itinerary in their 'birthplaces'.
There's a reason Emilia-Romagna is often referred to as the 'home of food'.
Modena
The grandeur of Modena's architecture has earnt it a worthy UNESCO World Heritage recognition, specifically for the impressive Cathedral, Tower and Piazza Grande. It's a relatively compact city, especially the historic centre, and easy to explore on foot, though in sharp contrast it's also home to world-renowned car makers Ferrari and Maserati, also earning it the nickname of 'Motor Valley'.
For culture and history lovers though, it delights in many ways. For over 500 years the city was ruled by the Este family, and it's their wealth which created some of the most impressive architecture, and displays of art, that can be found here. Hiring master sculptors and refined architectures, they created a painting-like city, with the buildings found on and around Piazza Grande providing both intricate details and imposing grandeur.
Reggio Emilia
Smaller, and lesser-visited, Reggio Emilia sits in-between Parma and Modena, but certainly shouldn't be overlooked. While the city might not have as many grand buildings as others in the region, it's a city to be savoured, with a dreamy quality of life you'll slip into soon after arriving, and the enjoyment derived from the arts evident in the three theatres found here.
In 1797, the tricolour flag that eventually became the nations was adopted in Reggio Emilia, its biggest historic claim to fame, but it's also part of the Protected Designation of Origin for both Parmigiano Reggiano and Balsamic Vinegar.
Parma
The current Italian capital of culture, Parma will take you on a tour through the ages. Founded in 183 B.C by the Romans, remains of history, and various movements and influences of architecture and culture can be found here.
On Piazza Duomo, you'll struggle to find a wide-angle lens that can capture all of this grand architecture in one image. An octagonal, pink-marble Baptistery sitting alongside a grand Cathedral, and a palace, allows you a glimpse into Romantic and Gothic design. Elsewhere in the city, strolling across the modern-day Piazza Garibaldi you'll be laying footsteps where the Roman Forum once stood, while the Palatina Library, inside the Pilotta Palace, shows the more 'recent' history of Parma, from the 1600-1700 hundreds.
Needless to say, you'll want to bring a camera (and maybe a notebook) to capture all of the history, culture and art that this route through Emilia Romagna offers!
A three-day Emilia Romagna itinerary: Venice to Bologna to Parma
While there are many attractions and experiences to be had in these cities, especially in Bologna (I've visited three times, and my list gets longer and longer each visit) you'll want to be sure to make the most of your time during your trip to Emilia Romagna from Venice, without being rushed or overwhelmed – this is Italy afterall, and taking it slow and savouring the moment is essential.
This sample itinerary will allow you to enjoy the highlights of the Venice to Bologna to Parma route at an enjoyable pace, but if you are planning to visit on a Sunday, be sure to check opening hours and adapt accordingly, and don't forget to book any tastings, tickets or tours in advance.
Day one: Venice to Bologna
Enjoy a quick espresso and brioche so you can hit the road early, they'll be plenty of time for stomach filling once you arrive in Bologna.
The drive from Venice is around 150km, so if you leave at 8 am you'll be exploring Bologna by 10 am. The fastest trains take just over ninety minutes.
Park up outside the city centre, or take the short walk from the train station, and be transported to a land of medieval, gothic, and Renaissance architecture.
Bologna is a delightful city to explore on foot, or by bicycle, so depending on your preference, and the ground you wish to cover, a bike rental might be the first stop of the day.
The iconic Two Towers, the symbol of the city, are a great place to start. Dating back to the middle ages, the two towers, Degli Asinelli and Garisenda, were built for military purposes. Leaning more than Pisa, and at 97 metres high, the 498 steps up the interior wooden staircase might sound like a challenge, but the views across the city from the top are outstanding. Be sure to book your ticket in advance, essential to keep the narrow stairways from overcrowding.
Next up, enjoy a self-guided tour of the western worlds oldest university. The Alma Mater Studiorum (University of Bologna) stretches across the city, with many ancient buildings to explore in all corners you'll need a few hours, providing the perfect chance to slowly experience and see the city.
Venture inside the breathtaking historic library, the Palazzo Poggi (a 16th-century space housing art and a museum), the Spanish College and the all-wooden anatomical theatre – perhaps one of the most impressive stops in the city. Dating back to the 1600s, this grand hall was once used for presenting anatomy lectures for the medical school students.
While moving between buildings, you'll see many outside museum-like areas such as Palazzo dell'Archiginnasio and the many squares and porticos you'll walk through also leave you in awe.
In the late afternoon, head to the Sanctuary of the Madonna di San Luca, some 300-metres above the city. As well as being a notable place of worship, the beautifully curved construction offers wide vistas from the viewing platform.
A little train will bring you here, to maximise time, while a return walk through seemingly endless porticos right down to the city-centre will take around an hour, and provide countless photo opportunities – especially as the sun starts to set. This four-kilometre stretch of porticos is, in fact, the longest in the world.
The Teatro Comunale di Bologna is a dream to both visit, and enjoy a performance at – in these cities so rich in art and architecture, music completes the package. The theatre itself is magnificent even before a single note is played, opened in 1763 and designed by renowned Antonio Galli Bibiena it shouldn't be missed. Do try and book tickets if a performance is on during your visit, or if not, try to factor in joining one of the guided tours on selected days, around 10:30 am, perhaps for the next morning.
After a rousing performance, a post-theatre dinner will be in order. This is truly the city of food and a perfectly cooked Tagliatelle al Ragù at one of the many small, family-run restaurants, is the perfect end to the day.
Day two: Bologna and Modena
After a cappuccino and cornetto (a brioche come croissant variation with various stuffings – delicious) you'll be all set to continue exploring more of beautiful Bologna.
Spend this morning enjoying the centrally located Piazza Maggiore, dipping in and out of the stunning buildings. First, head inside the Basilica di San Petronio, the most important church in the city hailing back to the 14th-century. Nearby, the Fountain of Neptune is a prominent sculpture in the city, while across the square, the historic chapels and art gallery of Palazzo d'Accursio shouldn't be missed.
After a quick lunch, it's time to continue to Modena. The quickest train from Bologna to Modena is around 20-minutes, while the drive is around an hour, but before exploring the city itself, reserve an hour for a tasting with a slice of history.
At Giusti, you'll find the country's oldest Balsamic Vinegar producer. Aim to arrive for 2 pm, when tours resume after lunch (pre-book online) and you'll be amazed by the varieties, and flavours, of Balsamic Vinegar – right through to aged balsamic that goes surprisingly well with ice cream!
To reach Giusti, it's around a 15-minute drive from Modena, or without a car, you can take a quick regional train to the Quattro Ville station, followed by a short walk.
Once in Modena's historic centre, start with the UNESCO World Heritage Site of this stellar city. On the Piazza Grande, you'll stand in awe of the 12th-century Cathedral and Torre Civica.
The details both on the exterior and interior of the Cathedral deserve a slow visit, to take it all in, paying particular attention to the roman stone sculptures, while the climb to the top of the Tower will reward you with unforgettable views of the city.
For the remainder of the afternoon, there are plenty of incredible buildings to visit, although guided tours are often available only on selected days for the likes of the Palazzo Comunale (for the historic rooms with 16th-century paintings) or the Palazzo Ducale di Modena, a grand palace now functioning as a military academy.
The Galleria Estense opens until early evening, so round off the afternoon here admiring the vast collection collected by the d'Este family, the historical rulers of Modena (and nearby cities) for over five centuries.
Spend the night in Modena, or retrace your journey if you are using Bologna as a base.
Day three: Reggio Emilia and Parma
This morning we are going to take the quick 15-minute train onwards to Reggio Emilia, a journey that is around 40-minutes by car.
This compact city is an absolute delight to walk around, and savour the slower-paced way of life in Emilia. Dip into one of the many cafes for breakfast, before visiting a few of the cities main attractions.
The Reggio Emilia Cathedral and Basilica Della Ghiara are just a five-minute stroll apart, but allow an hour to marvel at them, and especially don't forget to look up to the ceilings. It's also well worth contacting the Romolo Valli Municipal Theatre in advance (visiteguidate@iteatri.re.it) to arrange a morning visit, it's spectacular inside.
Late morning, it's time to discover another of the region's most celebrated foods, Parmigiano Reggiano. While there are many chances to do so in Parma and Modena, the Consorzio Vacche Rosse (translated as the Red Cows Consortium, due to the colour of the famed local cows) is a lovely place to see the cheese production at work and enjoy a tasting.
It's around a 15-minute drive from the city to the dairy, or can be accessed by bus line 4 in 30-minutes from the station, where you'll also find taxis which may help save time. You'll need to book your tour a couple of weeks ahead by email info@consorziovaccherosse.it.
From the consortium, continue onwards to Parma. Expect the drive to be about 40-minutes, or a journey time of about an hour on public transport if timed well.
On arrival into Parma, it will certainly be lunchtime, and an obvious choice is Prosciutto de Parma, a celebrated local staple which you'll find in nearly every establishment – ideally washed back with a sampling of the local Lambrusco wine.
Next up, head to Piazza del Duomo where you'll enjoy two of the most beautiful buildings in the city. Sitting side by side, in all their might, are the Cattedrale di Parma and the pink-marbled, octagonal, Baptistery of Parma – quite the sight to behold. Inside the Cathedral the frescos will blow you away, while the Baptistery promises more of the same in its domed ceiling.
While there are many other ways to spend the remainder of the afternoon in Parma, the Palazzo Della Pilotta provides a calm and tranquil balance. Housing a gallery, grand rooms, and even a renaissance wooden theatre (Teatro Farnese) you can happily while away the time wandering around and treating your eyes to delightful art.
If you haven't quite had your fill of theatres and culture – then the Teatro Regio is another mesmerizing concert hall with intricate details. Check the programme and see if tickets are available for a wonderful performance to round off your three days on the Bologna to Parma route.
From Parma, you can either return by train or car to Bologna (under 1:30), and then retrace your journey back to Venice, or continue on the same train line/highway towards Milan in under two hours.
Though, of course, there are plenty more unmissable destinations you should be visiting in Emilia Romagna before leaving the region. The famed mosaics of Ravenna, the postcard-perfect village of Brisighella, and the Renaissance city of Ferrara just three of my further favourites – the list is boundless.
Author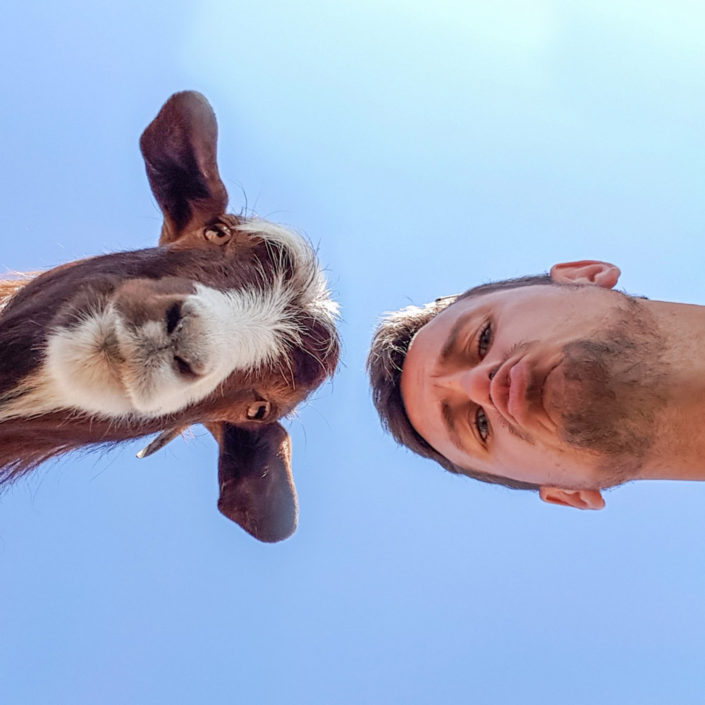 I'm obsessed with exploring the world, meeting amazing people (and goats) and getting as lost as possible with my camera. I was on the road for 1467 days between 2014 – 2018, taking a chance on changing my career from restaurants to capturing the world and somehow it all worked out…
danflyingsolo.com
You may also like