Travelers flock to Florence in Tuscany and who can blame them.
Not only is Florence a World Heritage UNESCO site, but it also has some of the best Renaissance architecture in the world with great food to match.
But just a couple hours north in Parma, it's entirely possible to experience the same great Italian culture on a more intimate scale while, at the same time, enjoying some of the best food in Italy.
Many treats await in the lesser-known travel gem just 187 kilometers from Florence.
Although the two cities are in different regions, it's easy to travel from Florence to Parma.
After a two-hour trip, travelers can tour a Parmigiano-Reggiano factory, see one of the most underrated churches in Italy, enjoy some of the world's best operas and then finish the day with an epic meal of pasta and wine.
However, the smartest travelers know to stay overnight in Parma.
Traveling from Florence to Parma
The short distance between the two Italian cities makes a weekend getaway or mid-week trip feasible. There are three viable transportation options depending on budget and timing:
the fastest option is to take a high-speed train from Florence to Bologna before making an easy connection to Parma via regional rail. This option can be as fast as an hour and 40 minutes depending on the time of day;
the cheapest option is to take regional trains from Florence to Bologna and then from Bologna to Parma. This option takes approximately three hours;
the most expensive option is to drive from Florence to Parma and is appropriate for travelers who have rented a car. Driving between the two cities takes just over two hours and affords maximum flexibility and access to attractions outside the center of town.
All three of these options are easy and convenient to plan. The deciding factors are individual
budgets and travel style.
Parma for Food Travelers
Upon arriving in Parma, travelers are immediately struck by the city's charm as well as its striking architecture that dates back centuries. Though not as famous as Florence's Duomo, Parma sites like the Parma Cathedral, Baptistry, Teatro Regio and Teatro Farnese are showstoppers for all who enter their doors.
While Florence's storied history was influenced by the Medici family, Parma has an equally fascinating history that spans the centuries. Popes, royalty and Napoleon's second wife Maria Luigia all left their marks on Parma while artists like Correggio and Verdi added to the city's vibrant cultural landscape.
But, for food travelers, Parma's best treasures lie in its gastronomy and its location in the heart of Italy's Food Valley. This is a city where generations of chefs have created a food culture that earned Parma recognition as Italy's very first UNESCO Creative City for Gastronomy.
The challenge isn't finding good food in Parma; rather, the challenge is finding stomach space to fit it all in during a short visit.
Most visitors will want to start with Parmigiano-Reggiano, Prosciutto di Parma and Culatello. These products are three of the best food products in all of Italy but not the only local specialties. The region's producers also make great salumi like strolghino while farmers grow fruits and vegetables that are top-notch. But cheese, meat, and produce are only the beginning of Parma's food bounty…Chefs in Parma have mastered the art of pasta.
Visitors who stay overnight can and should eat freshly prepared Anolini, Tagliatelle and Tortelli at every meal. These pastas never get boring with preparations like comforting Anolini in Brodo and seasonal Pumpkin Tortelli.
In Parma, it's difficult to surpass the experience of eating a simple pasta dish while sipping a glass of chilled Lambrusco wine.
Ah, Lambrusco. Produced in the Parma province, this Emilian sparkler is both readily available and a wonderful wine value. Ruby red Lambrusco is also super refreshing and pairs well with the rich, ragu-laden pastas of the region.
Drinking a glass or two (or three) at every meal is a must.
Proposed Itinerary
Staying overnight in Parma provides travelers with the opportunity to slowly experience the city's charms as well as its many culinary delights. This is a city that's easily explored on foot, though optional visits to nearby food producers require transportation and planning.
We recommend the following itinerary for any food travelers who visit Parma for three days.
Day 1
Wander around Parma's charming streets after arriving in the afternoon. This is a great time to visit historic sites like the city's Cathedral, Baptistry and Opera House.
Be sure to stop by Ciacco Lab for a scoop or two of the gelateria's award-winning gelato.
Those who plan ahead can reserve a dinner reservation at a top Parma restaurant like Trattoria Ai Due Platani or Ristorante Cocchi. Otherwise, eating pasta at a local trattoria like Osteria Dello Zingaro is a great dinner option.
Day 2
Dig deep into Parma's food culture by taking a food tour. This tour can either stay in the city center or include a visit to a nearby Parmigiano-Reggiano dairy or Prosciutto di Parma facility.
If you're feeling ambitious, you can also take an afternoon cooking class and learn how to make pasta from scratch.
Otherwise, start the evening early with a leisurely aperitivo session at a local spot like Oste Magno. By now, you should know the restaurant where you want to eat more pasta. If not, centrally located Angioli d'Or located just off the Piazza del Duomo is a solid dinner option.
Day 3
Start the morning with a cannocino pastry and an espresso or cappuccino at a local cafe like Pasticceria San Biagio or Pasticceria Cocconi.
Then end your time in Parma like you started – by wandering around the city.
This day, however, the key is to eat anything and everything that you haven't yet sampled. If you're short on time, you can always get a panini for 'take away' and enjoy a tasty last bite of the city on your return trip to Florence.
Author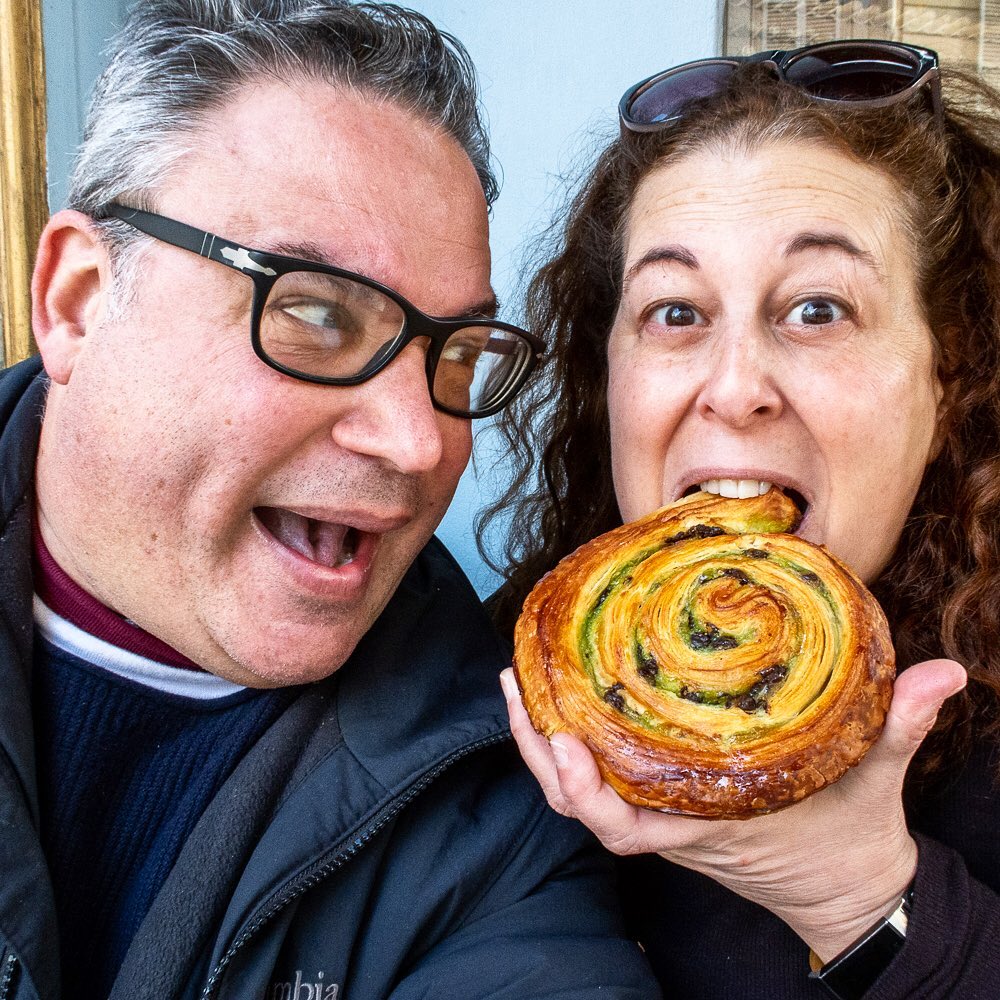 As Food + Travel content creators based in Lisbon, they travel the world in search of the next great meal. They eat it all, from street food to haute cuisine, and everything in between. Follow their foodie adventures on www.2foodtrippers.com
You may also like