Once upon a time in the most beautiful (in my eyes!) tiny kitchen my Nonna was making these wonderful little sweets: Castagnole Romagnole! I can still picture me and her making them together…and then just ME eating most of them!
Castagnole are a delicious sweet treat, most popular pastry during Carnival time in Italy.
Soft in the inside and crunchy in the outside, they're usually fried and, while still warm, rolled in sugar and drizzled of Alchermes liqueur.
Easy to make and so good you can't stop at just one! Enjoy!
Recipe
Ingredients
50 g Corn starch
400 g All purpose flour
16 g vanilla flavoured baking powder
1 organic orange zest
100g cane sugar (or caster sugar)
4  eggs
3 tbs passito liqueur (like Albana di Romagna)
1 pinch of  salt
Sunflower oil to fry
To garnish
Icing sugar (or the sugar you prefer)
Alchermes liqueur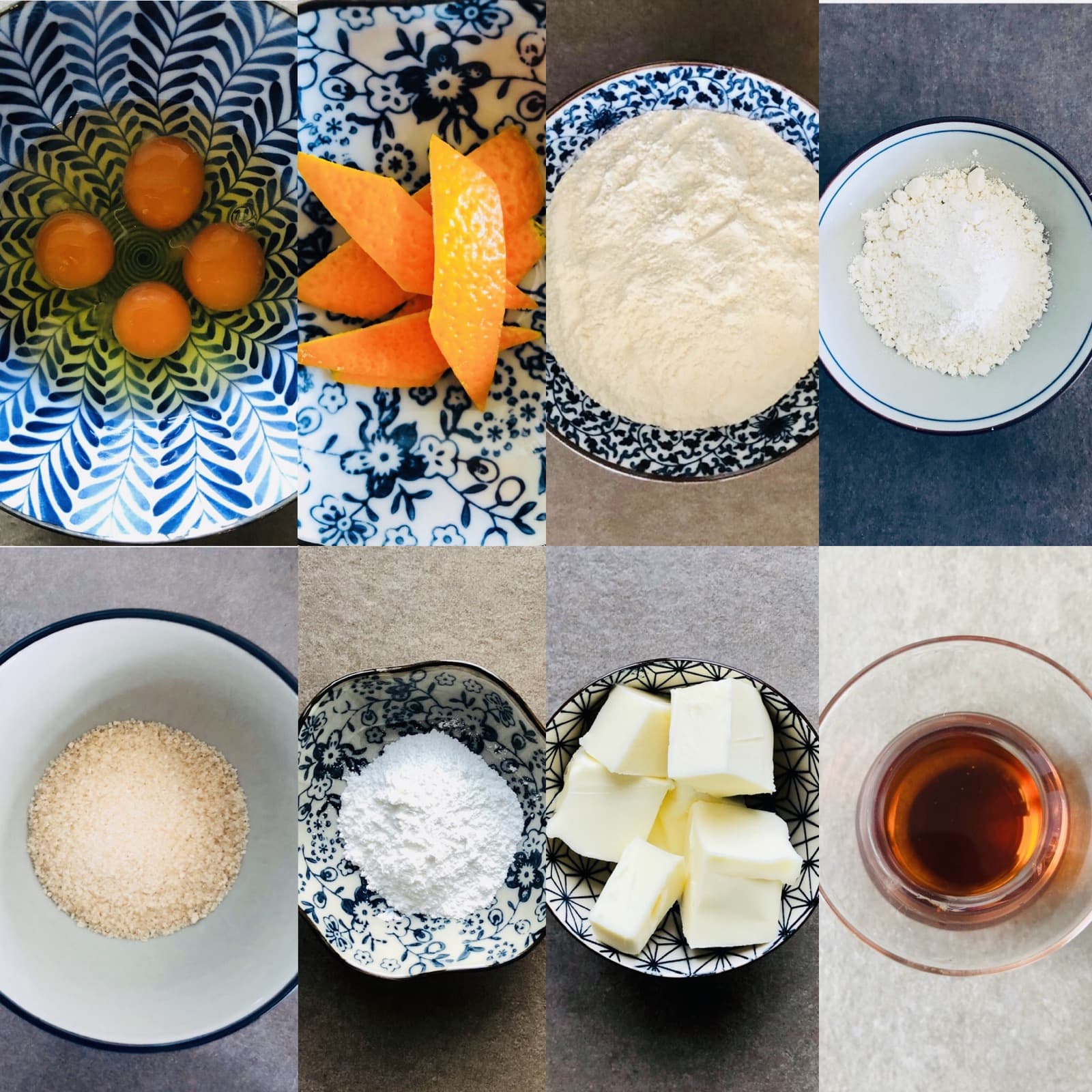 Preparation
In a large bowl whisk together flour, corn starch, baking powder and salt.
Make a well in the middle and add sugar, eggs, zest, vanilla, softened butter and liqueur
Mix together with a fork until almost combined
Move to a lightly floured flat surface and knead into a smooth soft dough.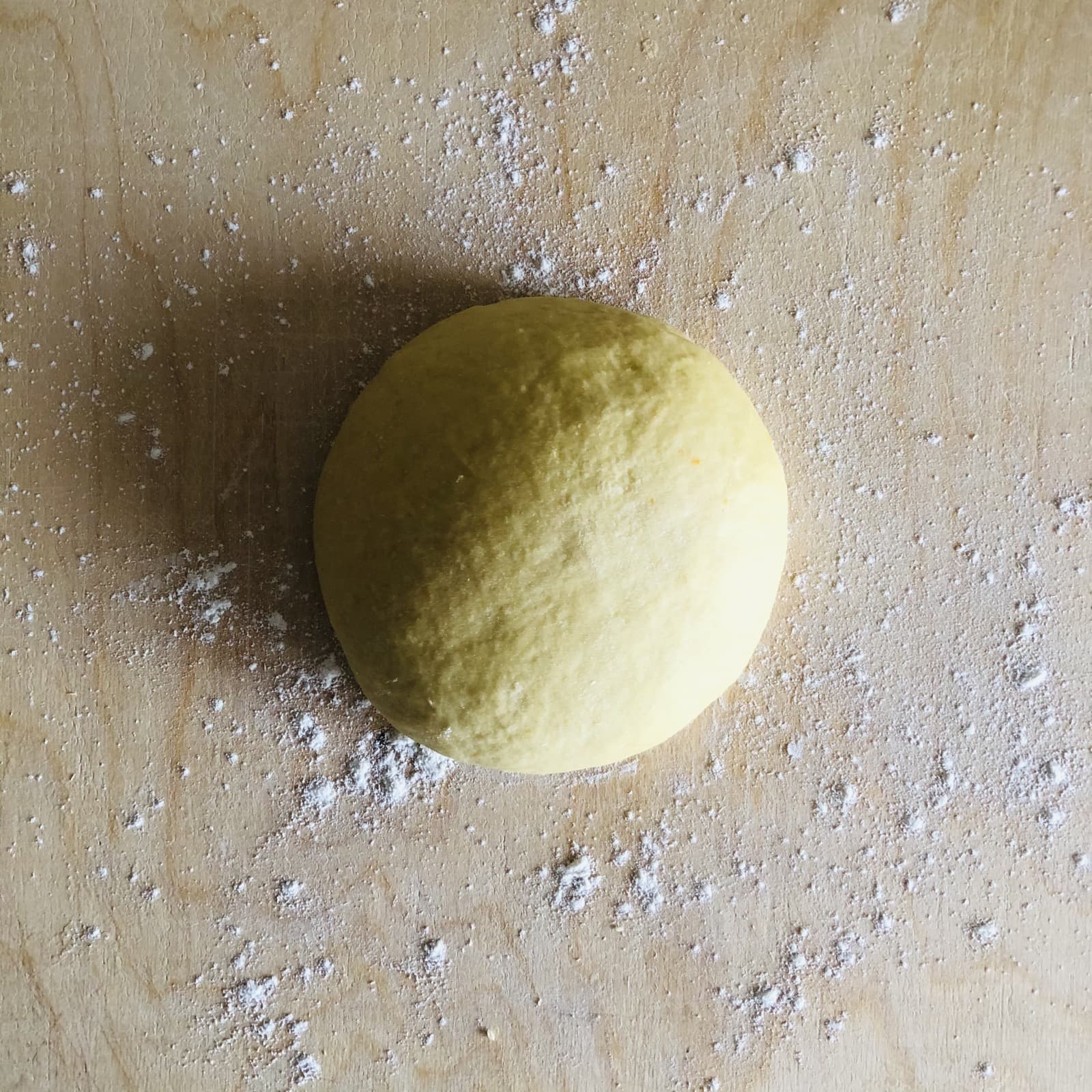 Cut the dough into piecies and roll the dough to form a 2 cm (1 inch) thick rope.
Cut the rope in pieces, the size of cherries.
If you like bigger balls shape, roll between your hands to form it.
---
Meanwhile, start heating the oil (in a large fryer or deep pot halfway full), make sure the
temperature remains between 170-175C.
Once oil is at the correct temperature, fry a few Castagnole at a time, until they become golden
brown and nicely puffed.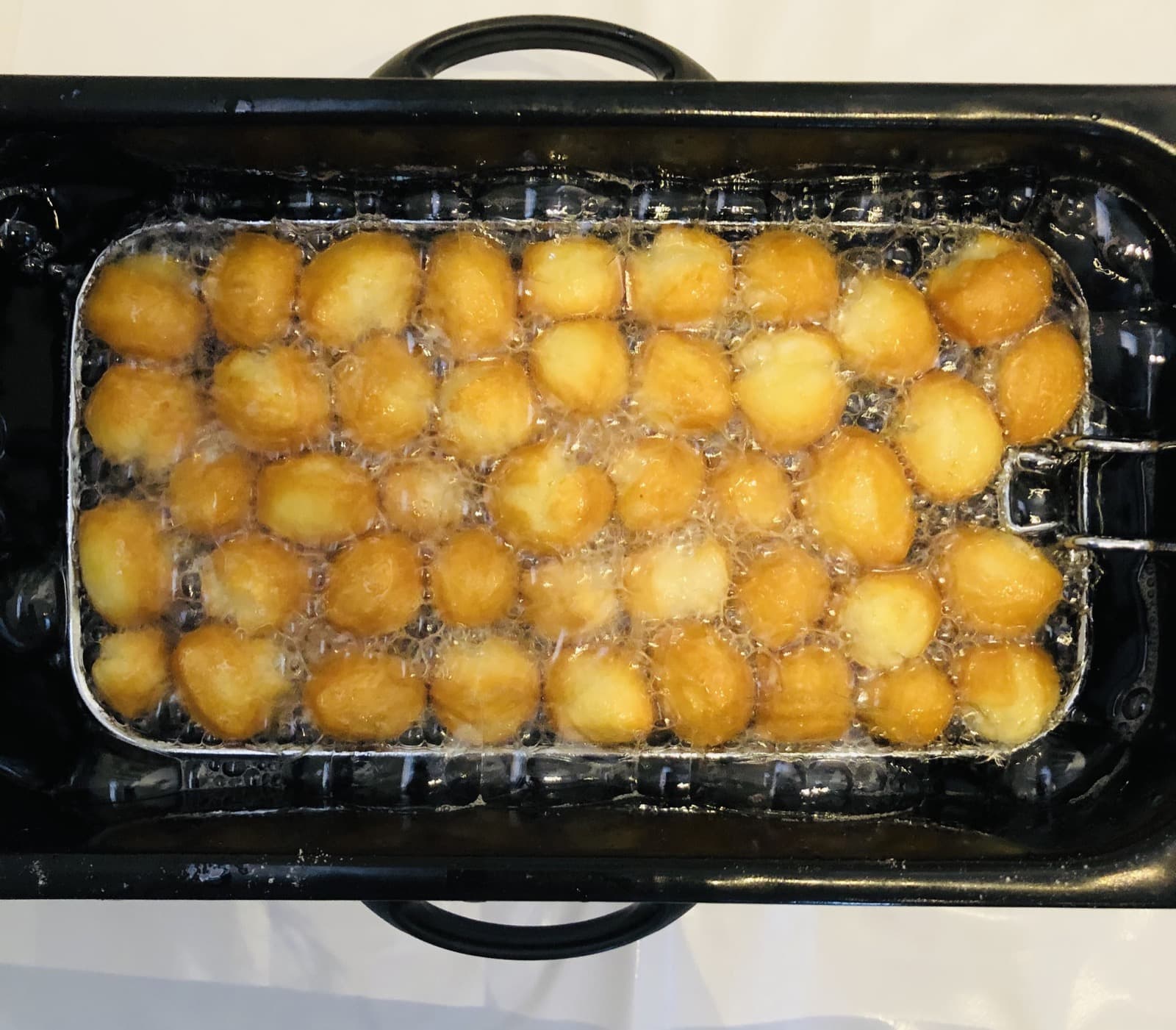 Drain on paper towels and, when cool enough to touch but still quite warm, roll in caster sugar
or, if you prefer less sweet, just drizzle.
Tips:
1. Always fry a few pieces of the dough at a time, since too many together can lower the
temperature of the oil, which can leave them less crispy and greasier.
2. If served immediately, castagnole will be at their best: crunchy outside and soft inside
3. Instead of sunflower oil, you can use peanut oil as well. Some consider it the best for the
delicate flavour.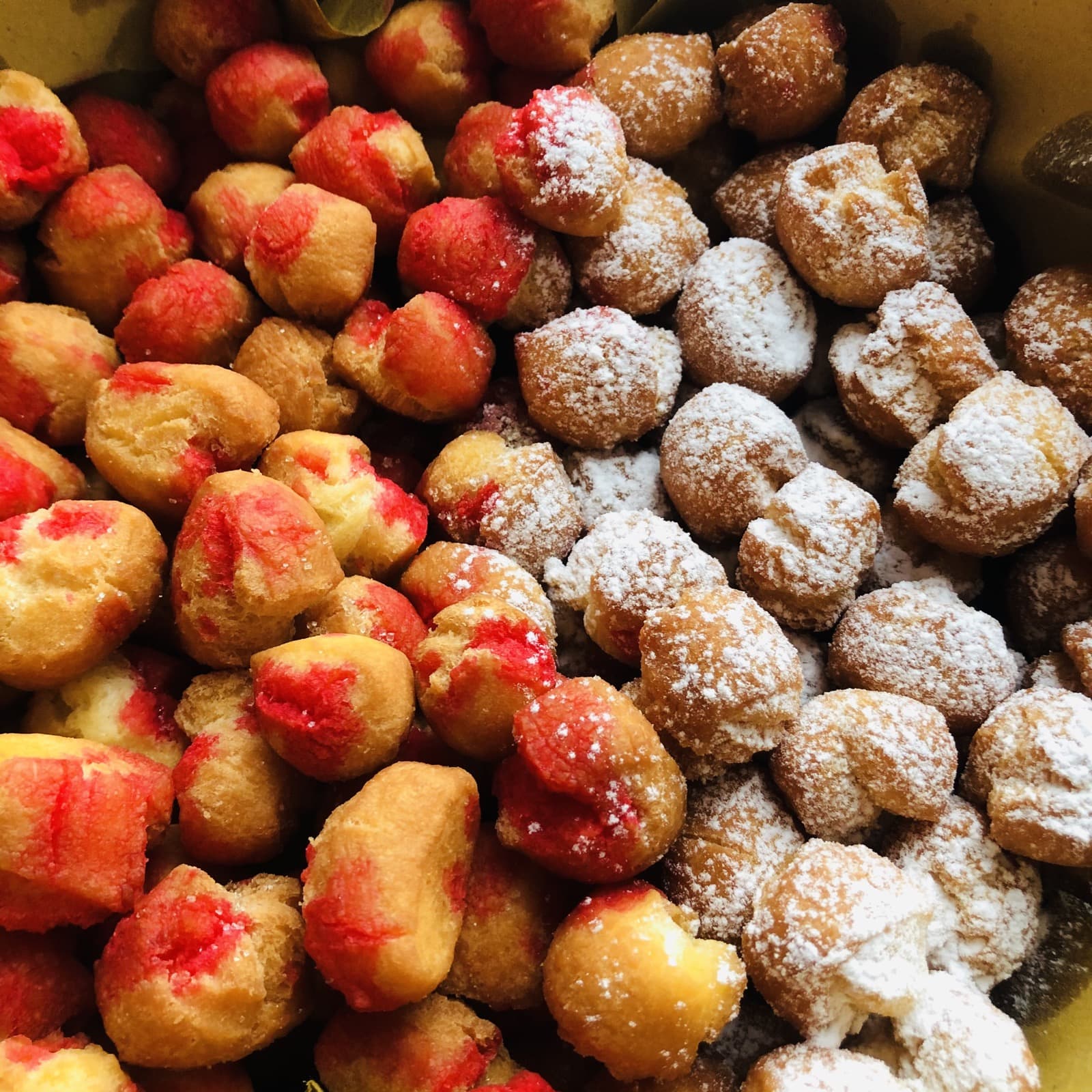 Food History
Carnival is a time of year that still bears some relevance in the Italian calendar.
Running from the beginning of Lent in the Christian calendar, it's still considered to be the period in which all transgressions are allowed, most especially in the culinary realm.
You can track this celebratory festivity back to the Roman Empire. However, it's in Venice that carnival flourished within the water walls of the Serenissima, and eventually gained worldwide fame. It's no mystery that 18th century Venice was known for its decadent and lustful costumes.
These were only amplified during Carnival, as masquerades and secret parties would take place all over the city.
Author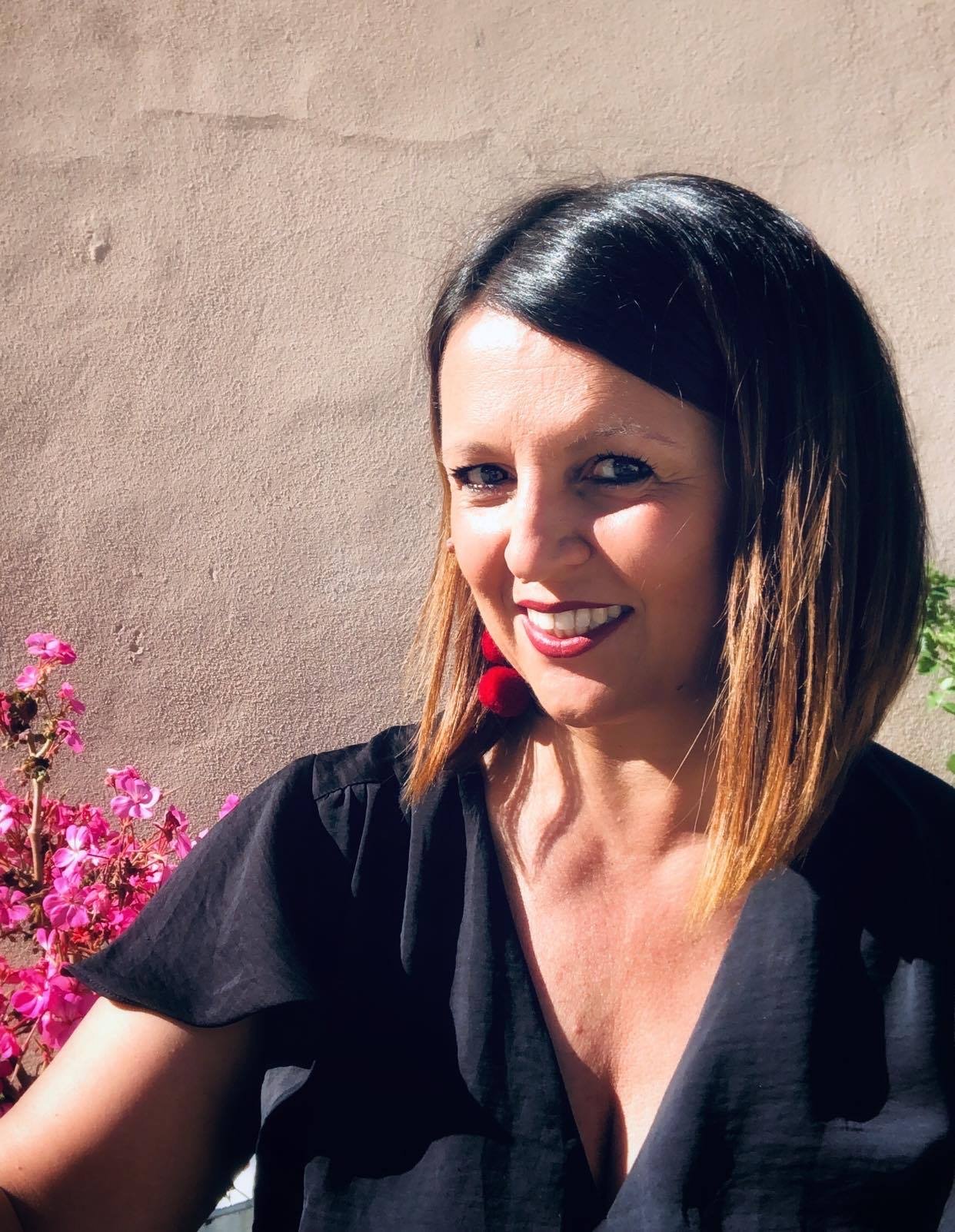 Passionate for food & travel, I loved living in China for 12 years and exploring a different culture. I had the opportunity to discover new flavors and unknown ingredients in the cooking process and became inspired in my own recipes. Tradition though is still an important part of my life. Tradition is the origin of my passion, it's where everything came from: looking at my Nonna cooking in a tiny kitchen in a little village in Italy's Emilia-Romagna Region is where my love of food was born.
Communication is another important asset of my philosophy: I love photography. I believe images have strong communication power in creating emotions. That's why recipes will always be introduced by photos of my creations. Looking at pictures of my dishes will be a travel in time and space, entering the kitchen and enjoying the taste of authentic Italian creations.
You may also like