Emilia-Romagna is and has always been a welcoming land – it is also always ready to welcome your four-legged friends, who prepare every year to go on a beach holiday with you.
If you love to travel with your own pets, the coasts of the Riviera Adriatica are an ideal pet-friendly destination where you can spend your summer holidays.
From the beach towns of Comacchio to the beaches of Cattolica, the entire coast offers a wide range of dedicated services and spaces specifically thought for your little animal friends.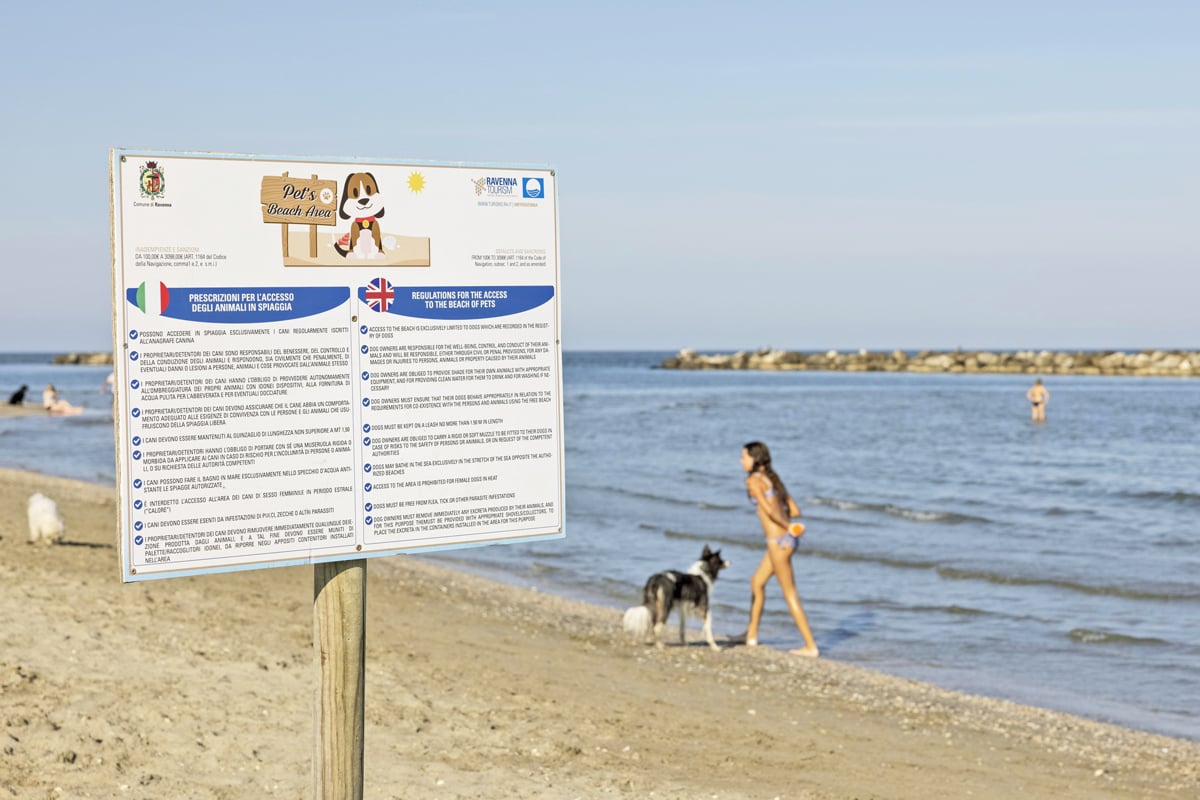 On the one hand, the institutional bodies issue rules and regulations establishing which beaches allow pets and what kind of behaviour owners should keep.
On the other hand, private facilities like beach establishments and services offer you and your little haired friends a number of advantages, like lying under a beach umbrella, agility courses and dog run areas, showers, little swimming pools where to cool off, free training classes, and – of course, a bowl for water and some pet food.
Moreover, many private beaches in Emilia-Romagna and along the Riviera are well-equipped to welcome you and your beloved pets, displaying a series of dedicated services and spaces, especially in the beach towns, which, before others in Italy, have been properly equipped over time to allow dogs to access the beaches.
Apart from all these places, which you can easily find on the internet, we would like to remind you that you should respect the fundamental rules that safeguard the well-being of your 4-legged friends.
The heat of summer is intense and hard for them as it is for us, so take care and pay attention to your beach umbrella-mates: they don't want to get a tan but just to be next to you.
COMACCHIO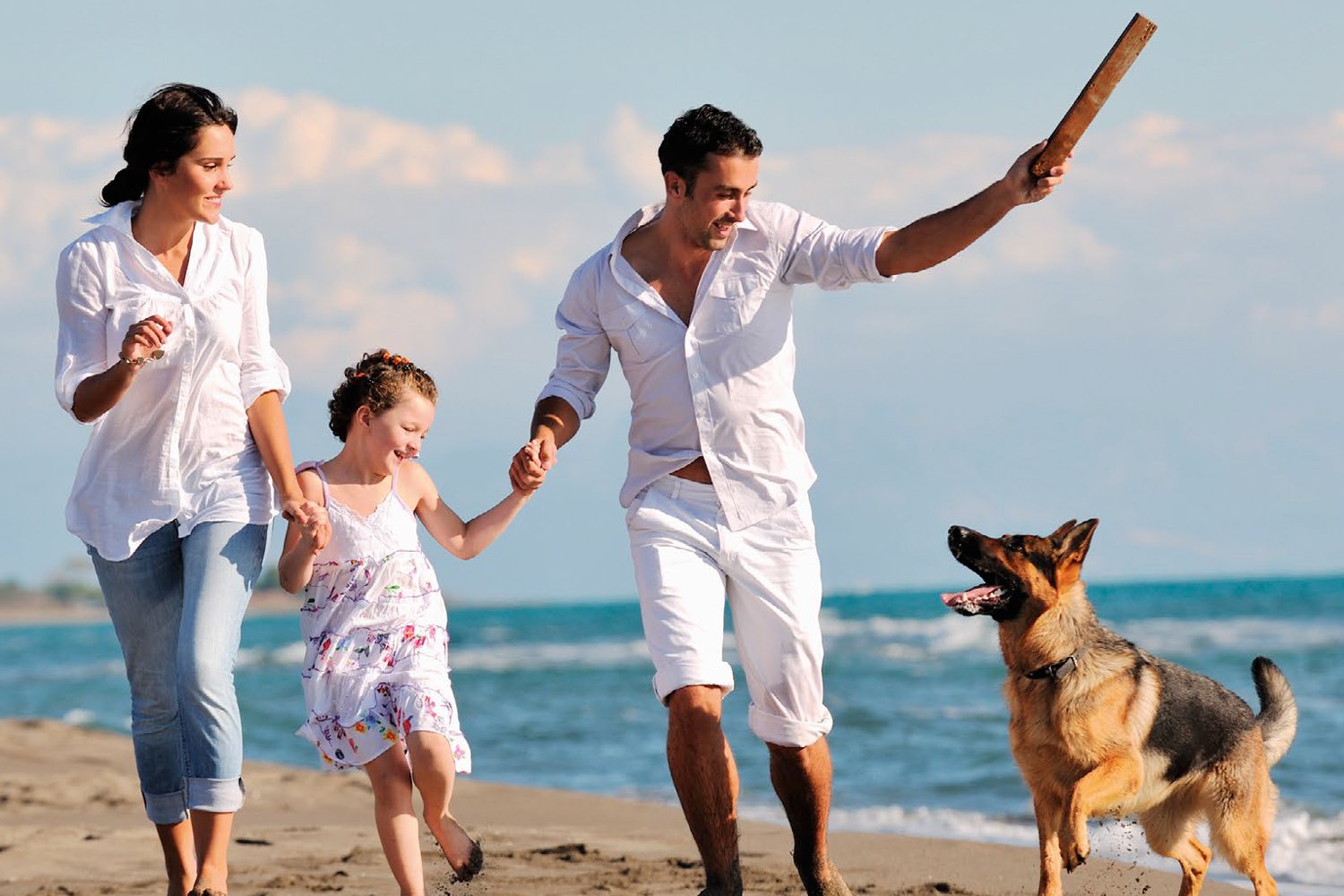 If you have chosen Comacchio and its amazing 7 beach towns as your summer holiday destination and you are going to take your pets with you, here are the free beaches where you can go with them:
LIDO DI VOLANO: between Bagno Franco and Bagno New Age beach establishments, the free beach is about 30mt large and 25mt long;
LIDO DELLE NAZIONI: free beach, privately owned, between Bagno Albatros and Bagno Mexico;
PORTO GARIBALDI: located south of the Park Emilio residence. The free beach is about 30mt large and 50mt long
LIDO DEGLI ESTENSI:adjacent to the Blue Moon beach establishment, it is 30mt large and 100mt long;
LIDO DI SPINA: on the left side of the former Police beach resort. The beach here is about 30mt large and 50mt long.
You can access all these beaches with your pets, provided you follow certain rules.
The first one is about periods and times in which you can let your dogs swim in the sea:
APRIL, MAY and SEPTEMBER: from sunrise to 10 am and from 6 pm to sunset
JUNE,

JULY

and AUGUST: from sunrise to 7 am and from 7.30 pm to sunset
It is allowed for 5 dogs to swim in the same stretch of sea at a time, for a maximum of 10 minutes. Dogs must be kept on a leash.
RAVENNA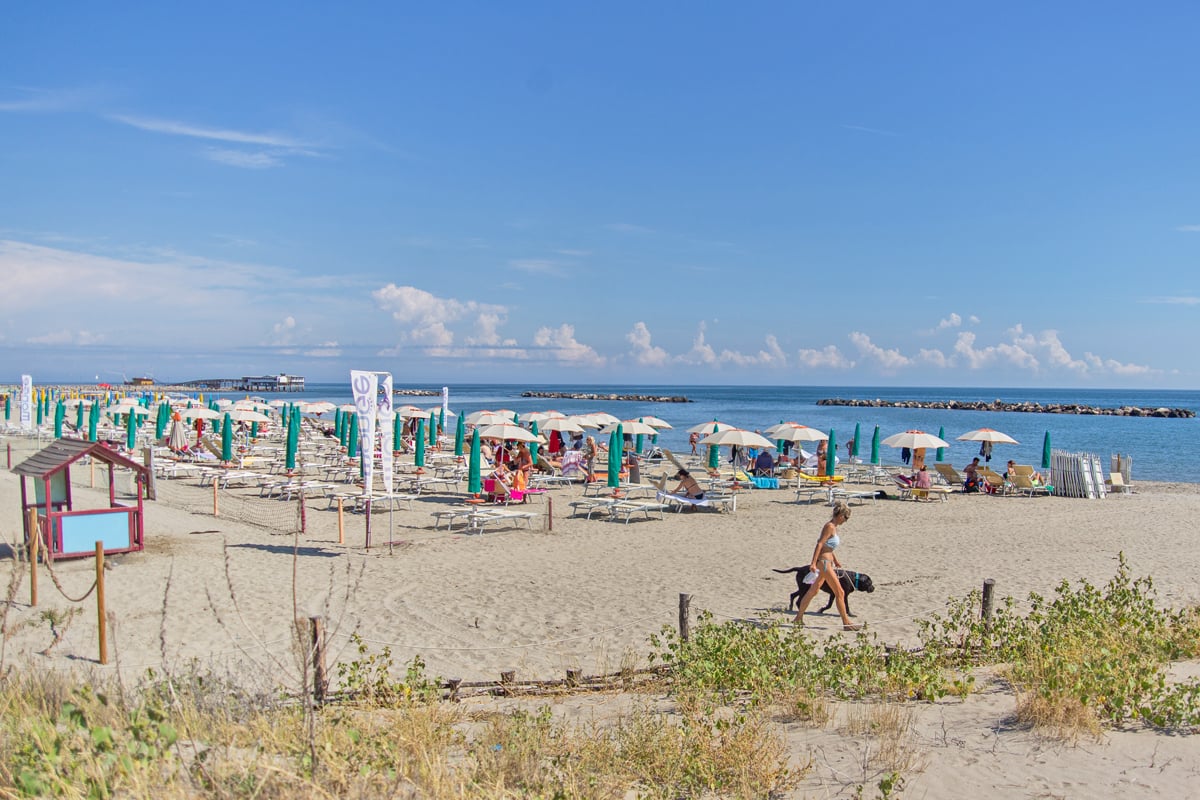 From Comacchio, let's move southwards, in the Byzantine Capital. In Ravenna, the free beaches where your pets are allowed are:
CASALBORSETTI: south of the seaside resort Overbeach, in a 70mt-large slice of beach;
CASALBORSETTI / MARINA ROMEA: a 100m-long stretch of public beach between the Reno and Romea camping villages;
MARINA DI RAVENNA: an 80m-long stretch of public beach, close to the northern side of Bagno Ruvido;
LIDO ADRIANO: an 80m-long stretch of public beach north of Bagno Oasi;
LIDO DI CLASSE: near the mouth of Savio river, a 60mt-large free beach north of the cliff, right beside the mouth of the river;
LIDO DI SAVIO: a 40m-long stretch of public beach, south of the cliff at the mouth of the river Savio.
Pets can swim in the sea right in front of the mentioned beaches. It is preferable to keep dogs out of the water in the central hours of the day, indicatively from 11.30am to 2.30pm.
In order to avoid bad surprises or misunderstandings, have a look at the related page on the RavennaTourism website Pet-Friendly Beaches.
CERVIA E MILANO MARITTIMA
According to the law, in Cervia and Milano Marittima access to beaches has always been forbidden to any animal, except for lifeguard dogs or guide dogs for visually impaired people.
However, in summer, dogs can access beaches and swim in the sea from 6 am to 8 am and from 9 pm to 00 am, provided that they are not dangerous or disturb other people.
You can access the beaches from the walkways.
CESENATICO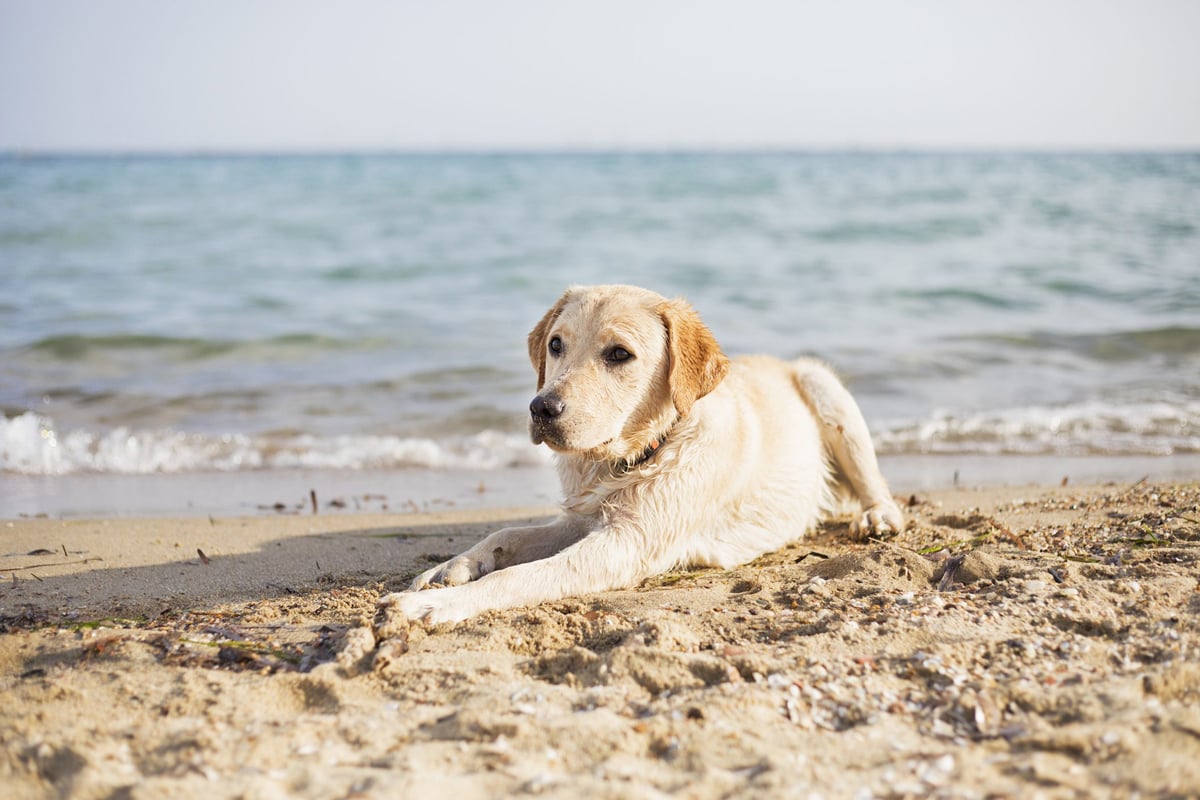 In Cesenatico there are 5 stretches of free beach that you can access with your dogs:
LOCALITÀ VILLAMARINA: beach in front of the so-called 'Zona Cesarini';
LOCALITÀ BOSCHETTO: so-called 'Spiaggia Dei Diamanti', Boschetto;
LOCALITÀ PONENTE: beach adjacent to Piazza Spose Dei Marinai;
LOCALITÀ VALVERDE: free beach between Fincarducci and Eurohotel;
LOCALITÀ ZADINA: free beach between the Tagliata canal and the Camping Cesenatico beach establishment.
Dogs can access the beaches and swim in the sea from 6 am to 8.30 am and from 7 pm to 9 pm.
RIMINI E RICCIONE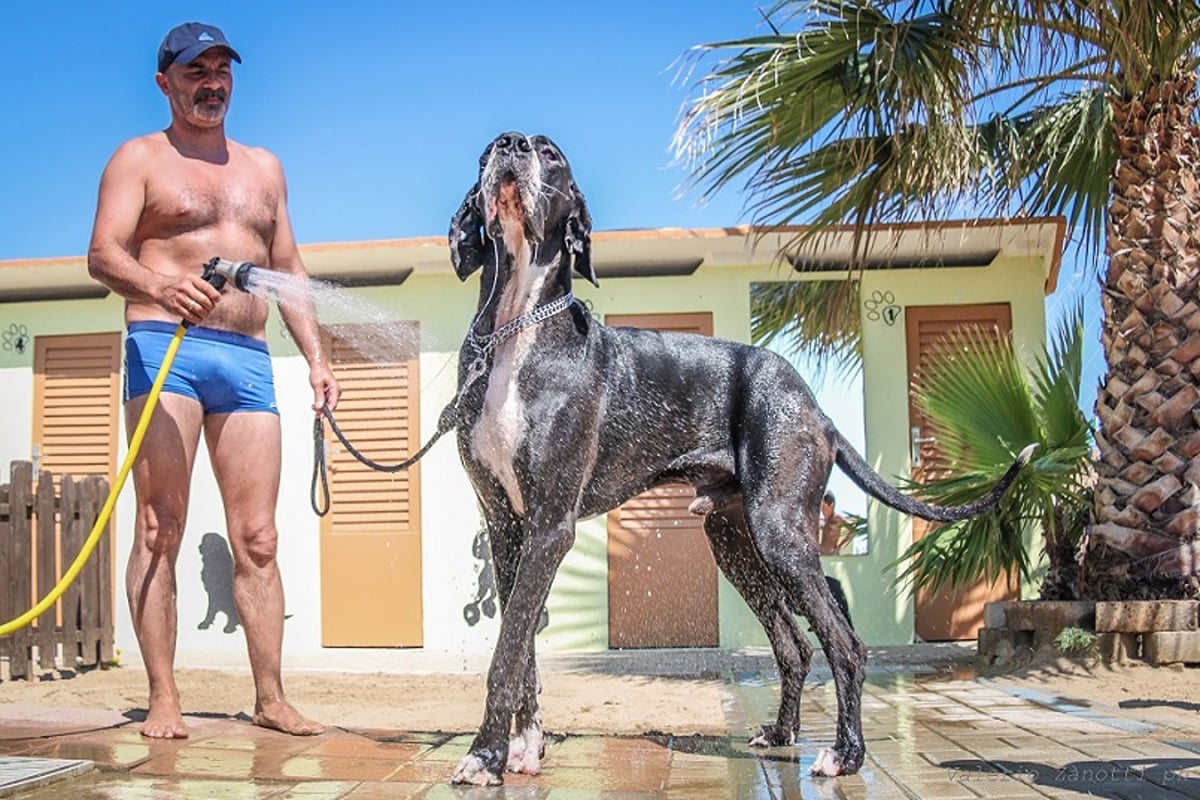 In the two capitals of tourism in Romagna,  Rimini and Riccione, dogs can swim in front of many equipped beach establishments on the coast.
Although access is limited to specific hours and periods, there are fewer limitations now.
As in the above-mentioned towns, there are rules and regulations to follow. Check out the ones about the beaches of Rimini and the ones about Riccione. (otherwise in italian)
In Rimini, animals can swim in the sea from 6 am to 8 am and from 6.40 pm to 9 pm, in front of the licensed pet-friendly beach establishments.
In Riccione, it is possible to let them swim from 6 am to 7.30 am and from 7 pm to sunset in three different stretches of free beach:
Between beach establishments n. 51 and n. 52
Between beach establishments n. 77 and n. 78
Between beach establishments n. 132 and n. 134
You can access these beaches with your dogs only if they are registered, have undergone parasite treatments and vaccinations and are not dangerous for other people.
Author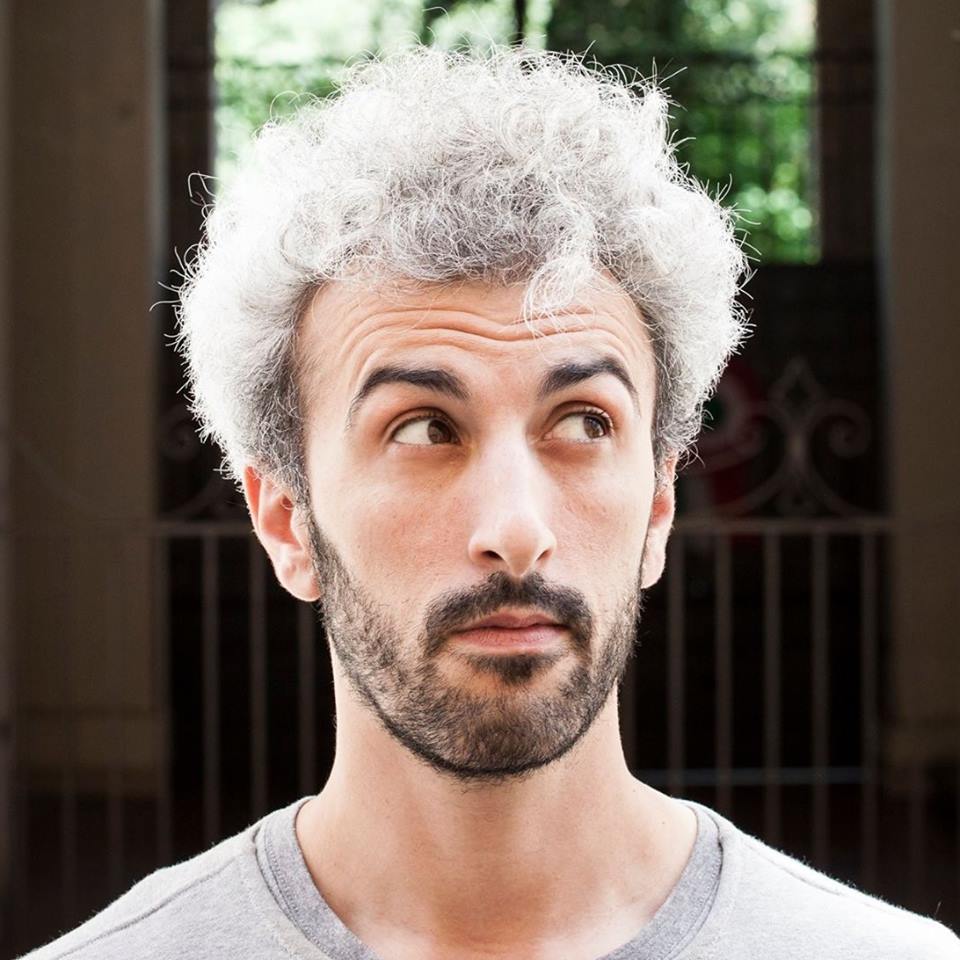 Davide Marino was born archaeologist but ended up doing other things. Rational – but not methodic, slow – but passionate. A young enthusiast with grey hair
You may also like