My favorite way to plan a menu is to focus an entire meal on a single part of Italy, and with more unique DOP and IGP geographically protected products than any other, the region of Emilia-Romagna makes it easy to build an amazing menu. When it comes to elegant entertaining at home, start with the best ingredients, and the foods of Emilia-Romagna will deliver​ an unequaled dining experience.
Antipasto
For the perfect mix of sweet, salty, and creamy, look to the top-quality cold cuts and cheeses of Emilia-Romagna. You'll enjoy a lot of flavor with little fuss.
A winning antipasto platter must include the "King of Salumi", ​Prosciutto di Parma, and just ​one taste will convince you that you are experiencing something distinctive. Made ​in Emilia-Romagna since ancient Roman times, Prosciutto di Parma has​ a long history of excellence and represents the essence of simplicity. T​he name "prosciutto" is from the Latin for "dried" and it's made with just two ingredients:​ Italian pigs and sea salt.
To the salumi platter add other renowned cold cuts of Emilia-Romagna: ​Cultatello di Zibello, Salame Felino and Prosciutto di Modena. Set them out on a large wooden cutting board along with a mix of soft and aged cheeses.
Essential to include is Parmigiano Reggiano, perhaps the most famous Italian cheese in the world, itself made with just three ingredients: milk, salt and rennet. It's fair to say there's a fourth ingredient too: patience.
Parmigiano Reggiano must be aged a minimum of 12 months, and frequently longer. Try a tasting platter consisting solely of Parmigiano, serving 12, 24 and 36 month aged versions to compare.
Other cheeses to add are Squacquerone di Romagna, Formaggio di Fossa di Sogliano and Casciotta d'Urbino. All are ideal accompanied by the area's famed flat bread: piadina Romagnola.
For a special treat, set out bottles of Aceto Balsamico Tradizionale of Modena and Reggio Emilia to drizzle on the aged cheeses. This dense, deeply flavorful, and naturally sweet condiment is made from boiled down grape must. Originating from a combination of local varietals such as Lambrusco, Sangiovese, Trebbiano and Albana grapes, balsamico moves through periods of years from barrel to barrel made with aromatic woods like juniper, chestnut, mulberry and cherry. Invite your guests to taste it from a tiny ceramic spoon to appreciate the resulting complex flavors and aromas.
To drink:
Emilia-Romagna has a superb wine heritage, including 21 DOC and 9 IGT wines. The area produces the most wines in Italy, after the Veneto, so there are lots of fabulous wines to serve with each course.
For the antipasto I always serve Pignoletto, a sparkling white from the Bologna province, and welcome substitute for Prosecco.
Primo
For the pasta first course serve passatelli, an unusual pasta shape from the Romagna section of Emilia-Romagna.
Passatelli (the word means passing through) are delicious and fun to make! Another of Italy's recipes that make wonderful use of stale bread, the shape was made in the past with a handheld round multi-holed press called a ferro per passatelli​, a passatelli iron.
Nowadays this intriguing pasta is extruded through a potato ricer and either way, the results are long, thick, toothsome rods.
The pasta dough is made with breadcrumbs, instead of flour, and seasoned with Parmigiano Reggiano cheese, with lovely hints of lemon and nutmeg. ​
Passatelli,​ like any pasta, can be served in hundreds of ways, enlivening the flavor of any kind of broth, meat or fish. They can also be cooked in boiling water, drained and topped with all sorts of sauces. Especially popular in the summer is ​passatelli​ with clam sauce.
To drink:
If you decide to serve the passatelli in fish broth or with clam sauce serve a white Albana wine. It is the first white wine in Italy to obtain DOC status!
If you're serving them in meat broth serve then you might serve Sangiovese of Romagna, a lovely full-bodied red with the delightful aroma of wild berries and violets.
Secondo
I suggest serving a one-dish main course of stuffed zucchini, zucchine ripiene alla Bolognese.
The zucchini is left whole and simmered in tomato sauce. The zucchini are stuffed with meat including Mortadella di Bologna, a delicate pink salumi that dates back to ancient Roman times and was traded as currency in the Middle Ages.
At the Archeological Museum of Bologna there is even a Roman stone carving of mortadella production, showing piglets and a mortar and pestle, which the ancient Romans used to grind the pork with salt and spices.
There are two theories on the origin of the word Mortadella. One that it comes from the ancient Latin for mortar, mortarium and another that it comes from the name of an ancient Roman sausage flavored with myrtle instead of the pepper used today.
To drink:
No meal centered around the specialties of Emilia-Romagna is complete without enjoying a glass of the region's famed Lambrusco. Enjoy the delicate bubbles, dry, refreshing flavor and sweet aromas of orange blossom, cherries and violets.
Dolce
There is a wealth of delightful Emilia-Romagna desserts: Torta di Rose (rose-shaped brioche cake), Torta degli Addobbi (spiked rice pudding cake), Bonissima (honey walnut chocolate pie) or Torta Ricciolina (a dessert made with almonds and a surprising ingredient-fresh egg pasta!). ​
They are all wonderful, but my hands-down favorite is P​esche Romagnole​, special cookies that are the sort of dessert Martha Stewart would have come up with if she were Italian!
To make these kitschy-chic faux peaches, two rounded cookies are joined with a creamy filling, then dipped in red-tinted liqueur and rolled in sugar. They look just like small fuzzy peaches.
The cookies absorb the filling and the liqueur and acquire the moist, dense texture of summer-ripe fruit. There's even a faux peach pit in the center—a whole almond—the final touch to this culinary ​trompe l'oeil​. A real show-stopper and so delicious!
Pesche Romagnole do take a bit of time to make, so when I'm in a hurry, I might serve instead a scrumptious sweet from Ferrara: Torta Tenerina. A virtually flourless cake with a crisp, macaroon-like outer layer and a dense, incredibly moist center, it is by far one of the best tasting chocolate desserts ever. As the cake cools, it collapses just a little, creating a pretty webbing on the delicious crust.
It's made with just five ingredients, so be sure to use only quality chocolate, as it really stands out in this must-try classic!
To drink:
After dessert and espresso, serve a small glass of Nocino, Emilia-Romagna's aromatic digestivo, made from unripe walnuts.
Author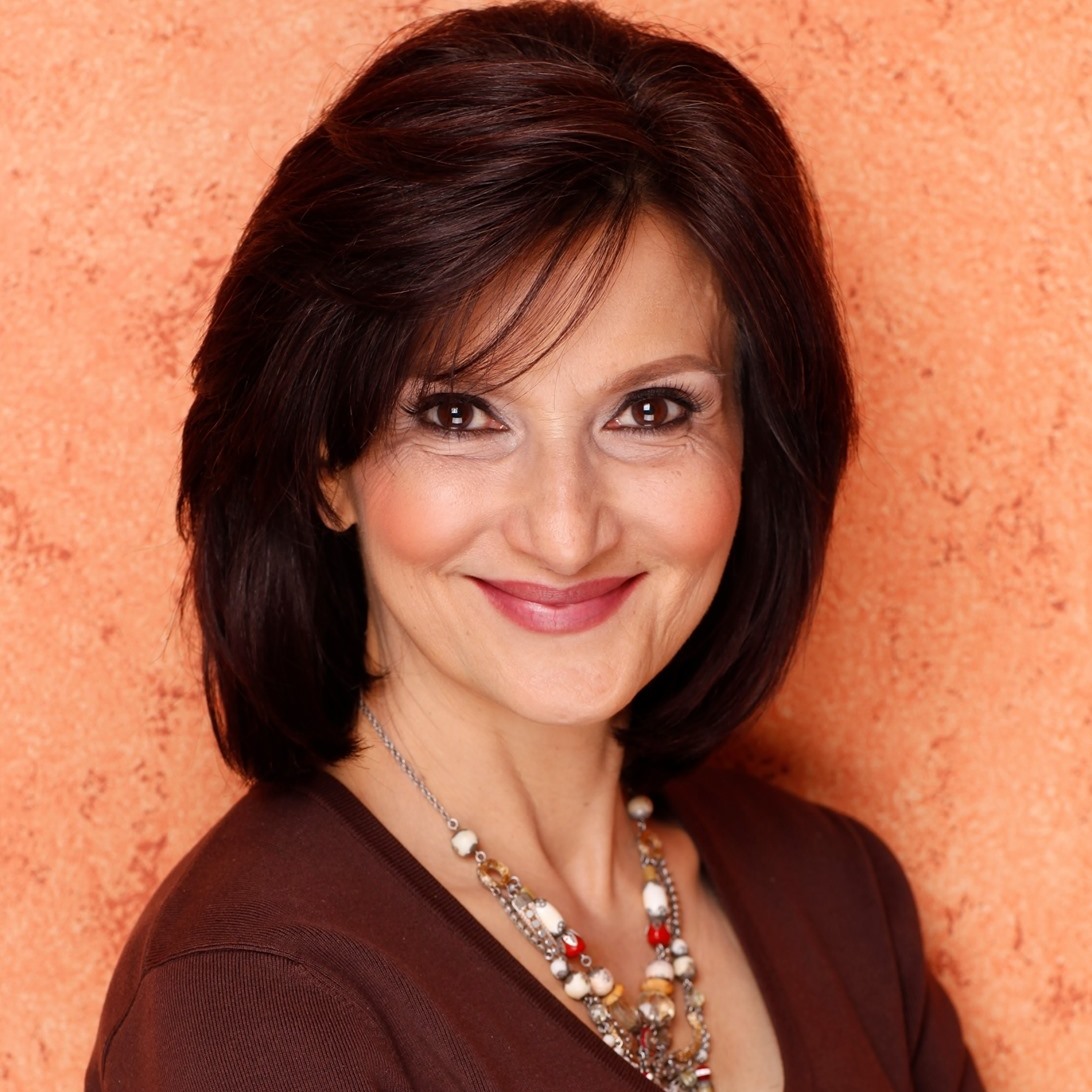 Food Historian, Author and Public Speaker
One of America's foremost experts on Italian cuisine, is an engaging public speaker and author. A noted food historian and James Beard-nominated author of six books including her most recent on Italy – Dolci: Italy's Sweets and Pasta Modern: New & Inspired Recipes from Italy.
You may also like