Emilia-Romagna, land of cyclists.
Whether you're already organizing a cycling getaway in our region or you're just looking for inspiration, we have only one thing to say: look no further!
Cycling is a religion for many people in Emilia-Romagna. It is no coincidence that this area was the birthplace of great cyclists such as Marco Pantani, and that a city like Ferrara has been called the Italian bicycle capital.
The opportunities to explore the region on two wheels are almost endless. And there really is something for everyone: from the simplest routes, also suitable for children, to the more challenging ones on the Apennine ridges; from urban routes to the natural scenery of the Po Delta Park.
Here are some useful ideas to spend a cycling holiday in Emilia-Romagna.
Author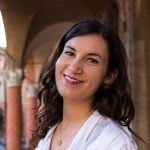 An eternal dreamer, but I try to stay grounded. I was raised in the countryside but I love big cities. I'm always ready for a trip, as long as it's sustainable.
You may also like