Are you looking for an itinerary in Italy combining slow travel, little-known places, ancient castles, authenticity, and lovely landscapes? Then, let me introduce the Via Matildica del Volto Santo, a pilgrimage route from Mantua to Lucca to discover the land ruled by Matilde di Canossa in the 12th century.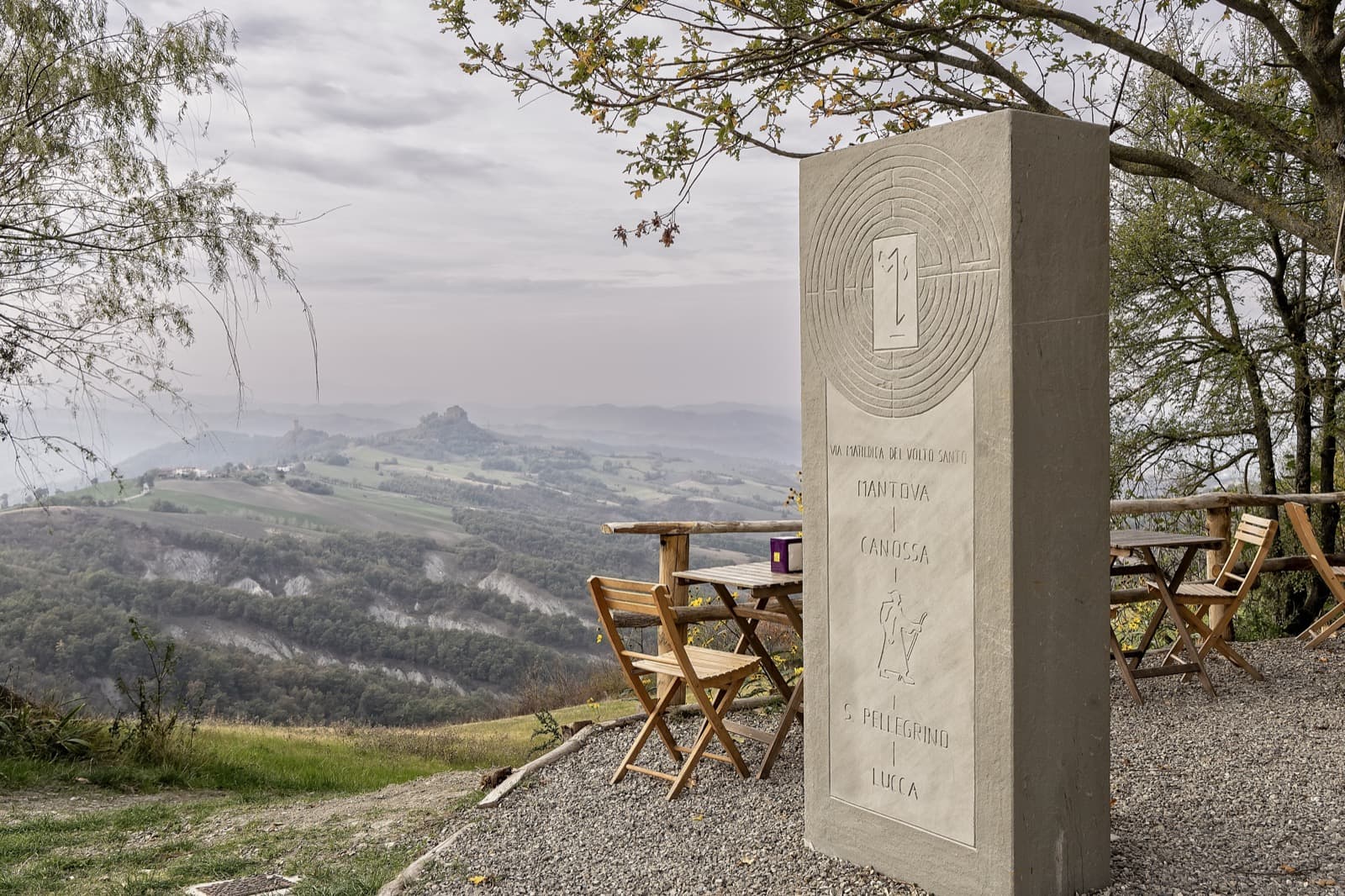 Slow travel along the Via Matildica
There are many ways to experience the 285 km long Via Matildica.
If you've embraced responsible tourism and want to leave as little a footprint as possible, you can hike the entire trail, usually divided into 11 stages or just a portion of it.
Another option is to have a bike adventure, allowing you to cover longer daily distances.
Is active travel not your thing? In that case, you can also have a road trip along the Via Matildica, slowly driving up and down the hills on secondary roads, stopping here and there to visit castle ruins, rural parishes, and enjoying the delicious local food. And maybe doing a couple of short walks, the best way to immerse yourself in the atmosphere of this beautiful area.
Via Matildica del Volto Santo: the route
The Via Matildica is a long-distance pilgrimage route, which starts in Mantua (where Matilde might be born) and ends in Lucca, spanning the Lombardy, Emilia Romagna, and Tuscany regions.
The itinerary leads across the territories controlled by Countess Matilde di Canossa, one of the most powerful women during the Middle Ages and overall in history.
The Emilia Romagna section of the Via Matildica starts in Reggio Emilia and ends in San Pellegrino in Alpe. It takes 5 days to hike, and of course less by bike. By car, you can discover this area in 2 or 3 days.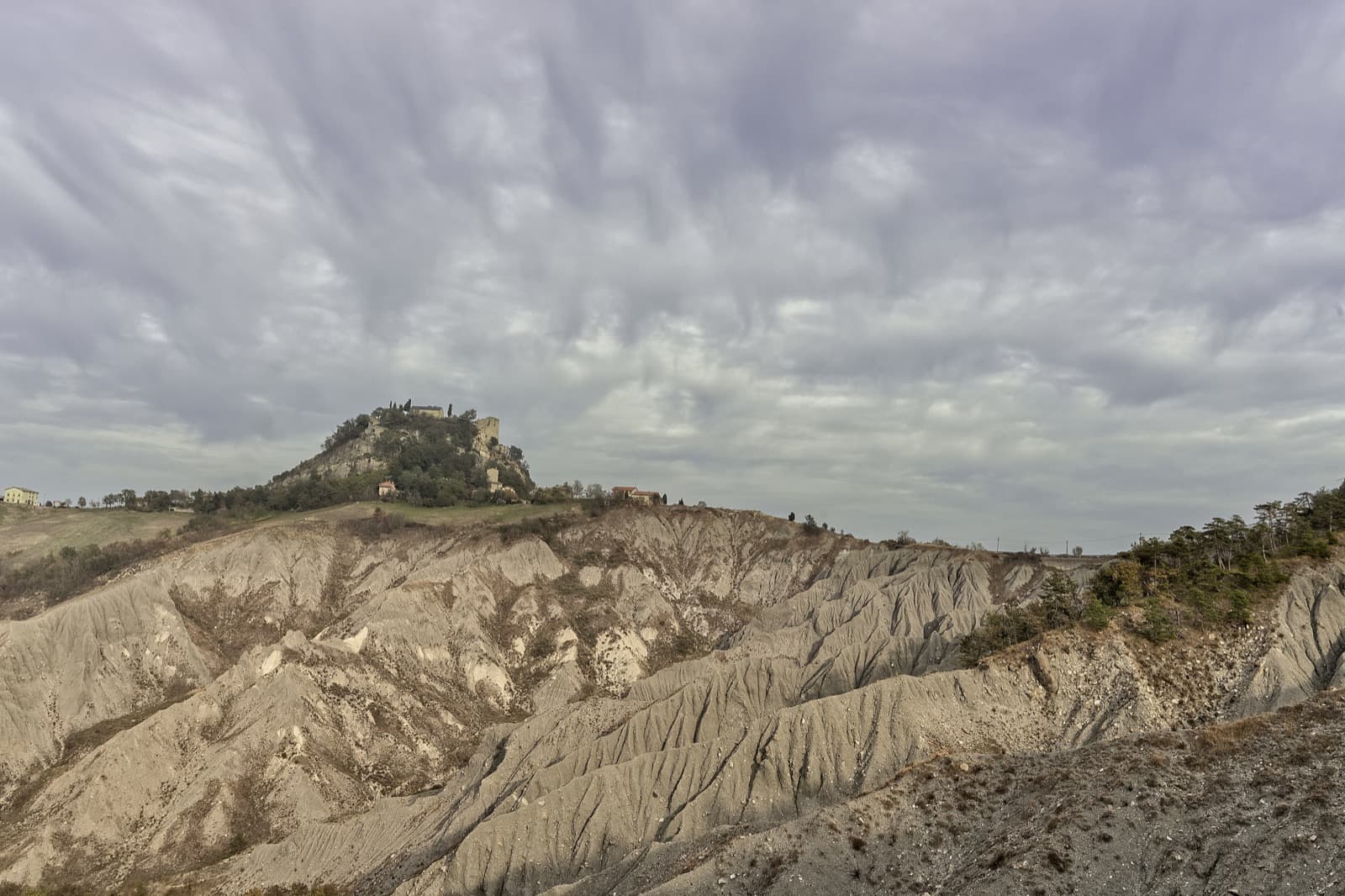 Matilde di Canossa legacy
Matilde played a prominent role in the 12th century, during the battle between the Holy Roman Empire and the papacy regarding the power to nominate the clergy members, known as the Investiture Controversy. The Castle of Canossa was the scenery of the Canossa humiliation, when Emperor Henry IV of Franconia waited three days and nights, barefoot in the snow, before being allowed by Pope Gregory VII to enter the fortress. Henry IV's humiliation was the price to pay to have the ex-communication withdrawn and regain complete control over his domains. Countess Matilde offered the Pope, who she strongly supported, her fort in Canossa for the meeting due to its privileged position, making it almost impregnable.
Matilde di Canossa ruled a vast territory, and, being an excellent warrior, she directly defended her land. Her possessions, located between the Holy Roman Empire and the areas controlled by the Pope, held a strategic position. For that reason, she built a network of castles, all sitting on hilltops hard to conquer but whose location allowed easy communications.
A protector of the Pope and a pious woman, Matilde supported the foundation of many churches and parishes. Furthermore, she undertook many initiatives to help the poor. One of the most relevant was to increase the plantation of chestnut trees. Since often the soil was not suitable for growing wheat, chestnut flour was crucial to ensure the survival of the local communities.
A trip along the Via Matildica del Volto Santo is a journey into history in the footsteps of Matilde di Canossa, a unique woman remembered with pride. Just talk with guides and locals, and you'll find out in a matter of minutes how much delight they have speaking of Matilde di Canossa.
Castle hopping on the Via Matildica
If you're traveling to Emilia Romagna with kids, they'll surely love seeing ancient forts and running around while imagining armored warriors running on their horses. History buffs will appreciate stepping back in history and discovering a crucial region in the 12th century.
Although there's much more to this beautiful area, castles are one of the Via Matildica del Volto Santo highlights.
Things to see along the Via Matildica del Volto Santo
One of the reasons this itinerary is fascinating is its diversity.
Rolling hills and hilltop castles, ancient parish churches, chestnut groves, small towns where you'll experience the real Italian life and, farther away, the highest mountains of the Apennine range.
Although castles are one of the main attractions on the Via Matildica, the landscape is charming and the atmosphere genuine. It's really worth exploring this area in its entirety to discover and appreciate its unique flavor.
My trip started in Reggio Emilia and ended in Toano, covering a little more than half the Via Matildica route in Emilia Romagna. However, it's definitely worth getting up to San Pellegrino in Alpe and possibly even as far as Lucca if you get the chance.
---
Reggio Emilia: Medieval handicrafts at the Museo Diocesano
Housed in the Bishop's Palace, the museum showcases beautiful local artifacts, most of which are from the Middle Ages. It is the best introduction to the Via Matildica and the area's ancient history.
You'll admire sculpted capitals, frescoes, mosaics and get to see one of the most valuable pieces: the decree signed by Matilde di Canossa back in 1101, with her characteristic signature displayed in the four quarters divided by a cross.
Unless you want to start hiking and biking as soon as possible, it's worth spending some time strolling in the city center and stopping at one of the cafès or bakeries to taste my favorite Reggio Emilia food specialty: Erbazzone. It's a delicious savory pie made of a thin crust with a filling made mostly of Swiss chard, some Parmigiano Reggiano (of course!), pancetta, and onions.
Days and opening hours:
Saturday and Sunday: morning 9.00 – 12.30, afternoon 15.30 – 19.00.
To book guided tours (also from Monday to Friday):
e-mail: citizensireggio.aps@gmail.com
phone: +39 348 8834613 or +39 333 9231960
---
Canossa Castle, Matilde's most famous stronghold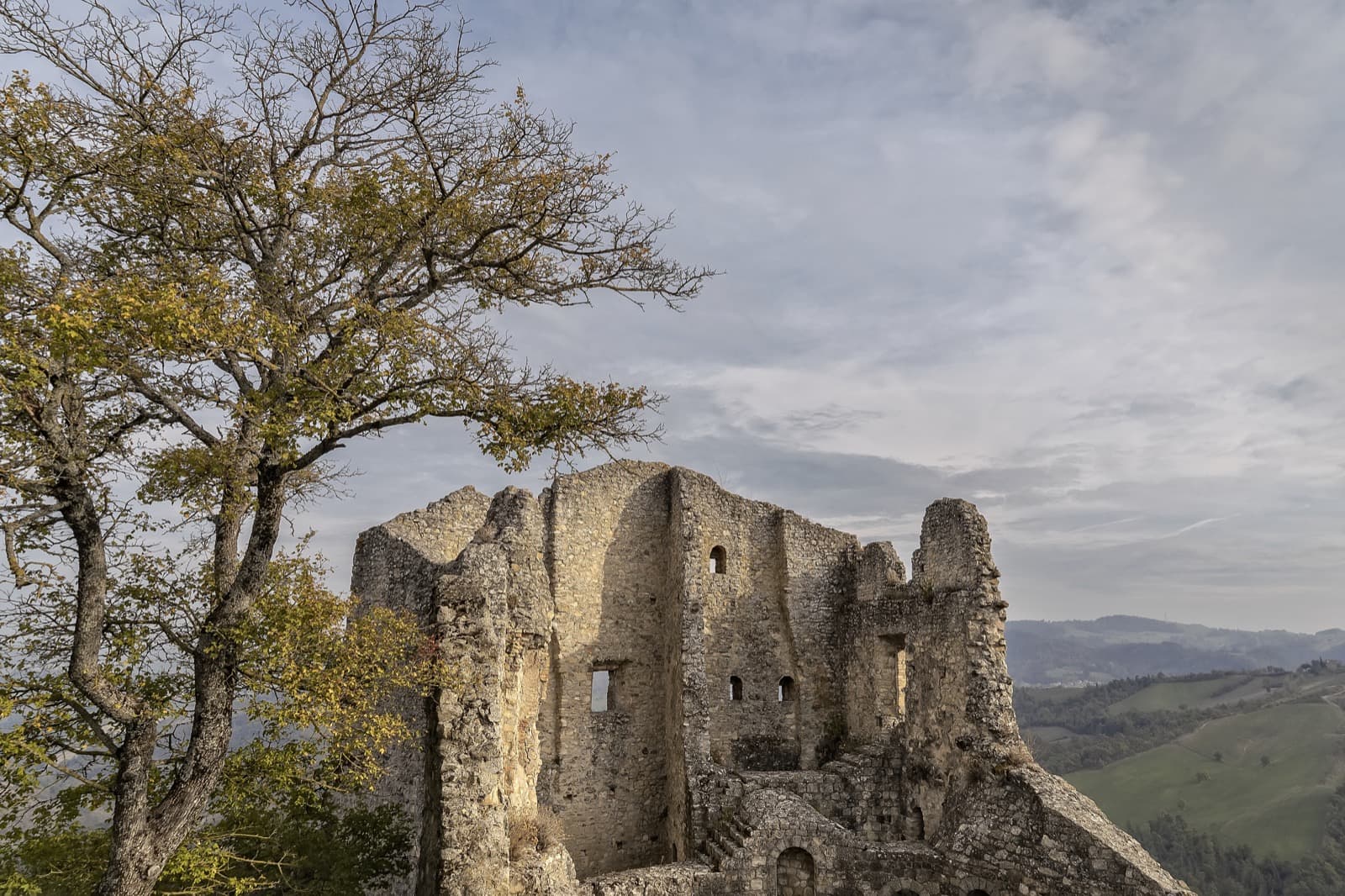 The ruins of the Castle fo Canossa, resting on the top of a steep hill, evoke one of the most famous medieval episodes: the Walk to Canossa. The choice of Canossa Castle for the meeting between Pope Gregory VII and Emperor Henri IV was not a coincidence. The deep ravines surrounding the fort made it almost unassailable. Furthermore, the guide explained that the greenery around the site did not exist at the time.
The area around the castle was bare for defensive purposes, allowing to spot possible attackers from far away.
There's not much left of the fortress, and its appeal is more in its scenic location, historical significance, and the way it strikes the imagination.
Days and opening hours:
From May to October: Tuesday to Sunday from 10.00 to 19.00
From November to April: Tuesday to Sunday from 10.00 to 17.00
Mondays: Closed
Information:
Associazione Culturale "Matilde di Canossa"
e-mail: info@castellodicanossa.com
phone: +39 0522 877104
---
Rossena and its beautiful military architecture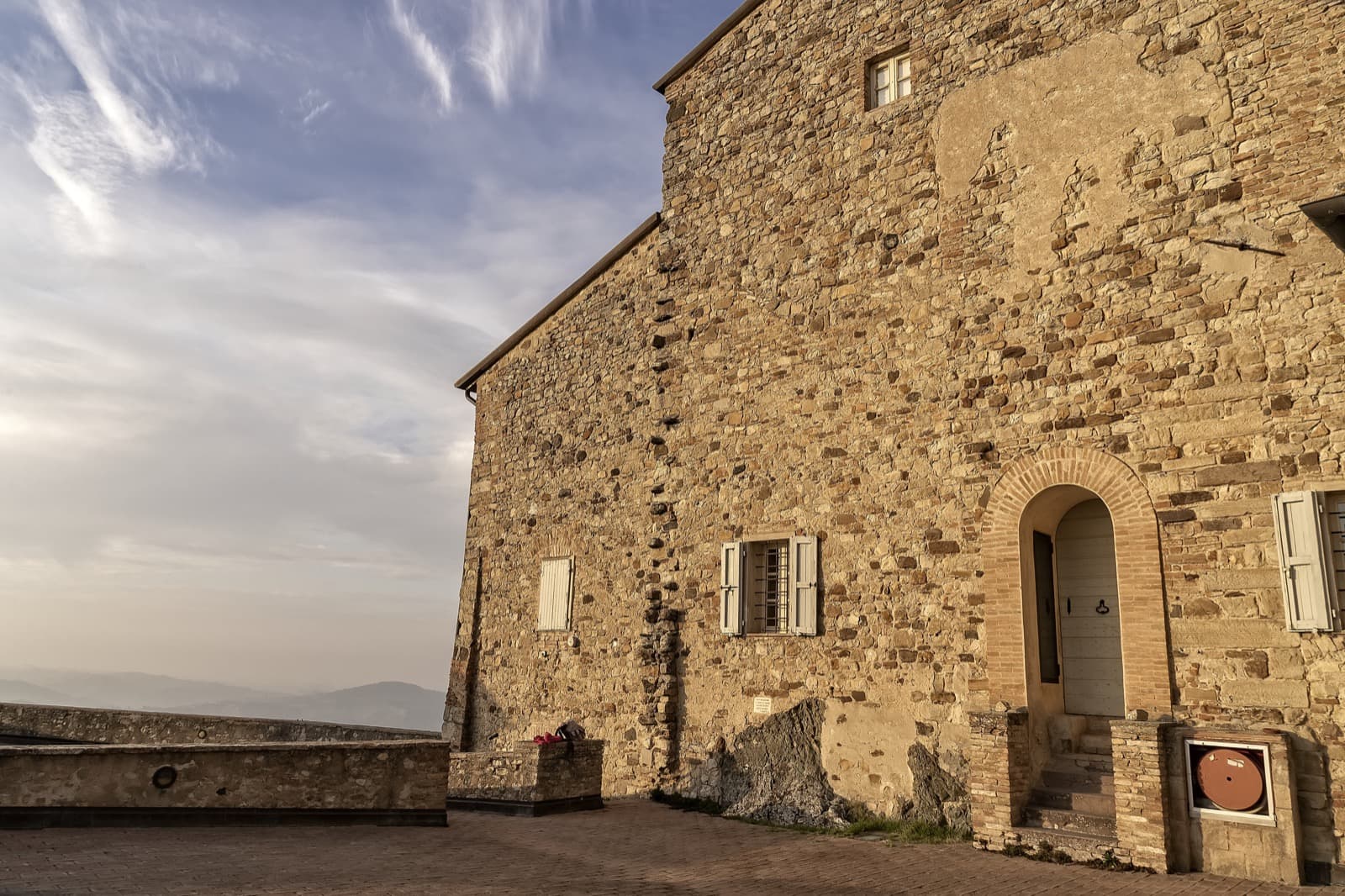 Not far from Canossa, the Rossena Castle was part of Matilde's network of defensive buildings to prevent or fight possible external aggressions or internal unrest.
Rossena was crucial in defending Canossa, thanks to its location and proximity. The fort is well preserved, and its bulk is impressive. The Castle of Rossena offers splendid views of the surrounding scenery: gentle hills and farther, the higher peaks of the Apennines.
Colors change according to the seasons, but the landscape is beautiful at any time of the year.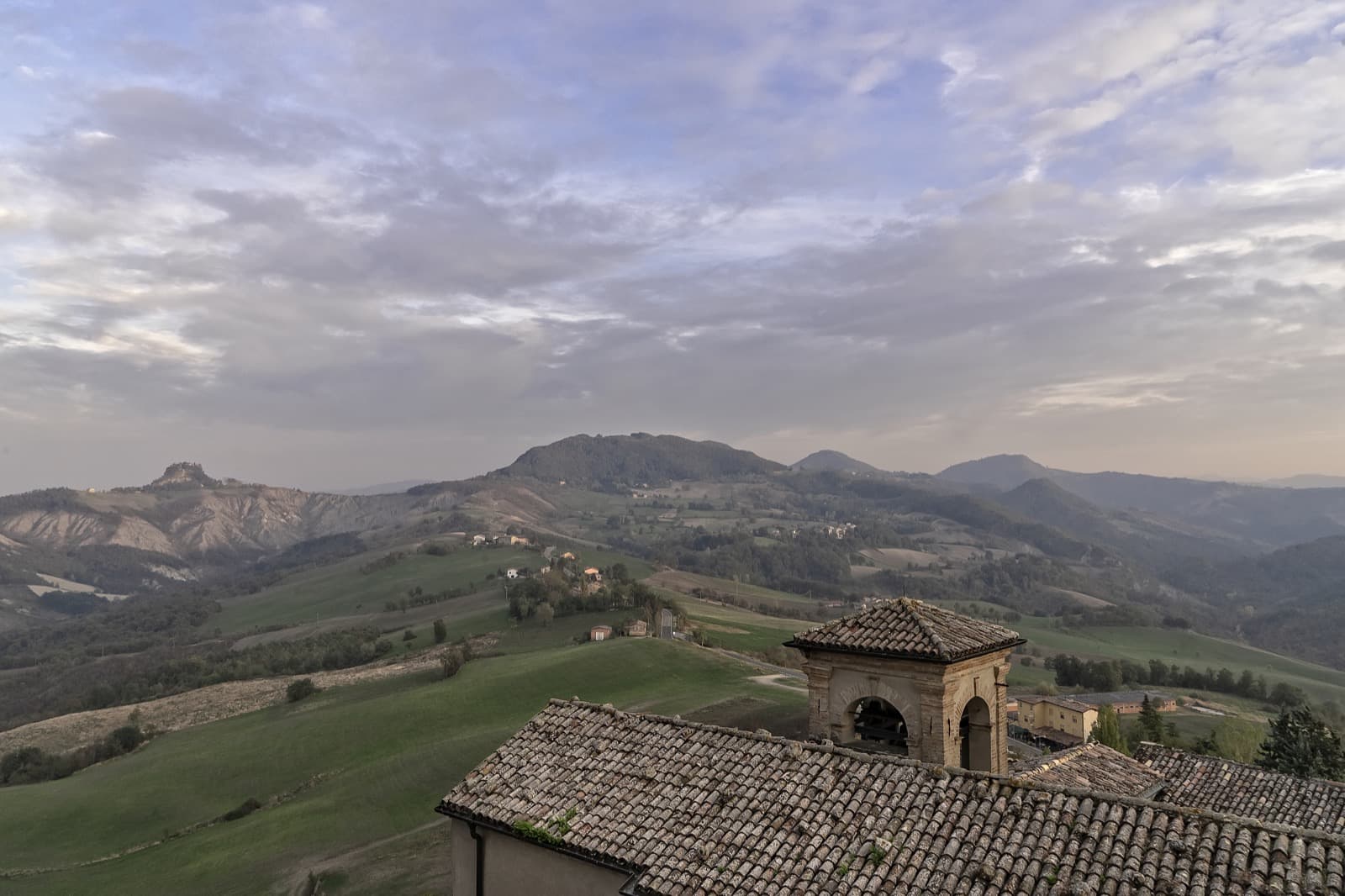 It's also possible to visit the interior of Rossena Castle, admiring the rooms restored to their ancient splendor. After the recent refurbishing, a portion of Rossena was converted into a hostel, open not only to pilgrims but to anyone willing to experience a unique stay.
Days and opening hours:
The monument can only be visited with a guided tour.
June, July, September: Sundays and holidays from 15.00 to 19.00 in three shifts: 15.15; 16.30 and 17.45, maximum n. 8 visitors per shift
October: Sundays and holidays, from 2.00 pm to 6.00 pm, in three shifts: 2.15 pm; 15.30 and 16.45, maximum n. 8 visitors per shift.
November, December, January, February, and March: guided tours by reservation only.
Bookings:
phone: +39 0522 248 423 / +39 0522 248 404
Monday, Friday and Saturday from 9.00 to 13.00
Wednesday from 14.00 to 19.00 (until 28.08.2021)
Monday, Wednesday and Friday from 14.00 to 19.00
Saturday from 10.00 to 13.00.
e-mail: ebiblio@comune.canossa.re.it / centroculturale@comune.canossa.re.it
---
The picturesque Castle of Sarzano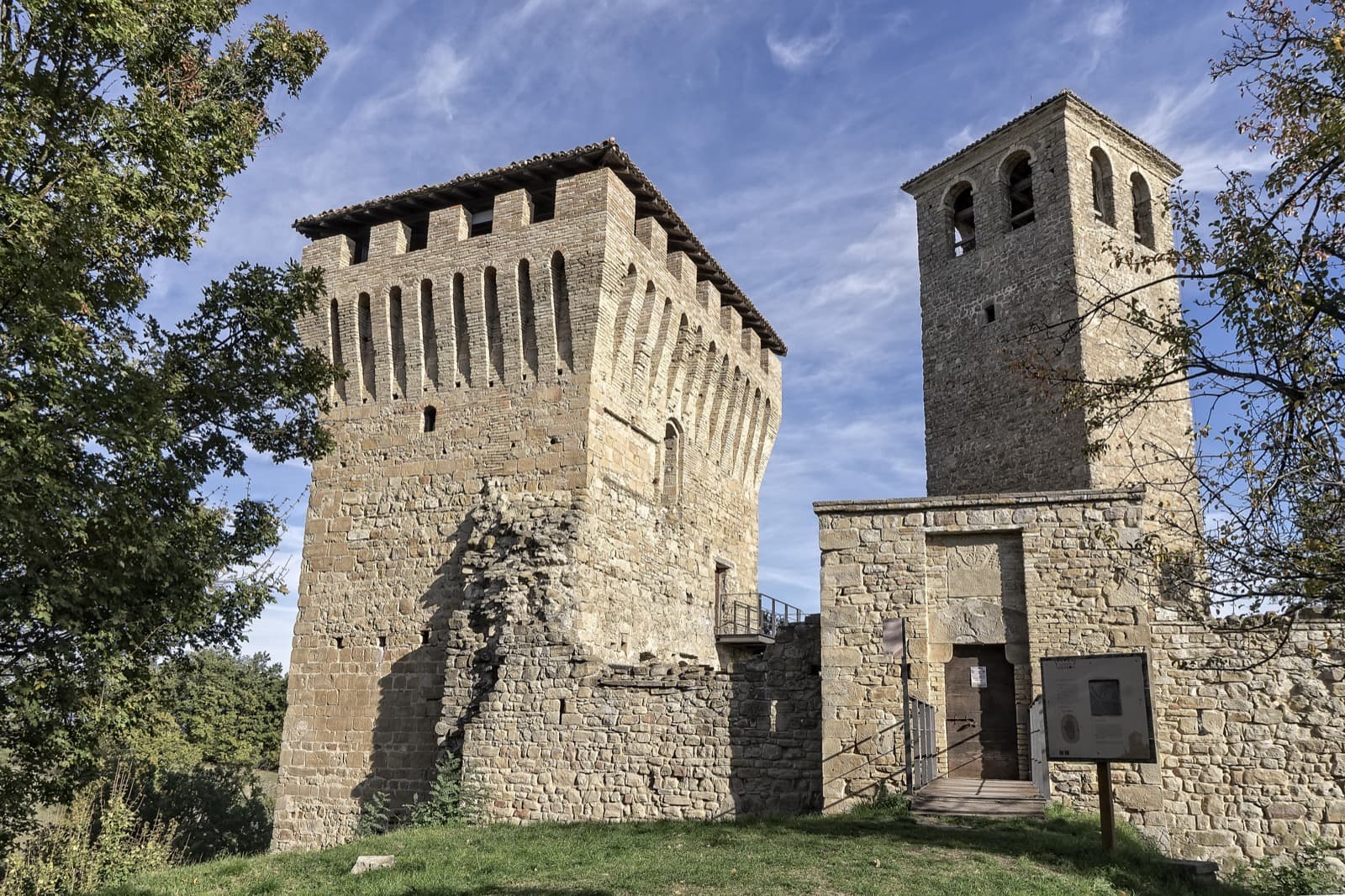 Under Matilde di Canossa's rule, the Castle of Sarzano held a crucial strategic role. The fort, sitting on a hilltop overlooking the route between Parma and Lucca, allowed a broad view of the territory all around. Sarzano ensured the safety of movements, whether of people, goods, or even news.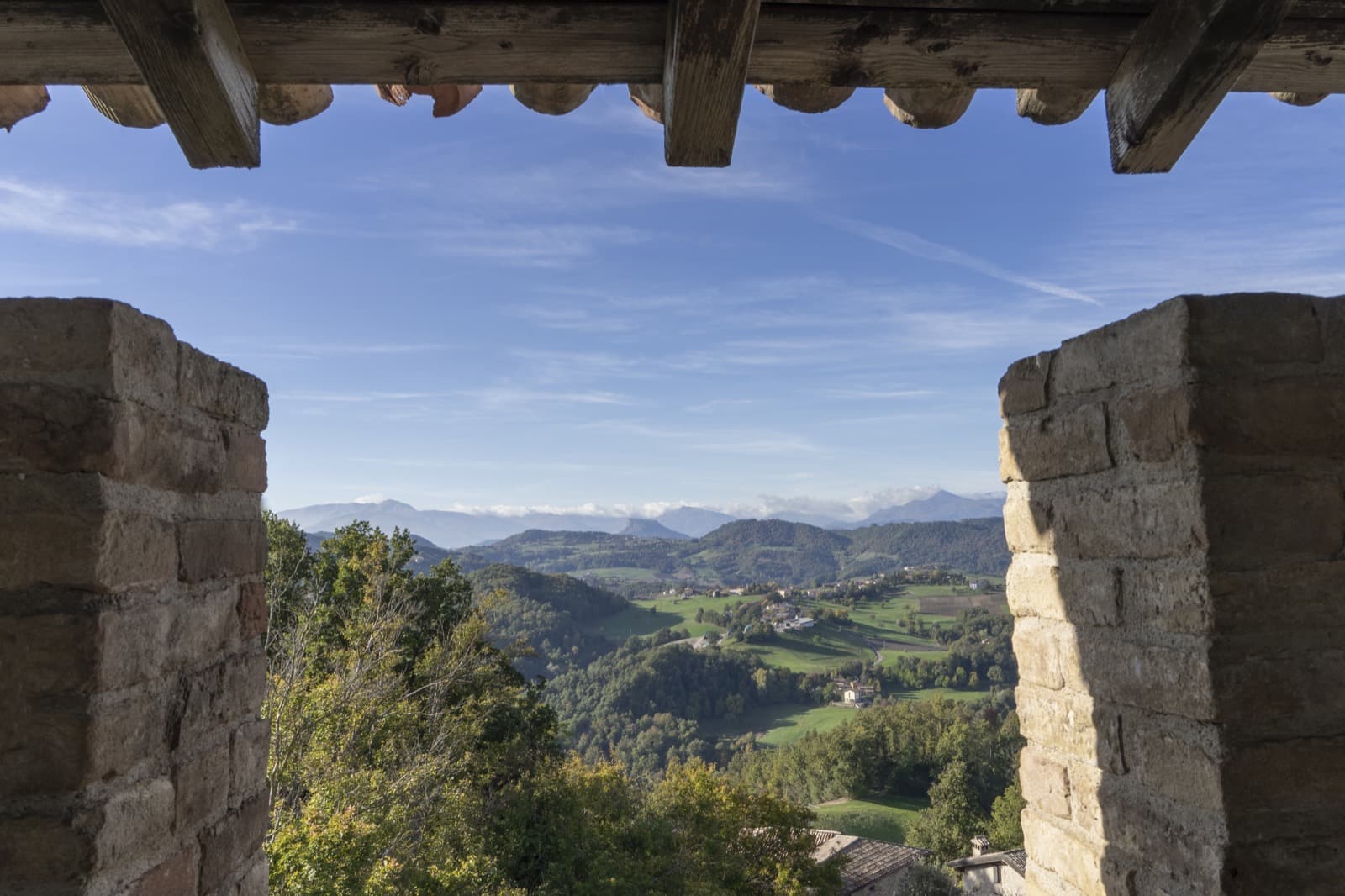 To fully grasp the relevance of Sarzano Castle, you have to climb the tower. The view is impressive, and while nowadays we mostly admire the beauty of the landscape, it's easy to imagine why Sarzano was a crucial outpost.
The Castle of Sarzano stands out for its elegant architecture, despite its military function and picturesque settings. It's also one of the best-preserved forts in the Emilia Romagna Apennines area.
Days and opening hours:
Saturday and Sunday: 10-12.30 and 15.30-19
Contacts:
phone: +39 333 2110379
---
Carpineti Castle, Matilde's most luxurious property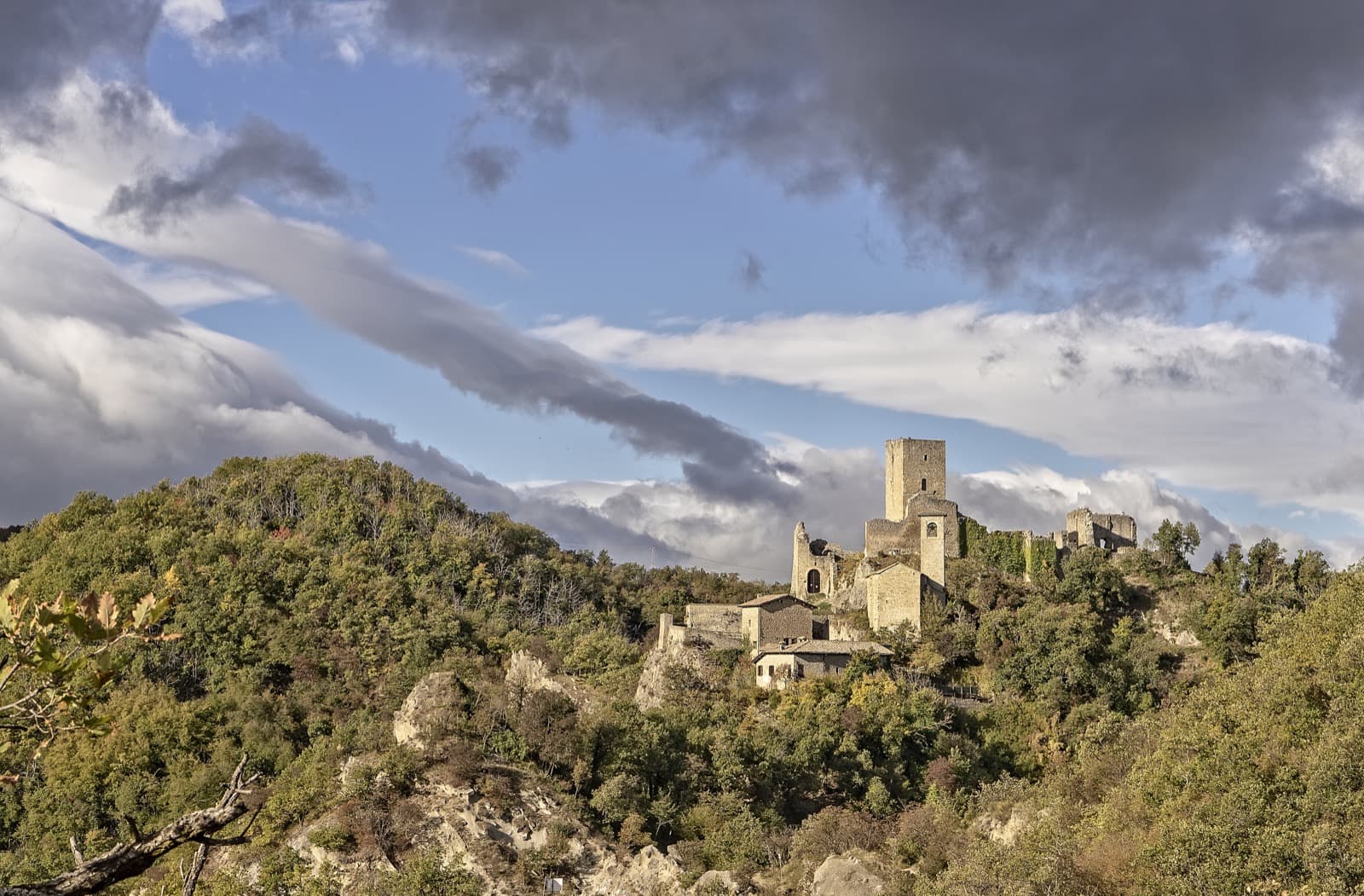 Perched atop the Antognano mountain, at an altitude of 805 m above sea level (2644 ft.), the Castle of Carpineti was Matilde's favorite residence when hosting great personalities. There Countess Matilde met Popes, high members of the clergy, and nobles to discuss religious matters and plan interventions to contrast the Emperor's ambitions and battle against the heretics. Carpineti combined a privileged defensive location with the comforts suitable to dignitaries.
Although you can reach the Castle of Carpineti by car, I strongly recommend hiking from the San Vitale parish church (Pieve di San Vitale). The trail does not present particular difficulties, and you'll get to see the castle all of a sudden, dominating on the spur.
I loved this short hike, and it felt like being out of this time.
At the feet of Carpineti, the Romanesque-style church dedicated to Sant'Andrea was built under Matilde's wish and is nothing short of picturesque.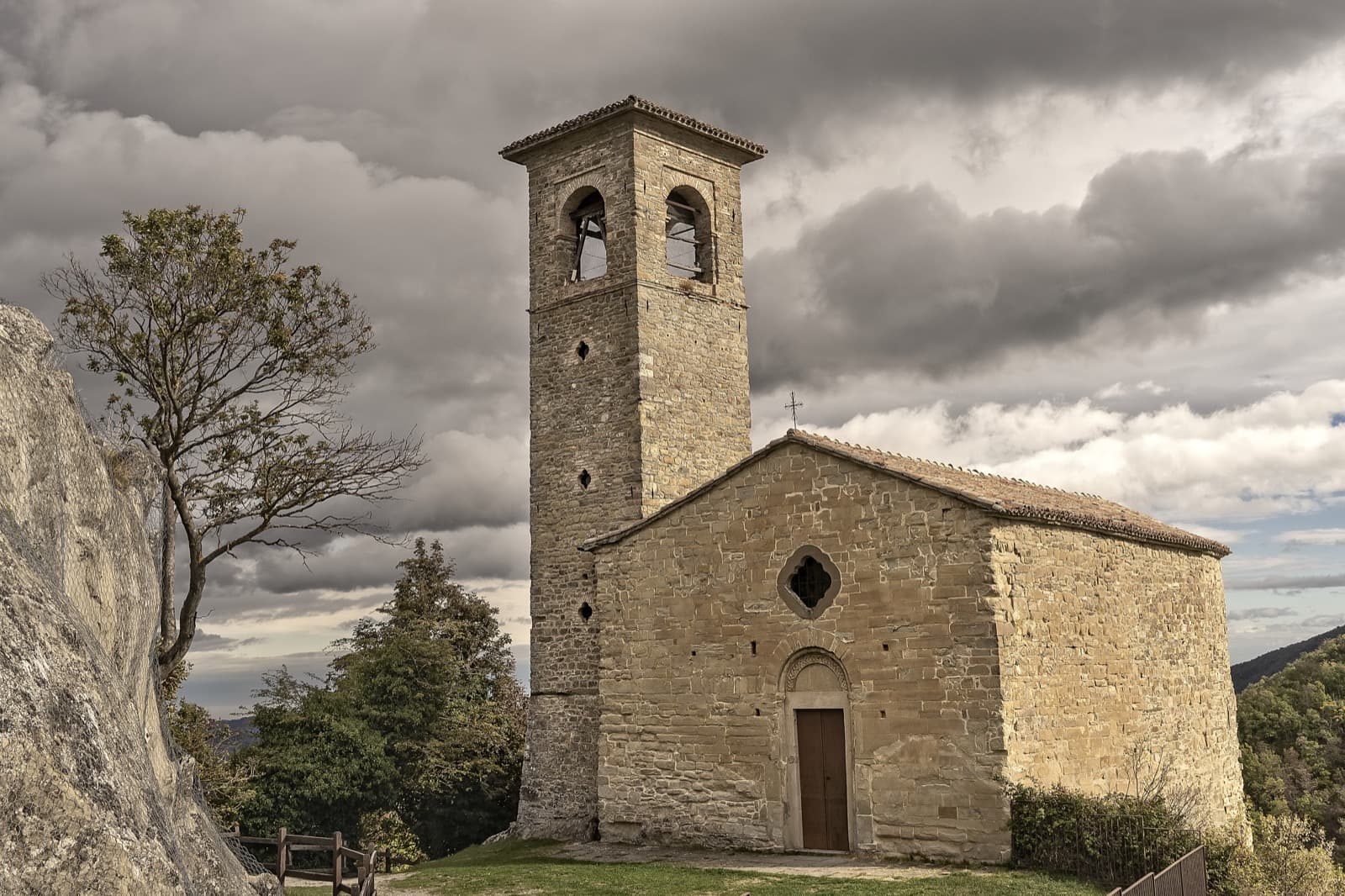 Days and opening hours:
Carpineti is open on Saturdays and Sundays. Hours vary according to the seasons. Therefore it would be best to book in advance.
Contacts:
Maria Grazia +39 339 2313875 / Rita +39 339 3332319133
If you're a group, it might be possible to visit the castle during the weekdays. Get in touch with at least 7 days' notice to arrange your visit.
website: gruppostoricoilmelograno.com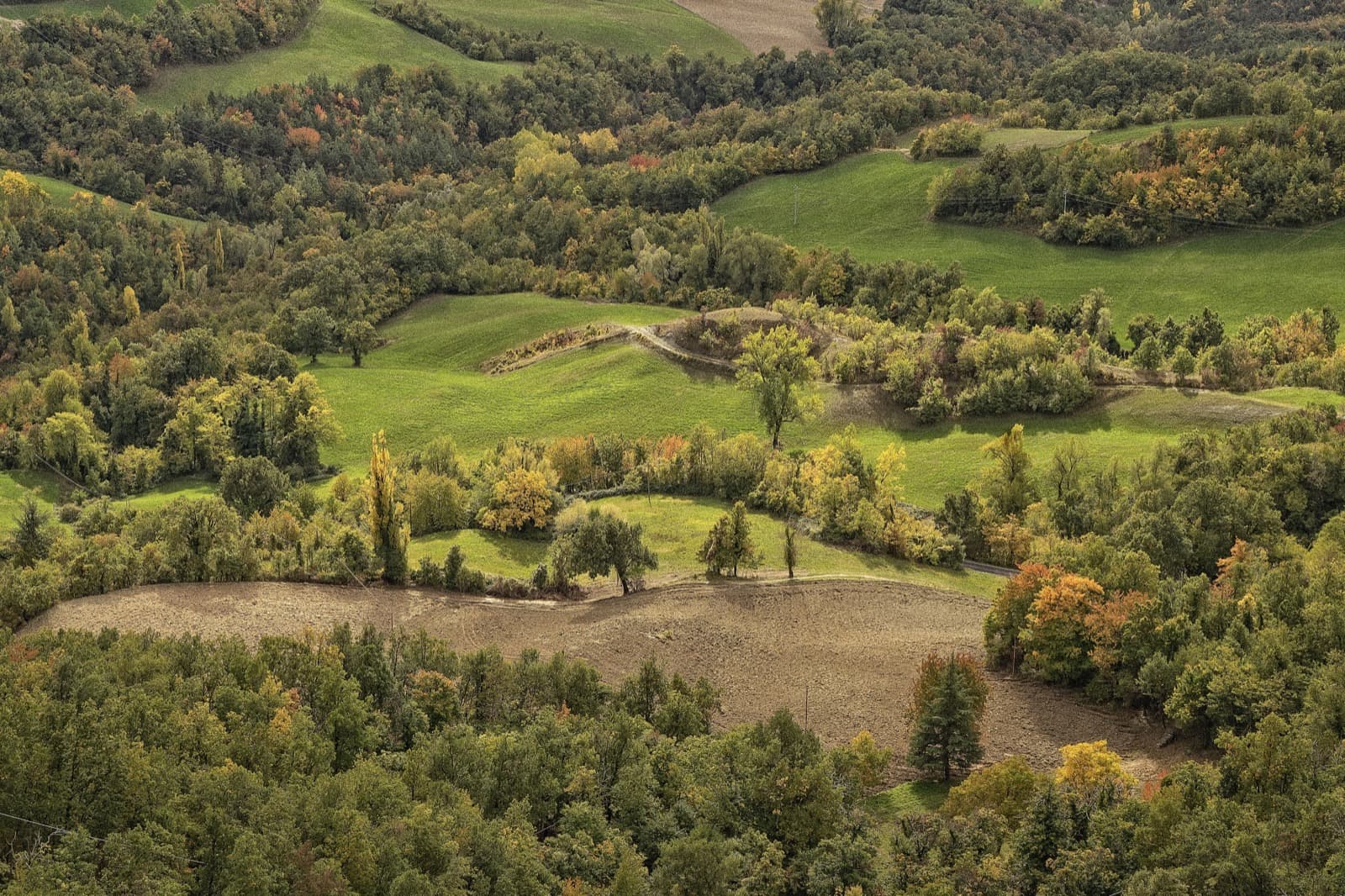 ---
The Bismantova Stone and its unique scenery
Bismantova is a short but extremely rewarding detour from the Via Matildica route. When visiting Matilde's castles and climbing the watchtower, you'll notice a peculiar mountain, a little isolated and almost flat at the top, standing out at the horizon. It's the Bismantova Stone, a beautiful rock formation favored by climbers and where you can also hike.
Bismantova is a natural wonder and one of the most scenic points in the area, which you shouldn't miss.
Whether walking, biking, or road-tripping, the Via Matildica del Volto Santo will surprise you with its charm and authentic flair. It's a great place to escape the crowds, enjoy the peace, taste delicious food, and discover a piece of Italy off-the-beaten-track.
Author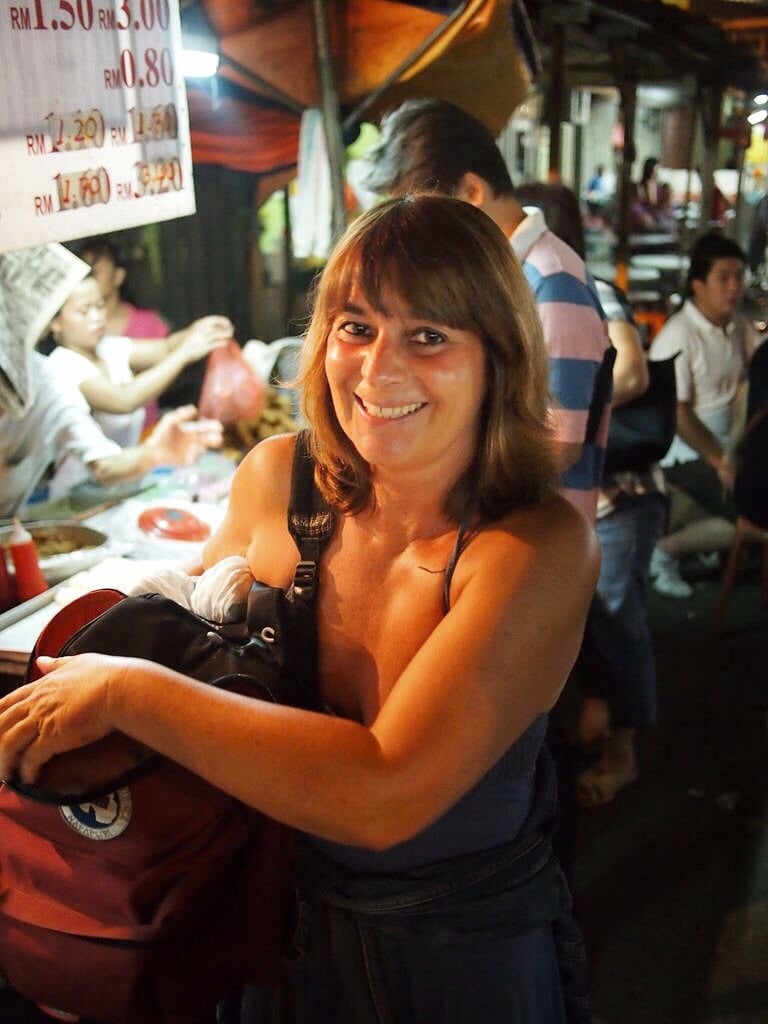 A solo traveler for 20+ years, Simon Falvo is passionate about nature and hiking and also art, architecture, and design. She is always on the look for lesser-known destinations, and in her blog, Wild About Travel, she tells stories of her journeys in words and photography.
You may also like