Today I would like to introduce a recipe from a city that surprises me every time I visit, Ferrara!
A beautiful art city, filled with incredible architecture and interesting streets (yet under-visited by tourists), with delectable specialty foods like pumpkin cappellacci (similar to tortelloni) and a decadent maccheroni pasticcio that must be tasted!
Since it's Autumn and pumpkin is in season, I wanted to try Cappellacci Ferraresi!
The name cappellacci, "caplaz" in dialect, comes from the wide-brimmed straw hat of peasants: let's not forget that for centuries the pumpkin was the main source of livelihood in the countryside, the poor men's meat.
For this recipe it is recommended to use the classic Violina pumpkin (Butternut in English) typical of the area, but other varieties are also fine. I have used a Moscata pumpkin, that was a lovely gift from a friend's vegetable garden! I have to admit, it turned out very delicius!
Let's try to make them together!
Recipe
Ingredients
PASTA DOUGH
360g of 00 flour (normally 1 egg for 100g of flour but I prefer keeping the dough softer)
4 medium size eggs
FILLING
1 kg of pumpkin
350g of grated Parmesan cheese
Salt and nutmeg to taste
Preparation
Begin by preparing the pumpkin. Cut it into pieces, remove the seeds and the filaments and bake it in the oven for 20 minutes, at 170 degrees.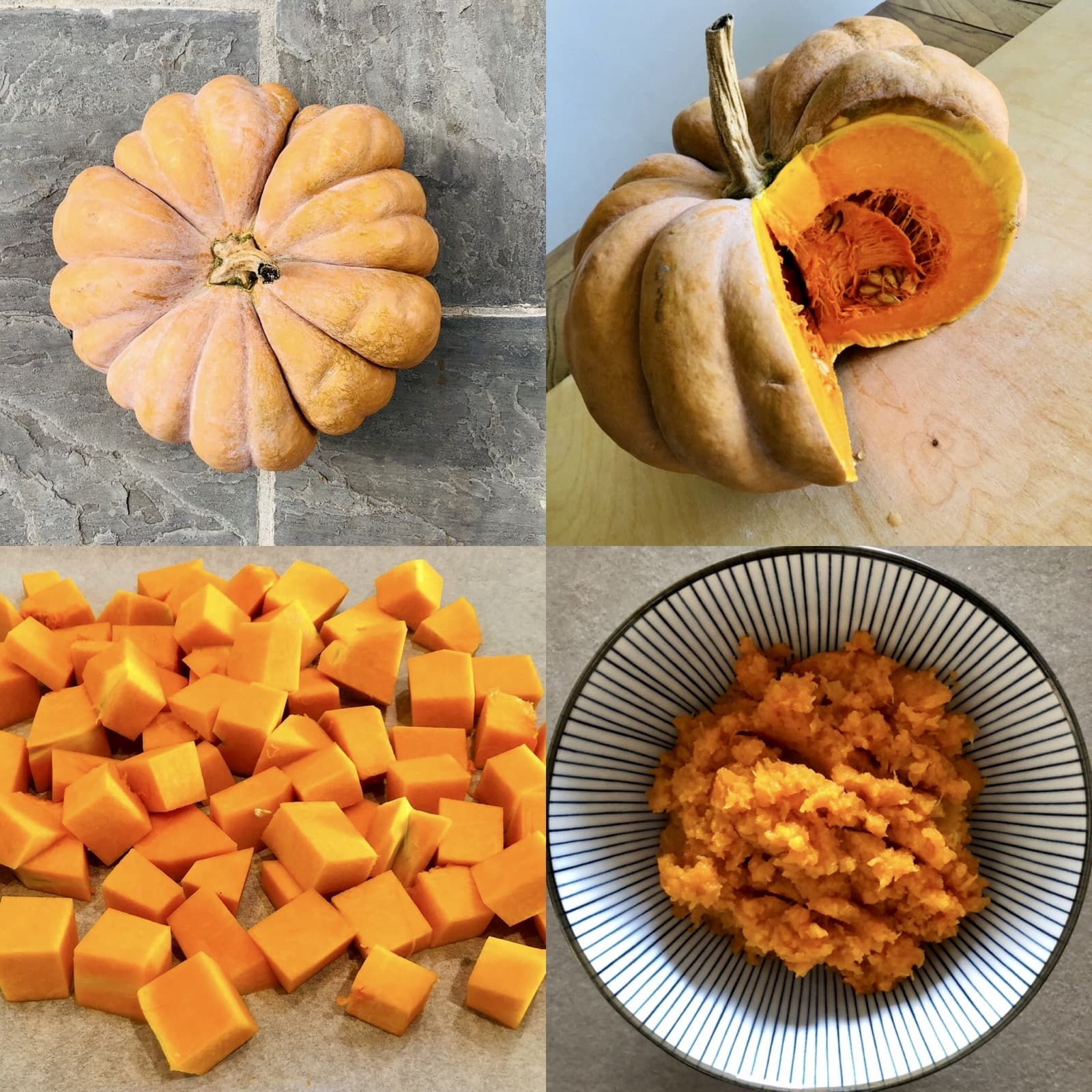 Meanwhile, start making the pasta dough. Pour the flour onto a work surface and make
a volcano in the center. Crack 4  eggs into the well and stir with a fork to combine.
Once the eggs are mixed into the flour, use your hands to knead the dough until it becomes smooth and elastic (about 10 minutes).
Wrap the dough in cling wrap and let it rest for at least 30 minutes.
Then, with the cooked pumpkin make a purea and then mix it with Parmigiano Reggiano cheese,
salt, and nutmeg. Transfer to a piping bag (or using a tablespoon and a fork).
Unwrap the dough and flatten it till 2mm thick with a rolling pin. Pipe a small amount of filling (around a teaspoon) making lines leaving (each cappellaccio should be about 4-7cm).
Now cut the dough into stripes and squares.
Fold each square diagonally to create a triangle, carefully pressing together to remove any air bubbles. Bring the two widest corners of the triangle together to create the 'priest hat' shape.
Transfer the cappellacci to a tray dusted with flour (or a wooden board) to prevent the shapes from sticking together or drying out.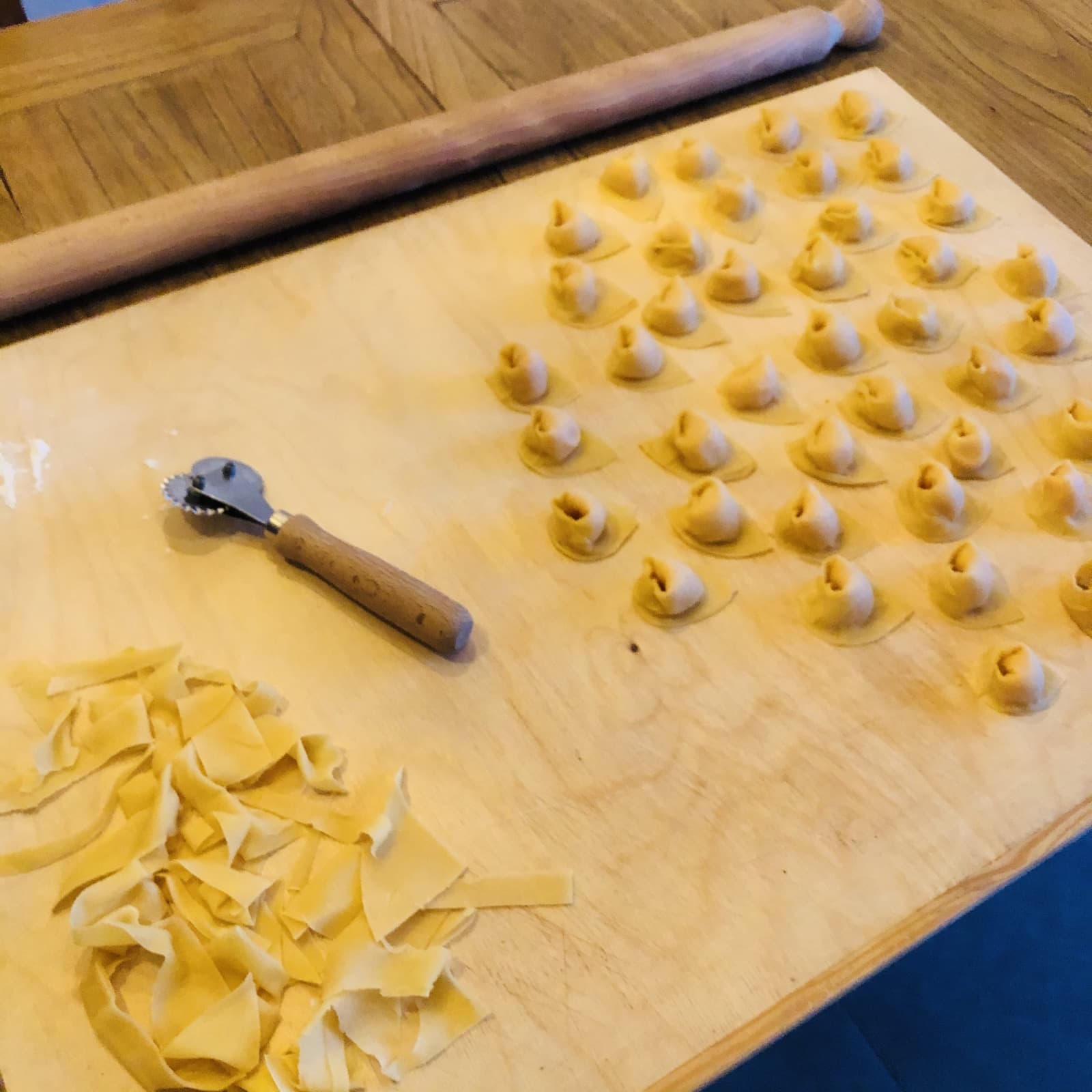 Bring a large pot of salted water to a rolling boil. Add the Cappellacci and cook until they start to float. Drain them and transfer them to a saucepan. Use the sauce you prefer and enjoy your Cappellacci!
To serve
Either use butter & sage sauce or ragù Bolognese, both are very delicious.
One more delicate the other one with an explosion of flavor (sweet & salty as a perfect combination).
Food History
Pumpkin cappellacci are the symbol of Ferrara's cuisine.
The first written recipe of cappellacci di zucca ferraresi dates back to 1584 and is by Giovanni Battista Rossetti, chef of the court of Alfonso II d'Este, who publishes it in his work "Dello Scalco".
Since then, the recipe of pumpkin cappellacci has changed radically.
First in the filling, in pure Renaissance style, there were also ginger and cinnamon and then over time cappellacci ferraresi became a popular recipe: today only nutmeg remains as a spice, in memory of that aristocratic past.
Author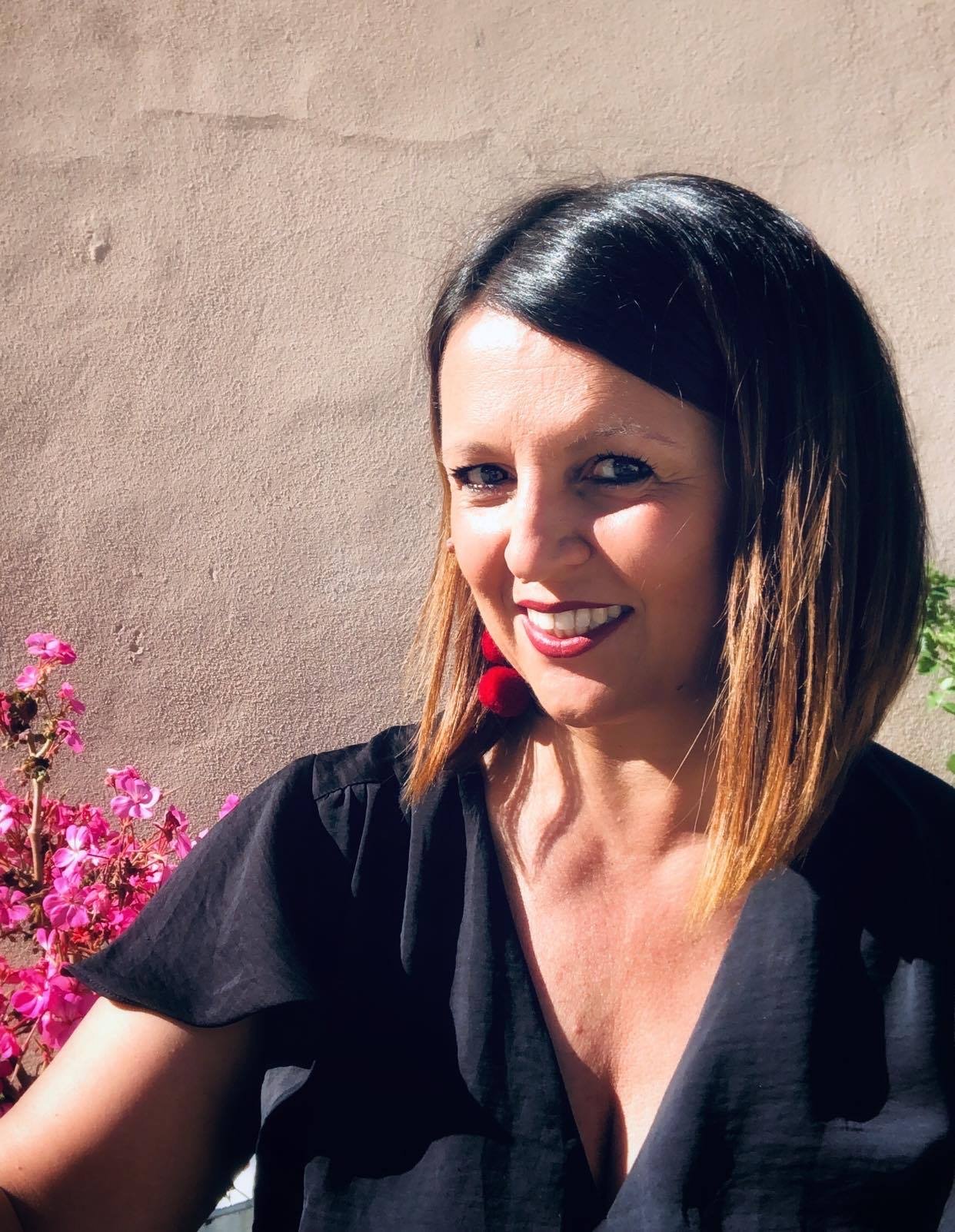 Passionate for food & travel, I loved living in China for 12 years and exploring a different culture. I had the opportunity to discover new flavors and unknown ingredients in the cooking process and became inspired in my own recipes. Tradition though is still an important part of my life. Tradition is the origin of my passion, it's where everything came from: looking at my Nonna cooking in a tiny kitchen in a little village in Italy's Emilia-Romagna Region is where my love of food was born.
Communication is another important asset of my philosophy: I love photography. I believe images have strong communication power in creating emotions. That's why recipes will always be introduced by photos of my creations. Looking at pictures of my dishes will be a travel in time and space, entering the kitchen and enjoying the taste of authentic Italian creations.
You may also like