Today's recipe is perfect for all the seafood lovers (…but not only). Its delicate taste makes this pasta a wonderful journey for one and all!
I am talking about RAVIOLI with PRAWN FILLING.
Seafood for me, living in Romagna, has been always an important part of my food culture.
The Adriatic coast is known for its great hospitality and its delicious food so if you have the chance, come and try: you will definitely feel welcome straight away.
Since it's still springtime and I love wandering surrounded by nature, I collected some nettles to use for making the pasta dough.
Nature plus tradition…che bontà!
Let's start!
Recipe
Ingredients
Pasta Dough
4 medium eggs
340g flour 00 kind (+ 120g flour after mixing the nettles)
160g cooked nettles
*Nettles: pick the top part where the new leaves are growing. Do use gloves (of course!) to collect the nettles to avoid skin rash.
Filling
350g prawns (I used two varieties the king size for the sauce)
250g of caciottone di Romagna cheese (or ricotta cheese)
Nutmeg & lemonzest to taste
1 pinch of salt
Preparation
Nettles
Wash the nettles in water and baking soda (a pinch). Boil them in water until the leaves will be smooth and soft. Rinse them and make sure no water remains from the cooking process.
Use a blender to make a cream with the nettles.
You will use for both dough and filling.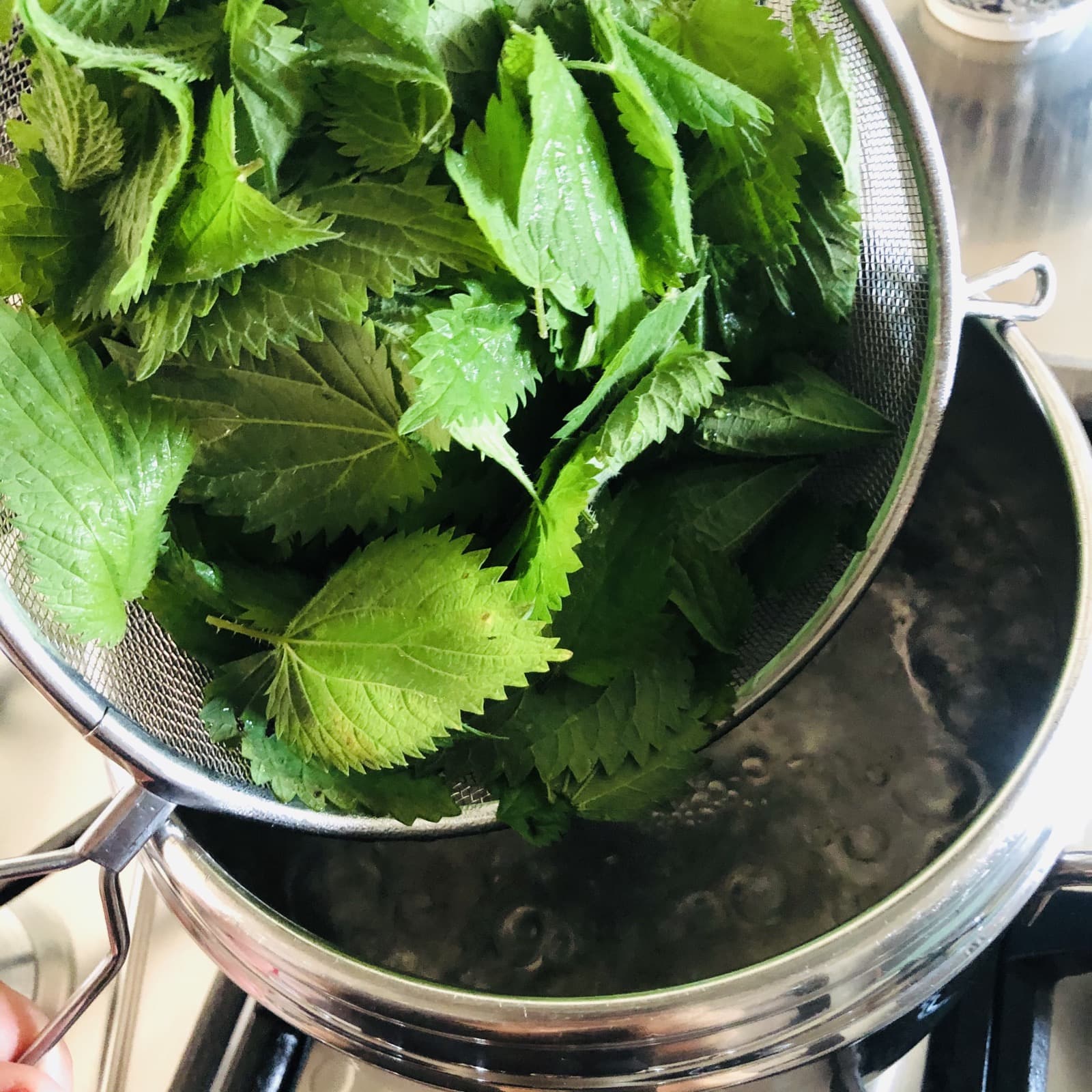 Dough
Place 340g of the 00 flour into a large wooden board (this time I used a pasta mixer to save time).
Pour the remaining 120g of flour into a small bowl, ready to use when necessary.
Shape the flour into a volcano with a large hole in the centre, then crack the eggs into the middle.
Using a fork, lightly beat the eggs, then mix in the flour a little at time.
Now add the nettles cream and keep mixing till it is completly integrated.
---
It is essential that the flour is gradually beaten into the eggs to ensure the walls of the volcano don't break too soon. Add the rest of the flour (120g).
If the dough is still too moist consider adding a bit more flour.
Remember always to add the flour gradually for having a soft dough (if it is too dry you will not be able to work the dough with the rolling pin later).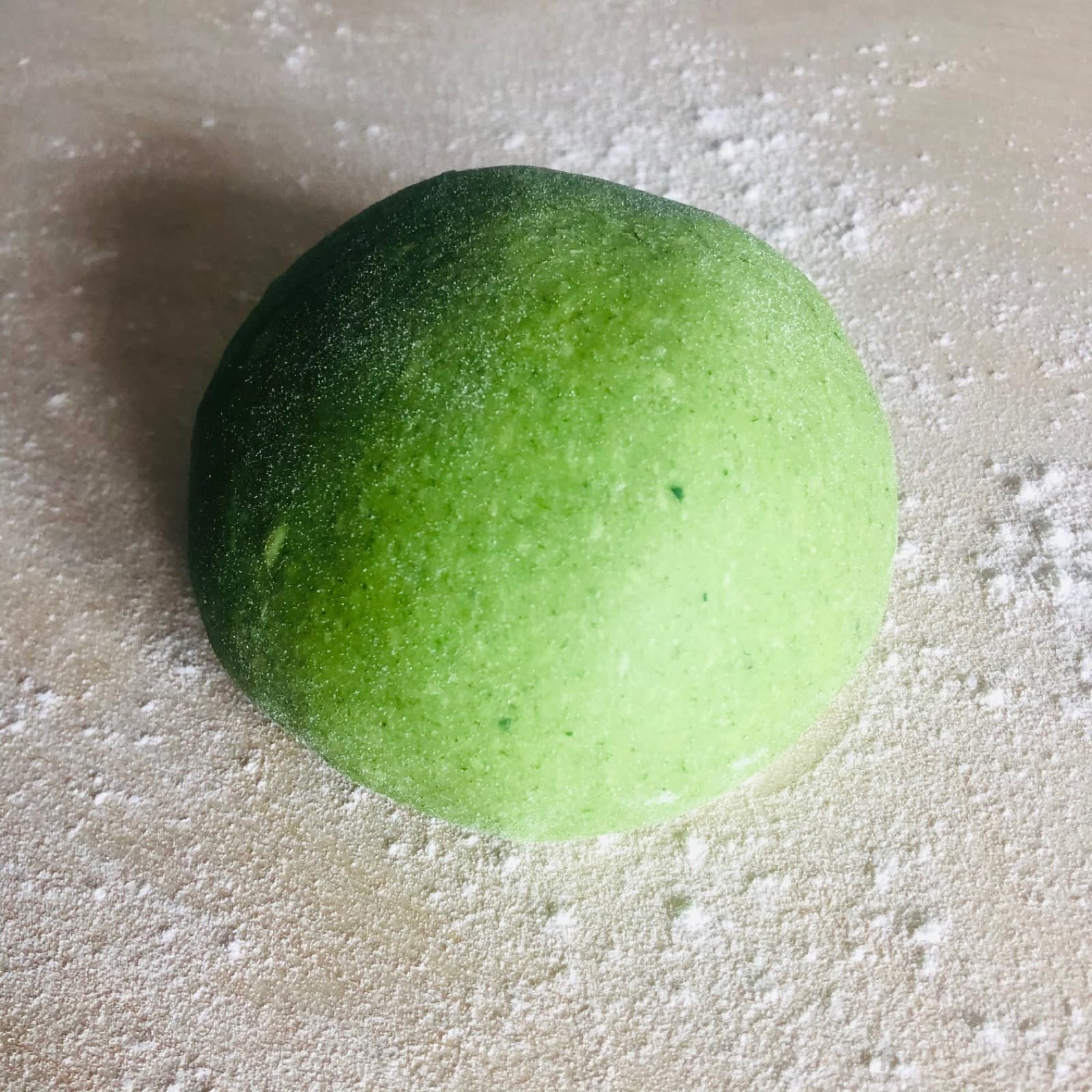 Bring the mixture together with a spatula and your hands until you obtain a consistent ball of dough. Work the dough with the heel of your hand for 10–15 minutes (until the mixture is smooth, not sticky, and very elastic). Wrap the dough in cling wrap and let it rest for at least 30 minutes.
Filling
Meanwhile, prepare the filling. Using a frying pan sautè in butter the prawns with a pinch of salt and lemon zest. Remove the prawns then, using a blender, combine the Caciottone di Romagna cheese for a creamy blend to be used for the filling. Dust a wooden board with 1 tbsp of flour.
---
Unwrap the dough and flatten it with a rolling pin.
Roll out the dough into a thin pasta sheet, 1.5-2mm thick (if you have a pasta machine, divide the dough
into 4 before rolling it out).
Meanwhile transfer to a piping bag the filling you have previously made and pipe on the dough a small amount of filling (around a teaspoon) as per the photo below.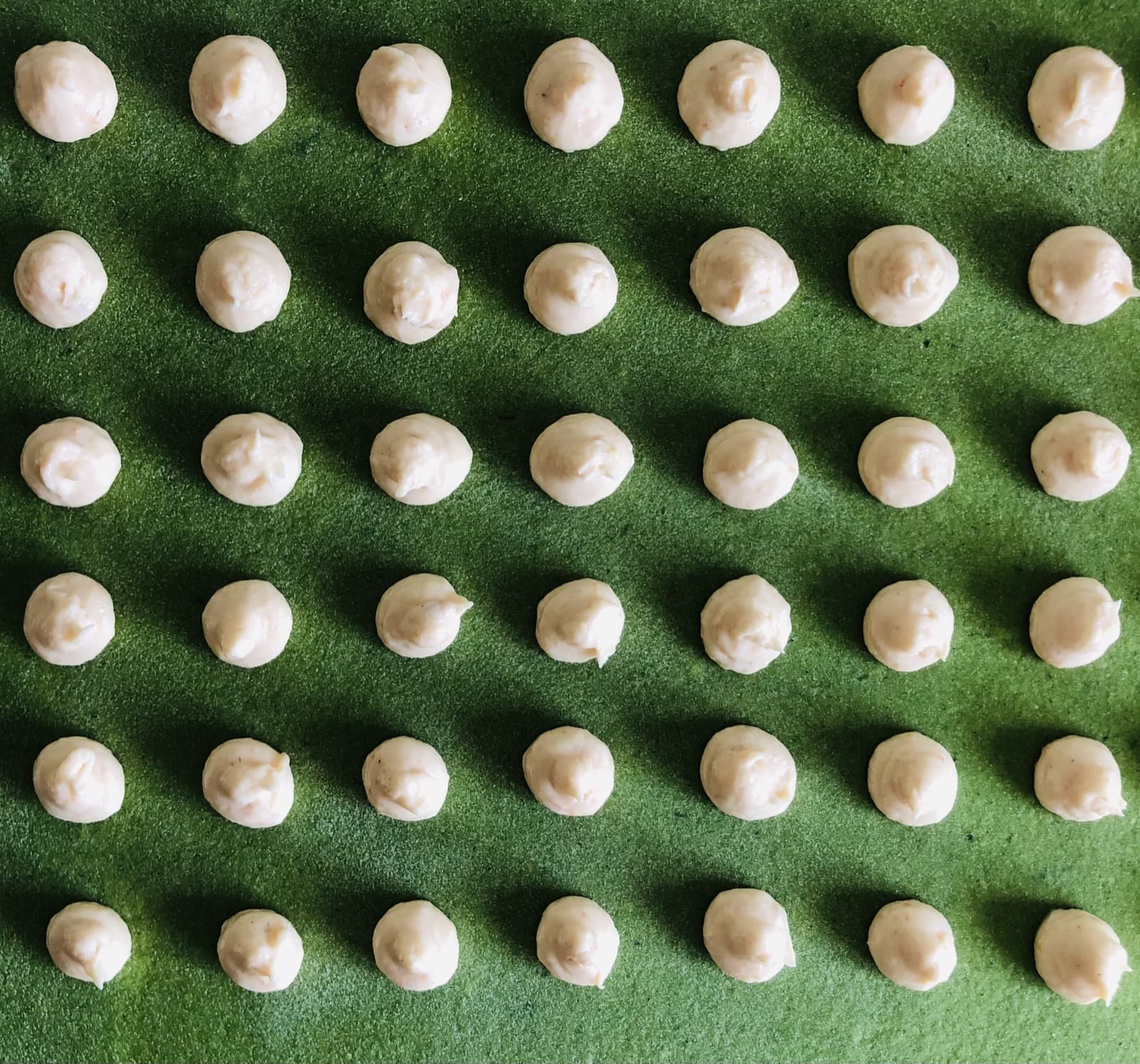 Cover them with the remaining half of dough, carefully press it to remove any trapped air.
Using a pasta cutter start making ravioli into squares.
You can let the ravioli sit out for a couple of hours but for more than that you should refrigerate.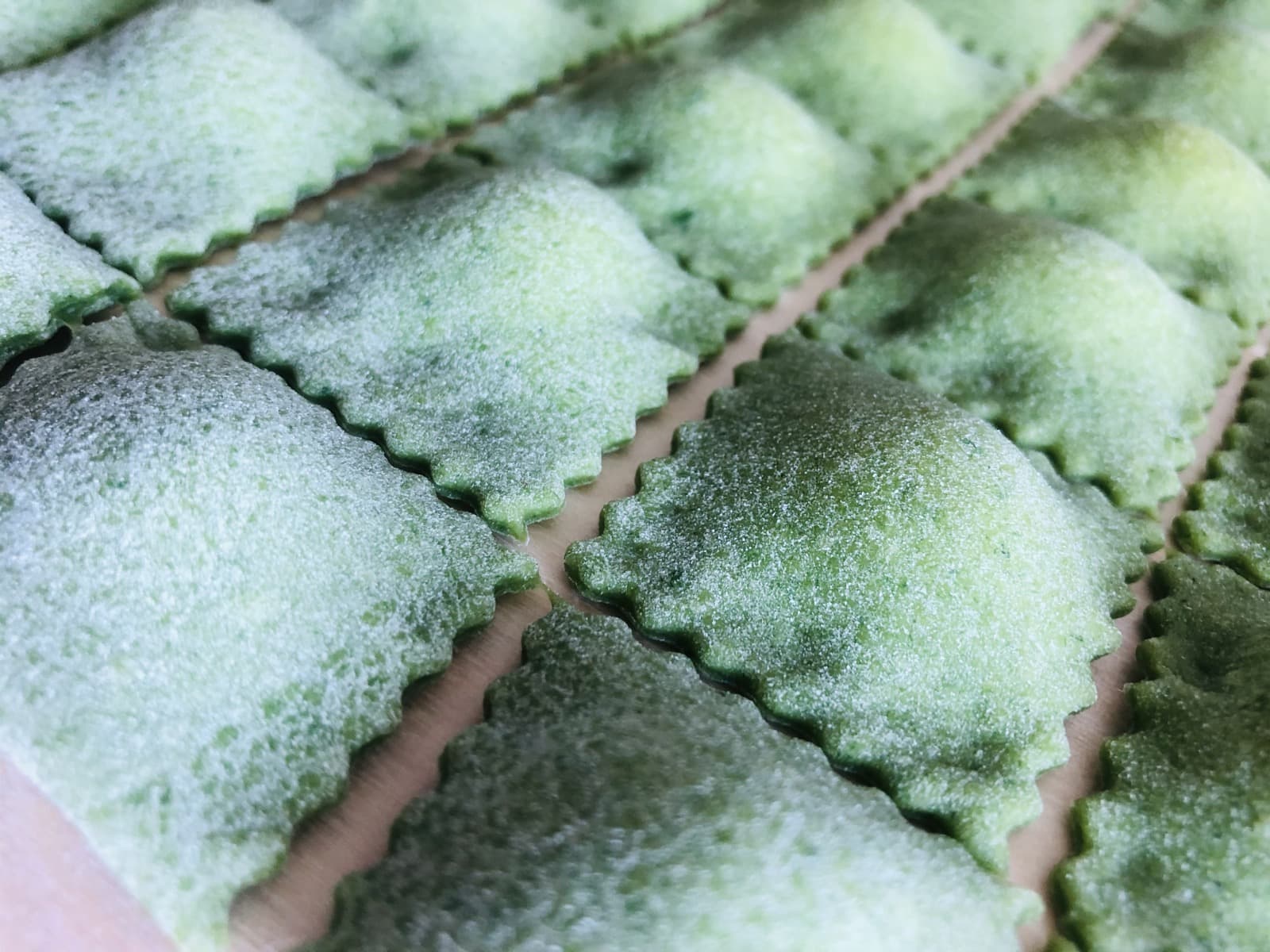 Cooking
Bring a large pan of salted water to the boil, then add the Ravioli and cook for 2–3 minutes (as soon as they raise they are ready). Drain and add them into a frying pan with King prawn sauce.
Sauce
Using a frying pan sauteè for few minutes the king prawns, previously cut, in butter. Add the Ravioli stiring gently and sprinkle some lemon zest to finish.
Author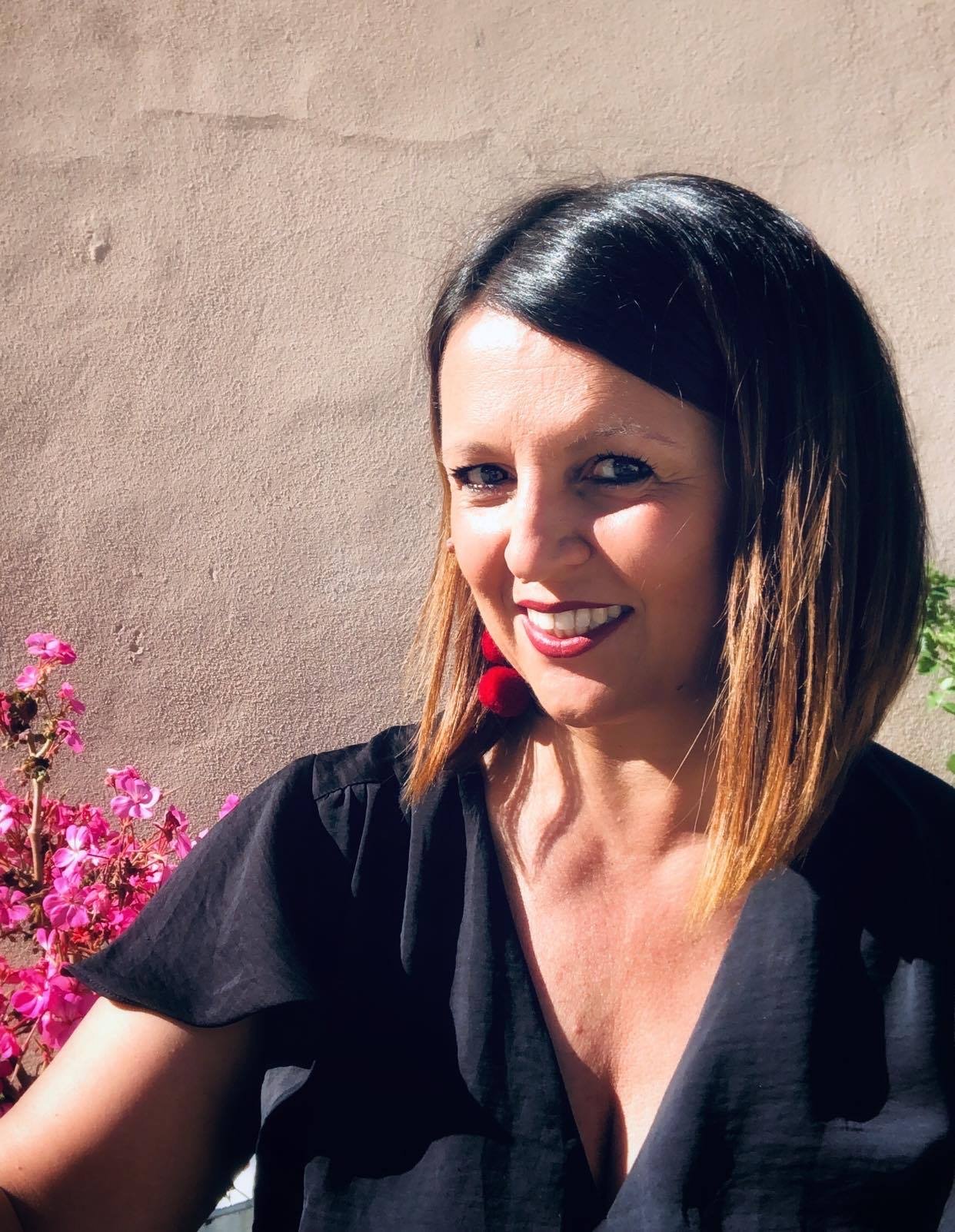 Passionate for food & travel, I loved living in China for 12 years and exploring a different culture. I had the opportunity to discover new flavors and unknown ingredients in the cooking process and became inspired in my own recipes. Tradition though is still an important part of my life. Tradition is the origin of my passion, it's where everything came from: looking at my Nonna cooking in a tiny kitchen in a little village in Italy's Emilia-Romagna Region is where my love of food was born.
Communication is another important asset of my philosophy: I love photography. I believe images have strong communication power in creating emotions. That's why recipes will always be introduced by photos of my creations. Looking at pictures of my dishes will be a travel in time and space, entering the kitchen and enjoying the taste of authentic Italian creations.
You may also like