Milan is a great city, but let's face it – it does get tiring. Between its hectic rhythms, traffic, grey weather, and general sense of 'busyness', people – locals as well as visitors – dream of escaping as often as they can.
For this reason, the Milanese have become real pros at planning weekends away. Give them two, three days off, and they'll have a full itinerary planned – including outdoor activities, some culture or beach time, lots of great food and naturally some good old R&R.
Emilia-Romagna has long been a favourite weekend escapade from Milan. The northern borders of the region are less than an hour away, and have plenty to offer between Apennine hikes, river beaches, and picturesque borghi (villages).
Travel further south, and you'll find Bologna, the Po Delta, a naturalist's haven, the Foreste Casentinesi National Park, and the beaches of Romagna – because there's no better way to end a fun-filled weekend than a few hours at the beach.
Here is a selection of places in Emilia-Romagna to visit from Milan – all within a maximum of 3 hours drive from the city. Choose your favourite, or combine more for a weekend discovering the best outdoor activities in Emilia Romagna!
How to Reach Emilia-Romagna from Milan
First things first – from one end to the other, Emilia-Romagna measures almost 300 km. As a result, travel times will depend on where in the region you want to go.
Piacenza, the northernmost town, is only 70 km from Milan, and can be reached by car and train in about an hour. On the other hand, if you are planning to travel to the southern part of Romagna, you'll need to account for at least three hours.
From Milan, you may choose to travel to Emilia-Romagna by train or car. Train is ideal if you want to visit larger cities within the region, but if you wish to go hiking or head to smaller towns, a car will make your life much easier.
The Milan-Rome high-speed rail line crosses Emilia-Romagna, stopping in Bologna. Travel time is only 1 hour (2 and a half by car) – so if you are planning to just visit Bologna, the train is probably a better option.
Most locations featured in this article are quite offbeat, and only served by minor regional lines (if any). For this reason, we recommend travelling by car. You'll find travel time from Milan included in each section, as well as travel time from the previous location in case you wish to combine all suggestions into a weekend itinerary.
What to See in Emilia-Romagna from Milan
-Bobbio
Driving time from Milan: 1 hr 35
Travelling to Emilia-Romagna from Milan, the first large town you'll encounter is Piacenza, just across the great river Po. Driving south from Piacenza, the mighty Apennines will soon come into view – that's where you'll find Bobbio, a town worth visiting not just for its historical and cultural heritage, but also for the beauty of its surrounds.
Bobbio may look sleepy nowadays, but it was a bustling town during the Middle Ages. It was home to an Abbey founded by Saint Columban, an Irish monk, whose remains are still kept in the crypt. Bobbio Abbey used to house a busy scriptorium, where thousands of sacred texts were copied by hand before the invention of the printing press.
Start by checking out the main sights in Bobbio – not just the Abbey, but also the Cathedral and the Castle overlooking town.
You'll no doubt notice the stunning Ponte Gobbo, one of many 'Devil's Bridges' found across Italy. Legend has it that the engineer building the bridge asked Satan for help, promising him the first soul to cross the bridge in exchange – and then, not wanting to sacrifice a person had a dog (or pig, depending on who's telling the story) cross instead.
Bobbio's Ponte Gobbo also marks the start of the Via degli Abati, a 5-day long-distance trail crossing the Apennines all the way to Pontremoli, where it joins the Via Francigena. If you are only in Bobbio for a day or two, you may consider hiking part of the first stage to the nearby village of Coli, including a climb through a shaded forest ending with scenic views over Bobbio.
Bobbio is crossed by the River Trebbia, one of the cleanest and most pristine in the whole of Northern Italy. In summer, beaches along the Trebbia are a great alternative to crowded beaches on the Adriatic coast – in Bobbio, you'll find people sunbathing and swimming under the Ponte Gobbo, but a much nicer place is La Berlina Beach, 5 km away.
---
-Bologna
Driving time from Milan: 2 hr 40
High-Speed Train from Milan: 1 hr
Driving time from Bobbio: 2 h 15
The largest town in Emilia-Romagna is one of Italy's most beautiful cities. It's a worthwhile destination for a weekend, or even a week – Bologna has plenty to offer, including unusual sights and museums, and one of the best food scenes in Italy.
.
However, we'd like to recommend something a little different. For a few years, the city of Bologna has been organizing an Urban Trekking event at the end of October, offering locals and visitors alike the opportunity to join free guided walks to discover unknown corners of the city and nearby villages.
If you are visiting at the right time for the event, you may choose from a variety of themed walks to visit secret gardens, street art hotspots, countryside churches, monasteries, and more.
Check out BolognaWelcome to know more!
Otherwise, you may still contact a Bologna tour guides association and ask them to plan an urban trekking itinerary depending on your interests. It's a great way to explore the city slowly, escaping the crowded historic center to discover lesser-known locations, often immersed in nature.
Are you in Bologna only for a few hours, but still want to take an easy yet rewarding hike across the city? You can walk all the way to the Sanctuary of San Luca, sitting atop a hill 300 meters above the city.
It's possible to reach San Luca by taking the longest walk in the world completely under porticoes – 3.8 km, from Porta Saragozza in Central Bologna all the way to the Sanctuary, also worth visiting for the great views over the hills surrounding the city.
---
– Po Delta
Driving time from Milan: 2 hr 40
Driving time from Bologna: 1 h 15
Most towns and attractions in Emilia-Romagna are located along the Via Emilia, a Roman-built road connecting Piacenza to Rimini. The next location is away from the Via Emilia, so it requires a little extra driving – but trust me, it will be worth it.
The area known as Po Delta is where Italy's longest and largest river meets the Adriatic Sea, splitting into several canals and creating islands and lagoons. The Emilia-Romagna section of the Po Delta is in the northeastern part of the region, not far from Ferrara – which is also a town worth visiting, if you've got time.
The Po Delta is made of wetlands, low-lying and windswept, where the borders between land and water are not always clear. It's one of the best places in Italy for wildlife-watching – you'll be able to spot wild horses, with pale brown manes the same color as the reeds bordering the lagoons, flamingos, bulls, and plenty more water birds, from herons to egrets and wild ducks.
You'll see vast lagoons dotted with islands, some of which shift their locations from year to year. You take a ferry to a lighthouse, and on the beach just opposite you'll see shacks made with driftwood, where locals spend the night in summer (and sometimes organize secret parties!)
Amid all this natural beauty, make sure you also visit Comacchio, a stunning mini-Venice built on thirteen islands, all connected by canals. The main sight in town is the Ponte dei Trepponti, the ancient entrance into town for those coming from the sea, with three bridges connected to one another.
---
-Brisighella
Driving time from Milan: 2 hr 50
Driving time from Po Delta: 1 h 15
Visitors to Italy often head to Tuscany or Umbria when looking for borghi, those quaint villages with narrow streets and sprawling hilltop vistas. Emilia-Romagna has plenty to offer in the cute villages category – and one of the prettiest of them all has to be Brisighella, just a quick hop from Ravenna and Faenza.
Wandering around in the late afternoon, when the setting sun paints the pastel-coloured buildings with a golden hue, is simply unforgettable. Make sure you walk up one of Brisighella's three hills to see the village from above – the Clock Tower hill is the easiest to reach from the centre, and in under 10 minutes you'll have Brisighella's terracotta roofs stretching all before you.
The other two hills house other notable buildings – the Rocca Manfrediana, a 14th century example of military architecture, and the Monticino Sanctuary, surrounded by cypress trees. Both locations are the starting point for spectacular walks in the surrounding gypsum hills.
If you are only in Brisighella for a few hours and have time for only one sight, make sure you check out the Via degli Asini, a unique covered walkway that was once used to carry gypsum on the back of donkeys ('asini' in Italian).
---
-Foreste Casentinesi National Park
Driving time from Milan: 3 hours
Driving time from Brisighella: 40 minutes
Are you an outdoor lover and wish to hike in secular woods, with nothing but birdsong and the sounds of nature all around you? Once again, Emilia-Romagna has plenty to offer.
In the southern part of Romagna, straddling the Tuscan border, you'll find the Foreste Casentinesi National Park, over 80% of which is covered in beech, fir and oak forest, where city noises and traffic are nothing but a distant memory.
There are countless trails and places to discover in the Foreste Casentinesi National Park. One of the most accessible paths is the one leading to Cascata dell'Acquacheta, a 70-meter waterfall over a sandstone rock face. Once you'll be standing by the waterfall, close your eyes for a second and listen to the sound of the water. The great poet Dante compared the sound to the rumble of the infernal river Flegetonte, a stream of boiling blood where damned souls were destined to spend eternity.
.
The Acquacheta waterfall is one of many locations in the Foreste Casentinesi National Park to be included in the Vie di Dante, a series of itineraries following the footsteps of Italy's greatest poet. In 1301, Dante was exiled from his hometown Florence and spent the last twenty years of his life wandering between Tuscany and Romagna, during which he composed his masterpiece, the Divine Comedy.
Another wonderful location immersed in nature in the Foreste Casentinesi is Rifugio La Burraia, a mountain hut set in a scenic location near a beech forest at 1400 meters above sea level. It can be reached with a quick 20-minute walk from the closest car park. You can also stay overnight at the Rifugio in summer – highly recommended if you wish to spend an unforgettable night under the stars!
Emilia-Romagna from Milan Itinerary
-Day 1 / Bobbio and Bologna
Are you ready to discover the best outdoor experiences in Emilia-Romagna over the course of one busy, fun-filled weekend from Milan? Hit the road bright and early, as there is plenty to see! The itinerary is doable year round, but the best time is April-October, to take advantage of the warmer weather and longer days.
From Milan, you'll reach Bobbio in less than two hours. Depending on your interests, you may choose to hike part of the Via Degli Abati, or just visit the town – make sure you don't miss the Abbey and the Ponte Gobbo. If it's summer, you can also take a dip in the River Trebbia to cool off.
Visit a local trattoria for lunch and try maccheroni alla bobbiese, a local dish of fresh pasta made with a long needle, served with a sausage and mushroom sauce. Then start heading to Bologna – it's a two-hour drive from Bobbio, so you'll be reaching the city in the afternoon.
If you are visiting in summer, you'll have enough time to go urban trekking with a guide, or to hike independently to San Luca. Spend the evening in Bologna – from wine bars to craft breweries, tiny family run restaurants or Michelin starred affairs, there's plenty to choose from.
Just make sure you visit Osteria del Sole for a glass of wine – it's the oldest bar in town, with a 500-year history!
-Day 2 / Po Delta and Brisighella
It may be tempting to linger in bed after a night out in Bologna, but fight that temptation because today you'll be discovering one of Italy's most unique and offbeat natural areas – the Po Delta.
You have two options – organizing a guided tour, or driving yourselves. In both cases, you'll be driving through Ferrara, another beautiful town, so make sure you stop for a coffee and to look around.
We recommend opting for a guided tour, as the Po Delta area is quite spread out, and guides usually know where to find wild horses, flamingos and other animals. If you prefer to go independently, the wetlands between Comacchio and Lido di Volano are a good place for views.
You can bring a packed lunch or find a little restaurant in the Delta area – make sure you try vongole (clams) from Goro, a local delicacy. Then, continue all the way to Brisighella, your stop for the night, where you can rest for a bit before discovering the historic centre and Via degli Asini.
-Day 3 / Hiking Foreste Casentinesi
Let's save the best for last, shall we? Your last day in Emilia-Romagna will all be dedicated to the Foreste Casentinesi. Driving time from Brisighella is under an hour, so you can spend the entire day hiking – just make sure not to leave too late for the 3-hour return trip to Milan.
A great, rewarding hike is the one to Acquacheta Waterfall from San Benedetto in Alpe, the nearest village. Hiking time is about 2 hours each way – with some time for lunch and to enjoy the scenery, it could be a great way to spend the day.
If you are not into hiking, you can just drive around the Foreste Casentinesi. If that is the case, make sure you visit Rifugio La Burraia and then drive all the way to Premilcuore, via a twisty but scenic mountain road. Then, it will be time to head back to Milan!
Author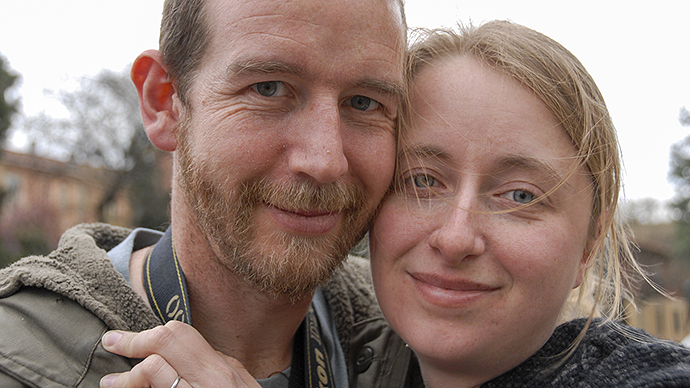 Margherita and Nick, writer and photographer from Italy and Australia, are long-time travelers who love nature and outdoors.
Their blog is www.thecrowdedplanet.com
You may also like