Born at the beginning of the '80s, Street Art has literally exploded in the streets of many Italian cities at the beginning of the new millennium.
Beyond the debate on the evolution of the phenomenon from the origins and its hybridization with authorized and legal aspects, more and more suburban buildings and walls have been covered with colour and have started bearing different kinds of messages.
Strolling around the cities of Emilia-Romagna, today it is quite easy to bump into street art works that immediately catch our eyes.
The whole territory features lots of examples – layers of colour that painted walls which were already weathered by time and abandonment.
Redevelopment, Valorization and Repossession of urbam spaces are some of the key concepts at the core of this social phenomenon. The street art, indeed, shows a very strong anthropological, symbolic and semantic character, and is able to blend various visions and perceptions.
This art form has thus become a tool to re-read urban realities and their surrounding territories – also in Emilia-Romagna – transforming some city spaces in true "open-air" art galleries.
At the same time, it has transformed, indirectly, into a tourist and cultural driving force, encouraging many enthusiasts and curious to explore cities through a new point of view, along unusual paths.
Bologna
BOLOGNA
Since the great exhibition in 1984 dedicated to street art called "Arte di Frontiera. New York Graffiti", Bologna has always driven a particular attention towards this art form with undefined borders.
Whether because of popular movements in the city or because of the strong impact of the university, graffiti writing and street art have spread like wildfire on the urban landscape more or less spontaneously.
Apart from the great works by Blu (disappeared in 2016 as a protest against the detachment of some of his murals) and by Ericailcane, interventions by Collettivo FX | Nemo's | Bibbito | Alicé | Tellas and many more have been added to the list.
Among the most easily recognizable names are Exit Enter | Cake$ Stencil | JamesVega | Snem | Lediesis | Sharko | DressCodeGuru and many more.
Since 2012, this vocation has been renovated thanks to the Cheap Festival, which focuses on awareness-raising actions in public spaces thanks to poster art, and thanks to the "Frontier – La linea dello stile" project, which involved Italian and international artists for the valorisation of working-class buildings. Among these are: M-City | Does | HoNeT | Hitnes | Etnik | Eron | Joys | Dado | Cuoghi Corsello | Rusty | Daim | Andreco | Phase II | Peeta | Seikon | Nuria | Lokiss | Rae Martini.
Among the areas of the historical centre that are particularly interesting from this point of view is via Pratello, Bologna's hippy neighbourhood. It is right here, among bars and night clubs, that the so-called "Pratello public art gallery" develops for 600 metres, with artist like Bisser | About Ponny | Alice | Andrea Casciu | MP5 | Psiko | Guerrilla SPAM and Ericailcane.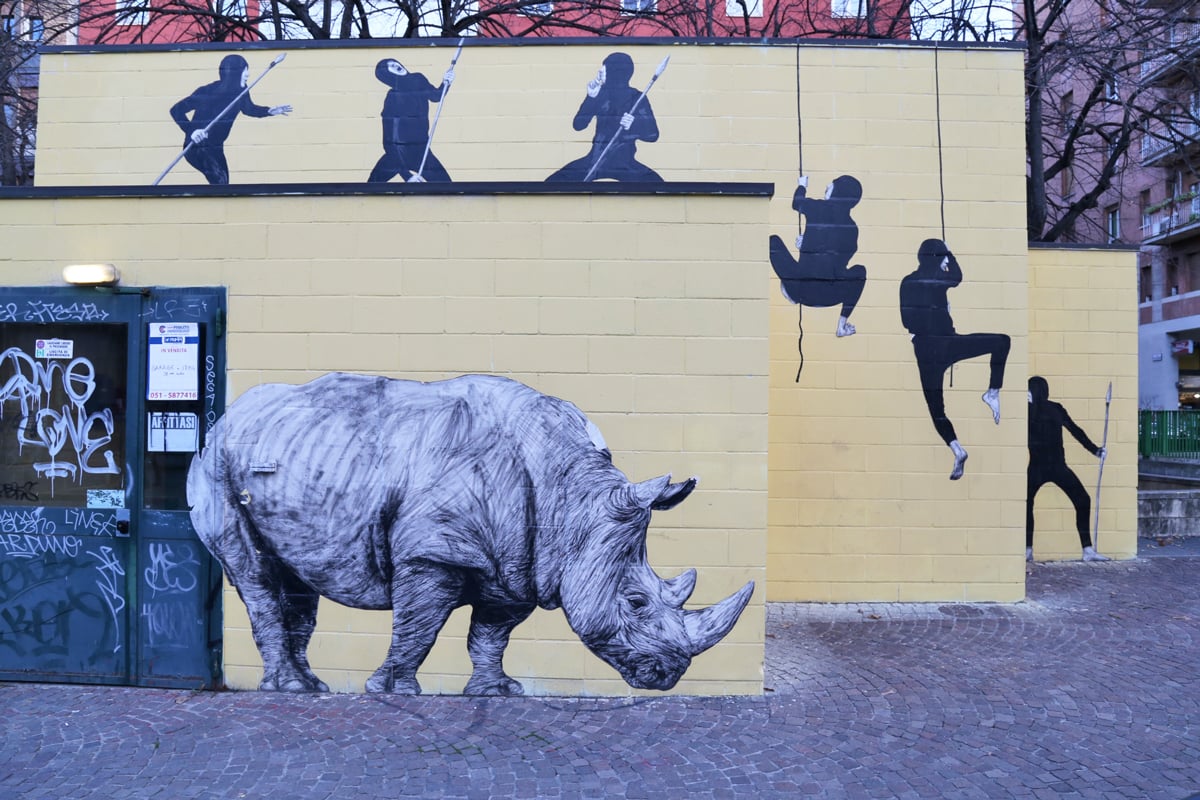 However, the whole city is full of wall works, and many of them – or at least the biggest ones – can be found outside the historical centre.
Starting from the Navile neighbourhood (Bolognina, Lame, Corticella), we suggest you to stop in via Fioravanti (DAIM), in via Colonna (Eron and DOES) and in via Passarotti (Schuyff).
You can then move towards via Yuri Gagarin, to admire works by JOYS, Deco Rabiscando and Rusty, or reach the Corticella area and have a look at the Corticella civic centre in via Massimo Gorki (Navile-Gorki 6.16 area).
Here, you can find works by very well-known artists, such as Cheko, Solo&Diamond, Bartocci, Guerrilla SPAM, Andrea Casciu and many more.
Other very interesting areas in Bologna are: Quartiere San Donato, particularly via Del Lavoro; Ponte di Stalingrado; via Negrelli; via Henghel Gualdi and the area around the San Vitale railway station.
We suggest you to move around the city by bike, maybe following the digital map realised by Associazione SenzAncora in collaboration with the Ozono Factory collective, which features a path made of images, biographies and in-depth analysis on artists.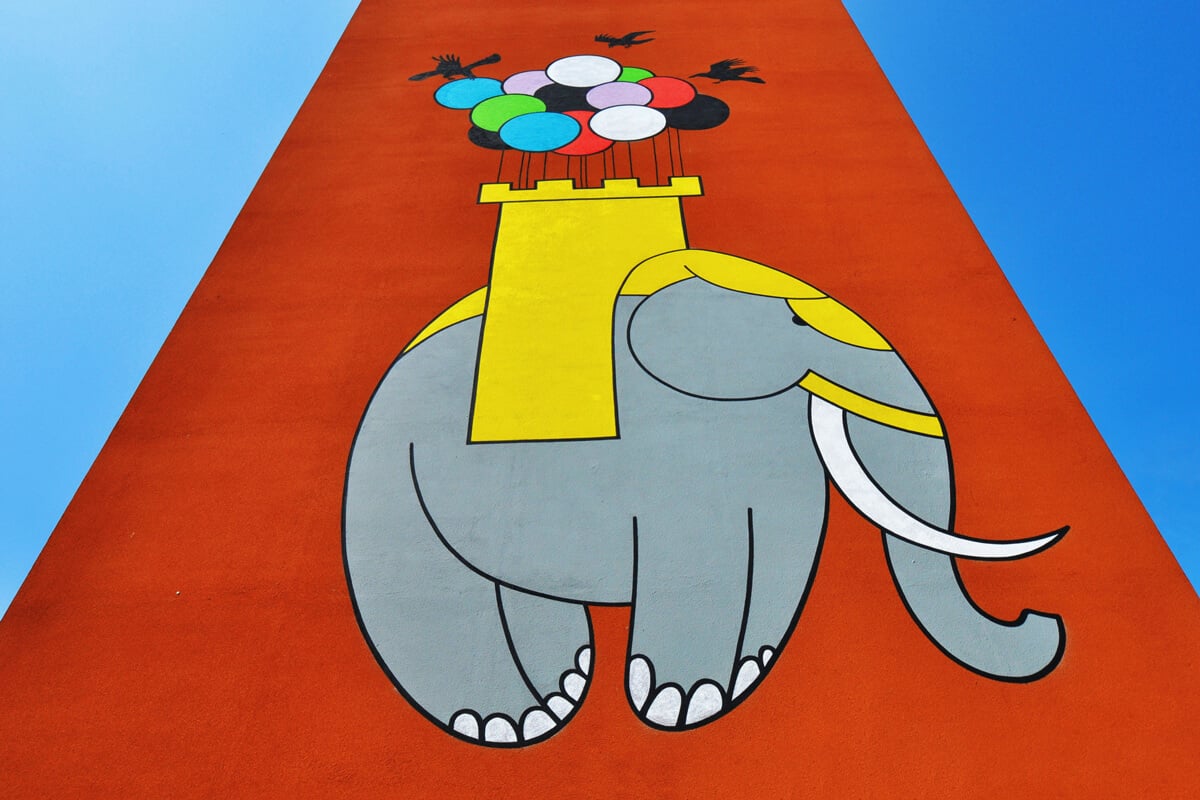 MOLINELLA
The small municipality of Molinella, between Bologna and Ferrara, has been hosting a very interesting festival of urban regeneration called ArtU – Festival di Arti Urbane, organised by the cultural association Animal Blue House in collaboration with Pro Loco Molinella and the municipal administration.
Live painting, workshops and meetings, but especially many street art works have literally invaded the small municipality and the surrounding centres.
The festival has involved many artists: Vesod | Kiki Skipi | Fabio Petani | Alessio Anthony | Paolo Psiko | Alessio Bolo Bolognesi | Burla 22 | Pasa and many others.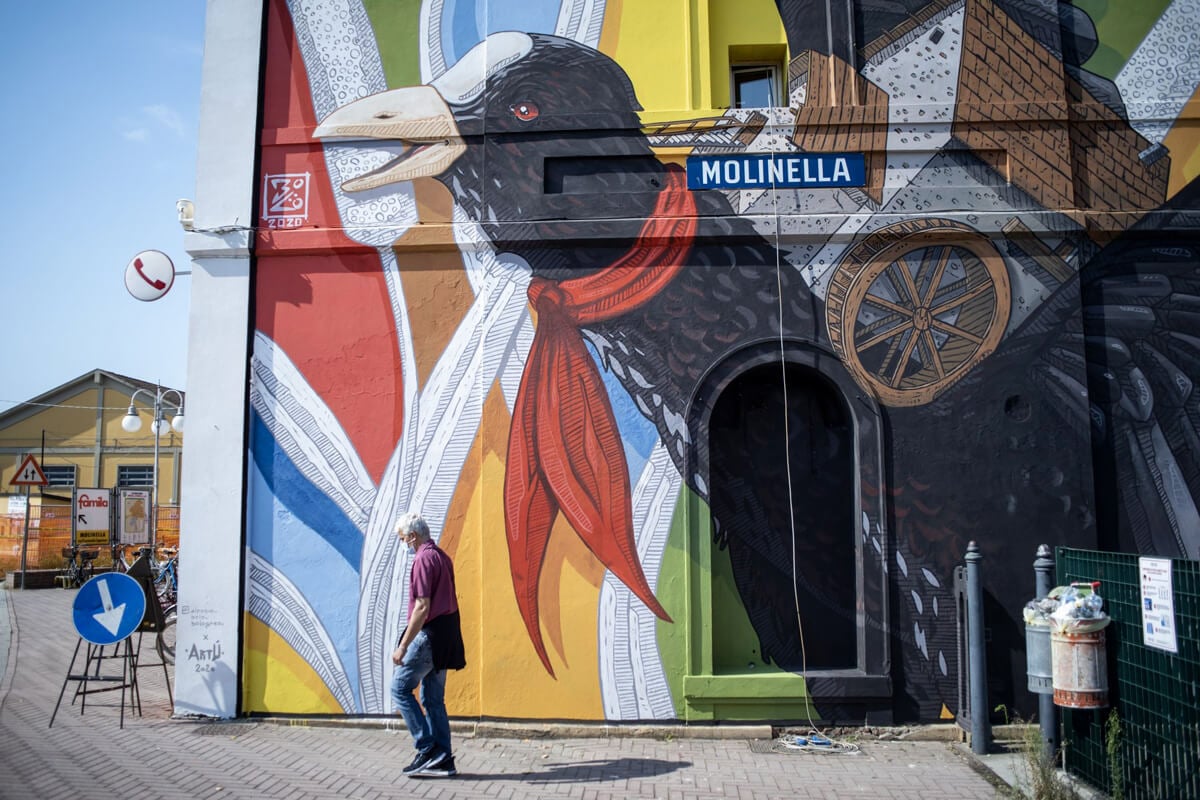 SAN GIOVANNI IN PERSICETO
The case of San Giovanni in Persiceto, in the province of Bologna, is very special.
What you can admire in the small Piazzetta Betlemme is not a real street art action, but is nonetheless worth a mention.
Starting from 1980, Gino Pellegrini, artist and scenographer for many successful films such as "2001: A Space Odissey", "West Side Story", "Guess Who's Coming to Dinner" and "Mutiny on the Bounty" imagined a homage to cinema right in this place, and started to cover the walls of the buildings with beautiful trompe l'oeils murals suspended between reality and imagination. This intervention was repeated in 1990 and 1998, with new elements every time.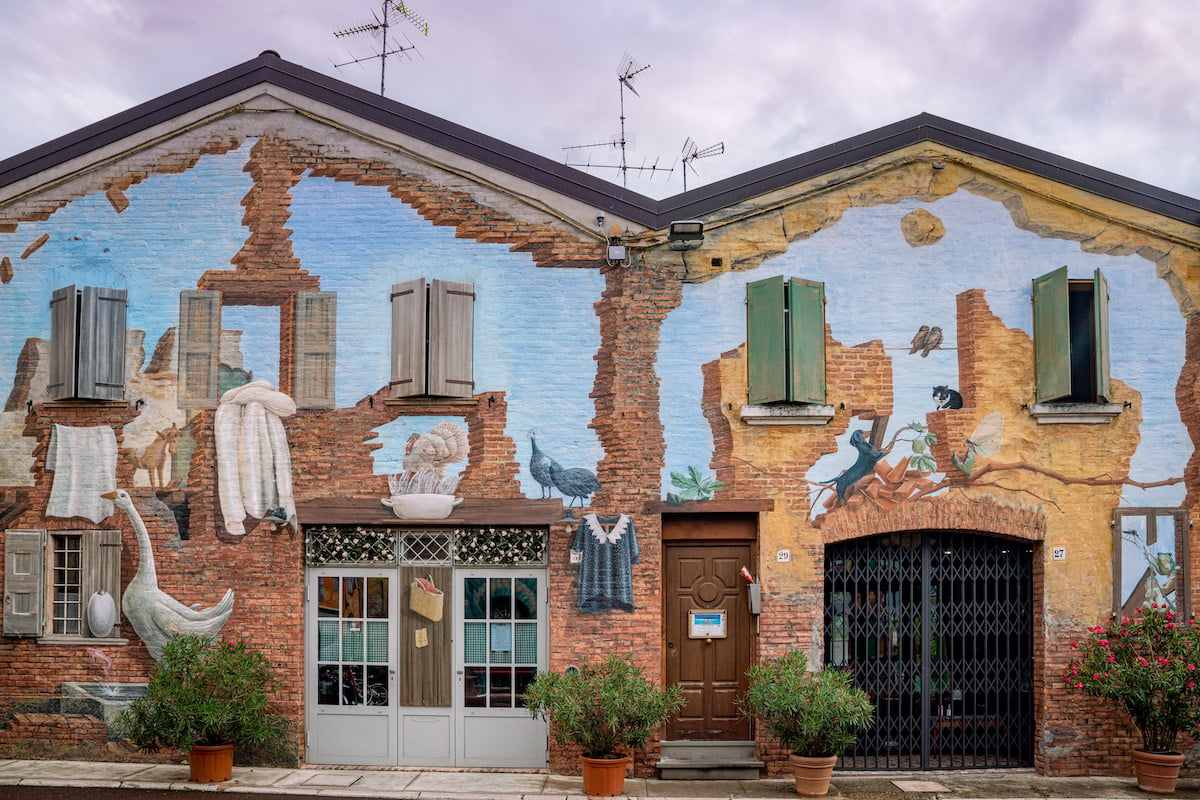 IMOLA
Also Imola has started a new process of urban redevelopment of some neighbourhoods in the last few years.
Thanks to the RestART festival, some run-down areas have undergone some interventions aimed at their requalification, through meetings, events, contests, workshops, urban planning laboratories.
Many artists have already contributed to the project: Collettivo FX | Awer | Mr. Fijodor | Ale Senso | Etnik | Reve+ | Sea Creative and many others.
A special mention goes to the work by the Brazilian artist Kobra, who realised an incredible mural dedicated to the dear departed Formula 1 champion Ayrton Senna on the façade of the MAICC, the Checco Costa Imola Autodrome Multimedia Museum.
Thanks to a digital map, it is possible to discover all the works scattered around the city, and learn more about their names and meanings.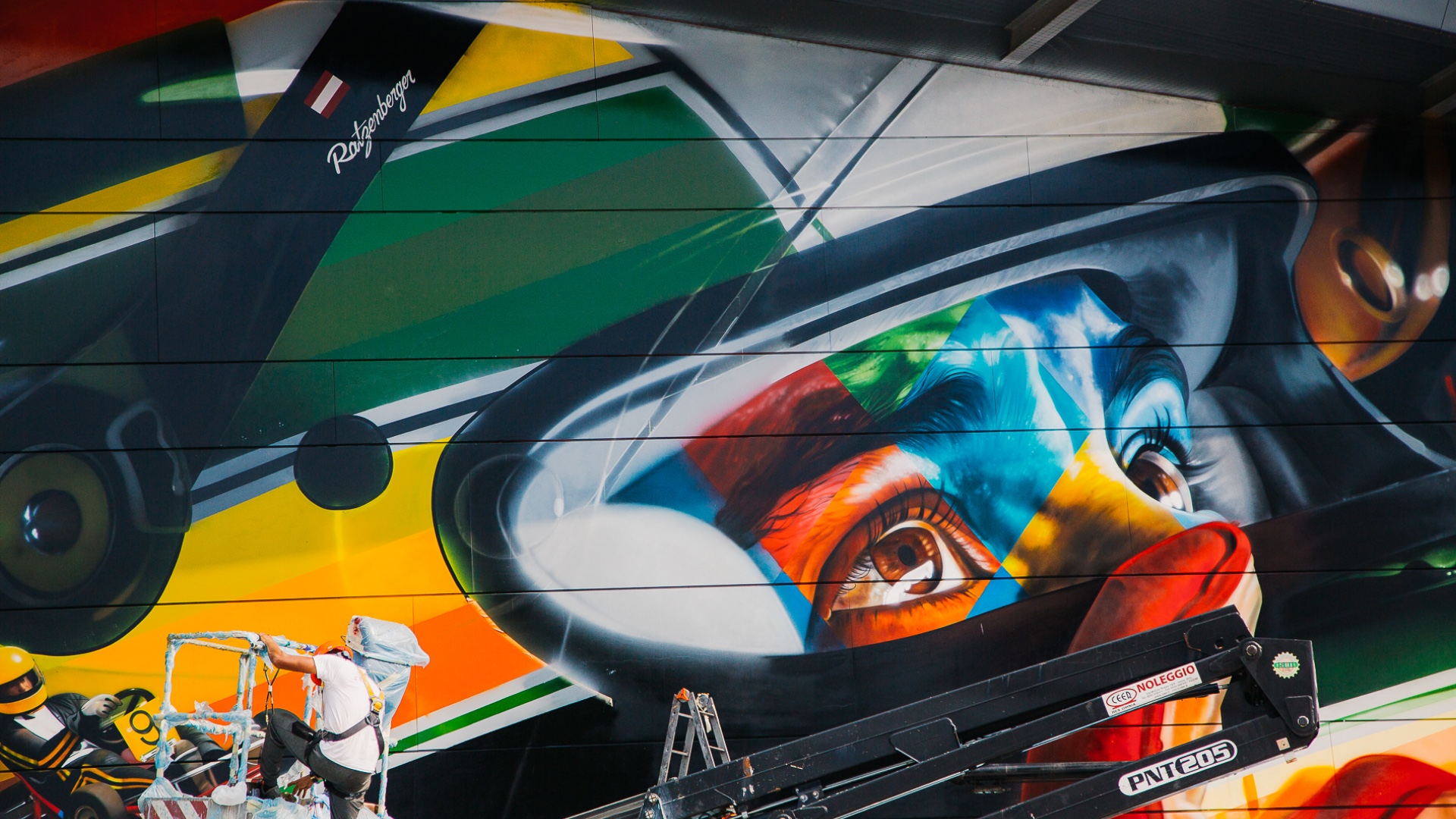 DOZZA
When the word street art still didn't exist, the small town of Dozza already hosted a festival dedicated to street art: it was 1960, and its aim was to transform the town into an open-air gallery.
Today, strolling around its alleys, it is possible to admire almost 90 works realised as part of the Biennial of the painted wall.
Hundreds of artists have participated over time (Sebastian Matta | Alberto Sughi | Ennio Calabria | Bruno Ceccobelli | Omar Galliani, etc.), drawing inspiration from their fantasy and embellishing the walls of what is now considered as one of Italy's most beautiful towns.
Just 3 kilometres away from Dozza, further down on the Via Emilia, in Toscanella, you can admire other important murals (as the ones by Mac and Tellas) realised in the frame of the latest Biennials.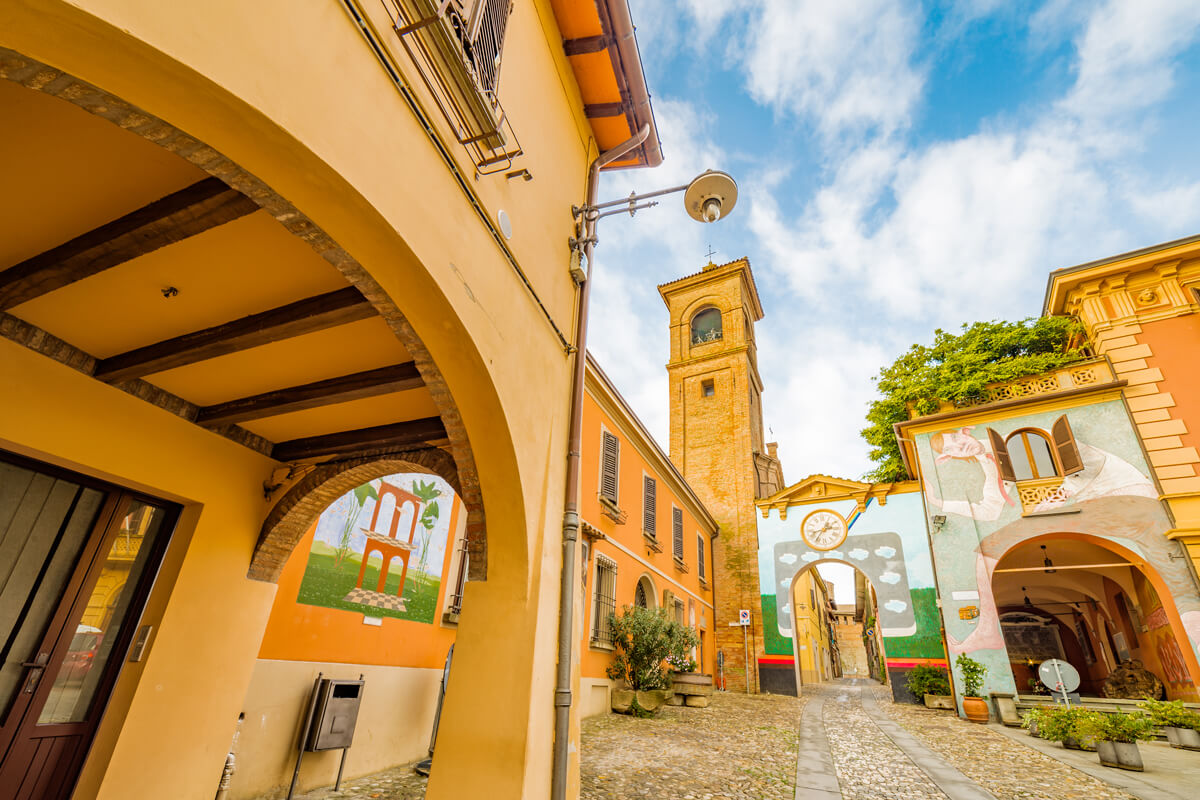 Modena
MODENA
At the beginning of the new millennium, when street art still wasn't called this way, the Icone festival in Modena started to cover the grey walls of the city.
Numerous Italian and international artists were involved in the project and invaded Modena through six editions of the festival.
Bastardilla | Stak | Blu | Ericailcane | Dem | Etnik | Francesco Barbieri | Aris | 108 | Ozmo, etc. transformed underpasses, overpasses, suburban areas and the area of the railway station into an open-air gallery.
In the last edition, the so-called 5.9, the festival took this form of art also to the towns which were seriously damaged by the 2012 earthquake.
Their work can still be seen on the walls of Carpi, San Felice, Finale Emilia, Camposanto, Bomporto, Bastiglia, Medolla, Cavezzo and Rovereto di Carpi.
Recently, on the occasion of the 2200th anniversary of the Roman foundation of Modena, a new intervention by Eron has been realised on Palazzo Santa Chiara.
Another interesting project is the one promoted by Associazione Rosso Tiepido called "La Cattedrale Immaginata" (lit. the imagined cathedral). It is an unusual industrial warehouse transformed into an enormous street art installation, in collaboration with Magma Gallery in Bologna.
It has rapidly attracted many artists as Bartocci, Tellas | Ciredz | Moneyless | Stenlex, | Aris | Awer, MP5 and many others.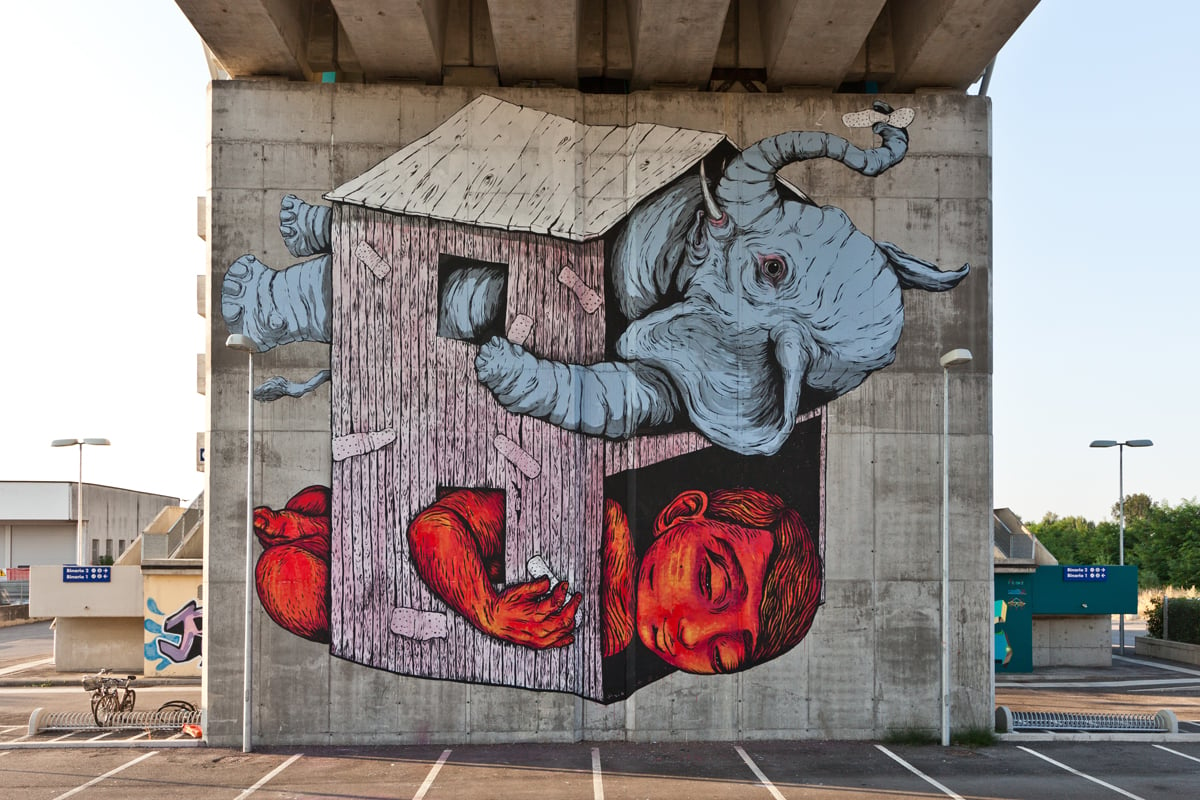 NOVI DI MODENA 
Il concetto di partecipazione attiva è ben presente anche nella bassa modenese all'interno del comune di Novi.
Qui TOTART, una giovane rassegna di street art sta coinvolgendo differenti realtà creative del territorio, invitando differenti artisti ad esprimersi sui muri della città: Ericailcane | Bastardilla | Giorgio Bartocci | Luca Zamoc | Basik | Mat! | Mr. Thoms.
The concept of active participation is very well present also in the plains around Modena, in the municipality of Novi.
Here, TOTART, a new street art festival is involving the creative realities of the territory, inviting various artists to express themselves on the walls of the city: Ericailcane | Bastardilla | Giorgio Bartocci | Luca Zamoc | Basik | Mat! | Mr. Thoms.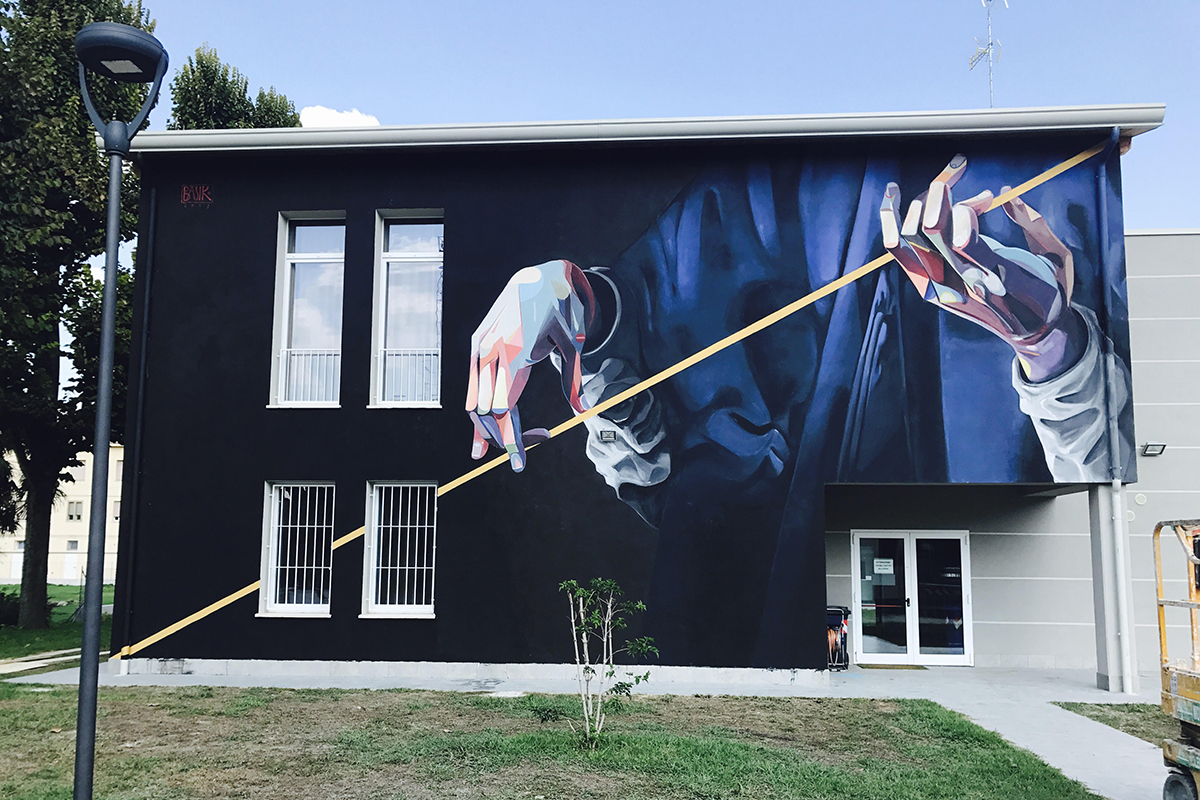 Reggio nell'Emilia
REGGIO NELL'EMILIA
Forgotten and abandoned for years, Officine Reggiane is a place that has been literally saved by colour.
Located in the north-east area of Reggio nell'Emilia, it has been transformed into an interesting street art lab, and has undergone interesting renovation works of industrial archaeology.
It was all born spontaneously. It has then taken the shape of a more and more structured project, able to attract artists from all over the world for the realisation of a large collective work, so much so that it is now considered by many one of Europe's biggest street art labs.
Even if some of the warehouses are still condemned, it is possible to admire giant murals on the perimeter of the area, on Capannoni 17 and 18 and in the Tecnopolo.
We suggest you to walk around the remains of the big warehouses or to trust technology, thanks to the Reggiane Urban Gallery, a dynamic system to surf around the warehouses, artists and their works.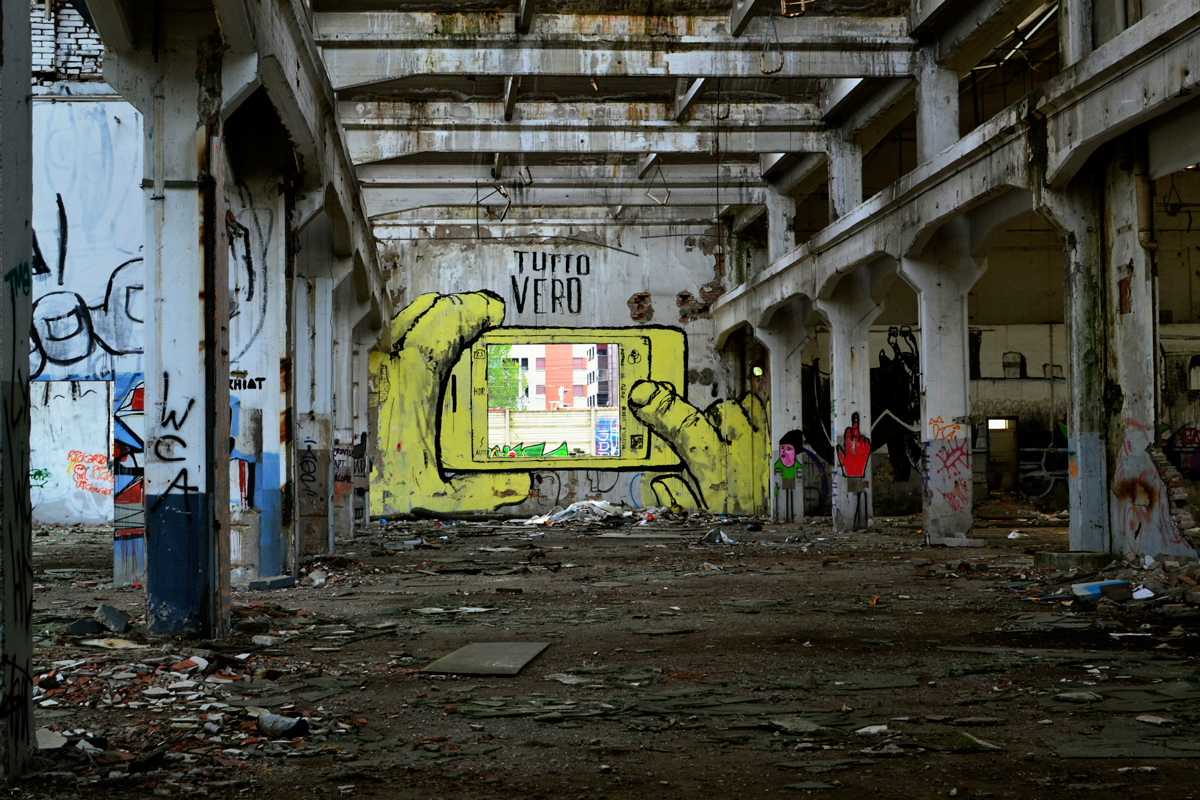 TRINITÀ DI CANOSSA
Moving towards the Apennines in the area of the municipality of Trinità di Canossa, it is possible to encounter many works realised in the frame of Sagra della Street Art.
A project born from an idea by Collettivo FX and Associazione Whats, that lead many artists to carry out actions inside stables, barns, taverns, cisterns, houses and cheese factories, but most of all to interact with people living in the territory.
Small mountain towns (Trinità, Selva, Selvapiana, Monchio delle Olle, Pardella, Vedriano e Albareto) have thus been inserted into international street art maps thanks to works realised by Astro Naut | Ben Slow | Bibbitò | Collettivo Fx | Gas | Gola Hundun | James Kalinda | Julieta Xlf | Neko | Otto Grozni | Psiko Patik | Random | Reve+ | Signora K | Zibe.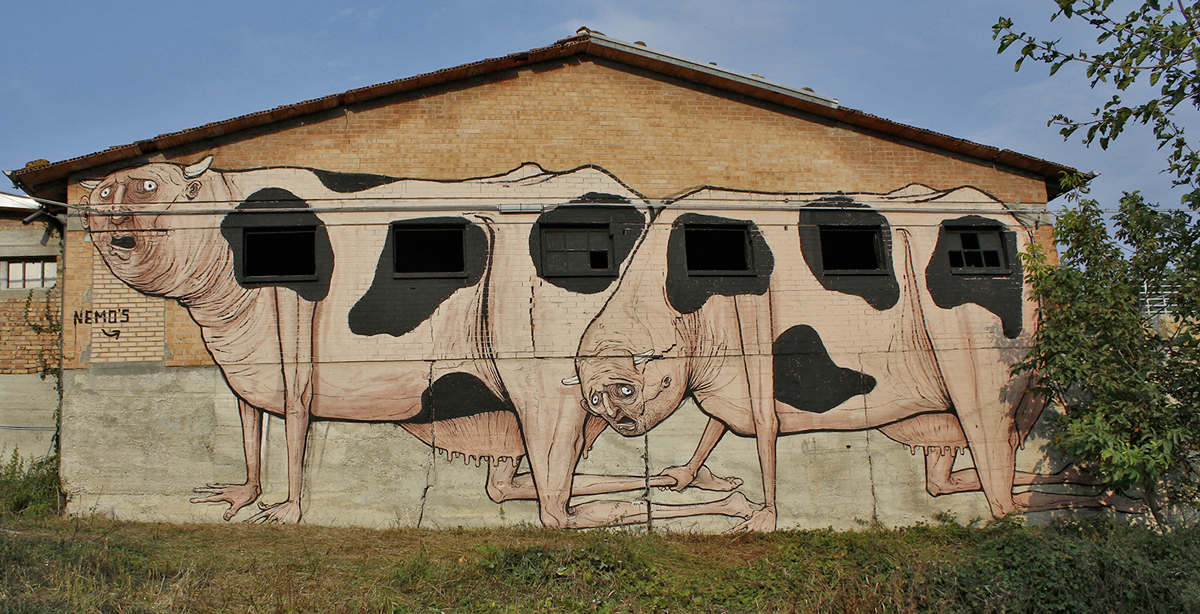 Parma
Also in Parma, the will to aesthetically redevelop some walls of the city has given rise to a wall art project called Parma Street View, started in 2014.
Strolling around Liceo Linguistico Marconi, it is possible to admire a giant collective work realised by A. Canu | Chomp | Dildo Society | Grozni | Mha Corre tra gli Alberi | P-45 | PsikoPatik, which is more than 250 sqm and is dedicated to the barricades of 1922.
Further north, in the heart of the city, you can encounter a work by PAO on a wall in viale Toschi and, a little further, a work dedicated to Giuseppe Verdi by Nabla & Zibe in the underpass of the railway station.
It is impossible not to mention the Cultural Association McLuc Culture, which is involved in many awareness-raising and collaboration projects with artists of the underground culture. One for all: the national biennial of street art called Segni Urbani.
If you desire to get a wide idea of the street art places in the city, you can have a look at this itinerary, hop on your bike and ride around the streets of the centre.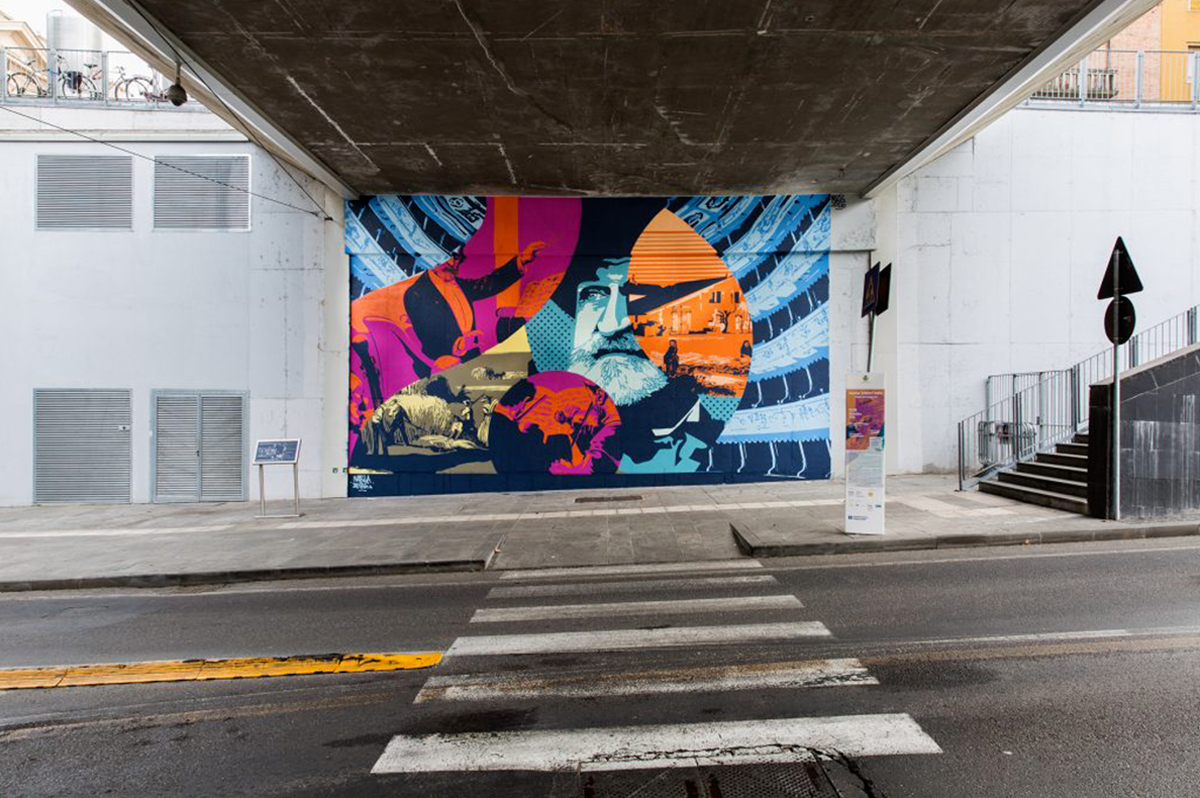 Ravenna
RAVENNA
In the former Byzantine capital, murals are scattered all around the city, creating an itinerary that – winking at contemporaneity – covers various neighbourhoods: first of all, the Darsena area.
The various works can be reached on foot, but we suggest a bike ride.
Many artists were involved, and most of them were promoted thanks to the actions of the Subsidenze festival, which has taken place in the city for some years. Among them are: Invader | Ericailcane | Kobra | Millo | Sea Creative | PixelPancho | No Curves | Camilla Falsini | Tellas | Dissenso Cognitivo | Rustam Qbic | Jim Avignon | Zed1 | About Ponny | Reve+ and many others, as the festival continuously develops.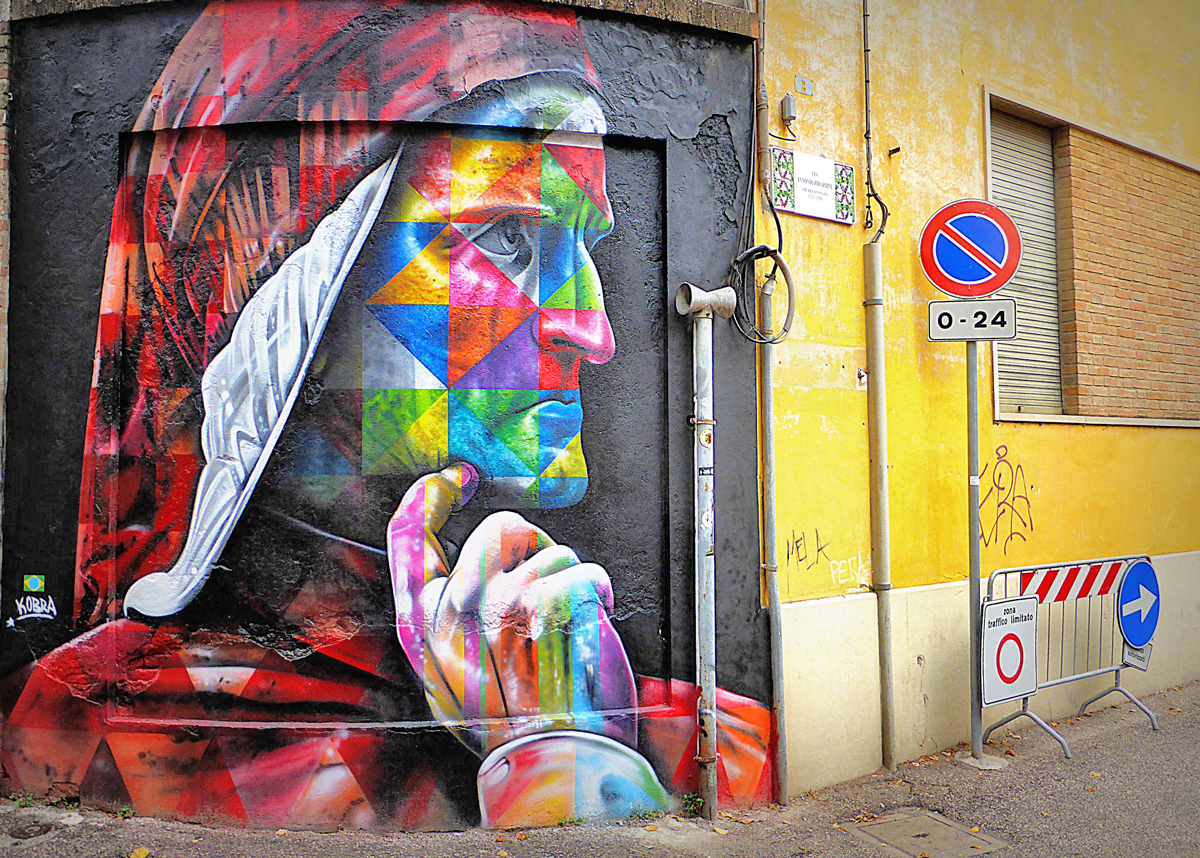 COTIGNOLA
You can discover many street art works even outside Ravenna. The municipality of Cotignola, in the area of Bassa Romagna, thanks to some projects related to the local history, has invited many artists to paint walls and facades of buildings around town. Among them: Signora K e James Kalinda | Zosen & Mina Hamada | Collettivo Fx | Gonzalo Borondo | Stinkfish, etc.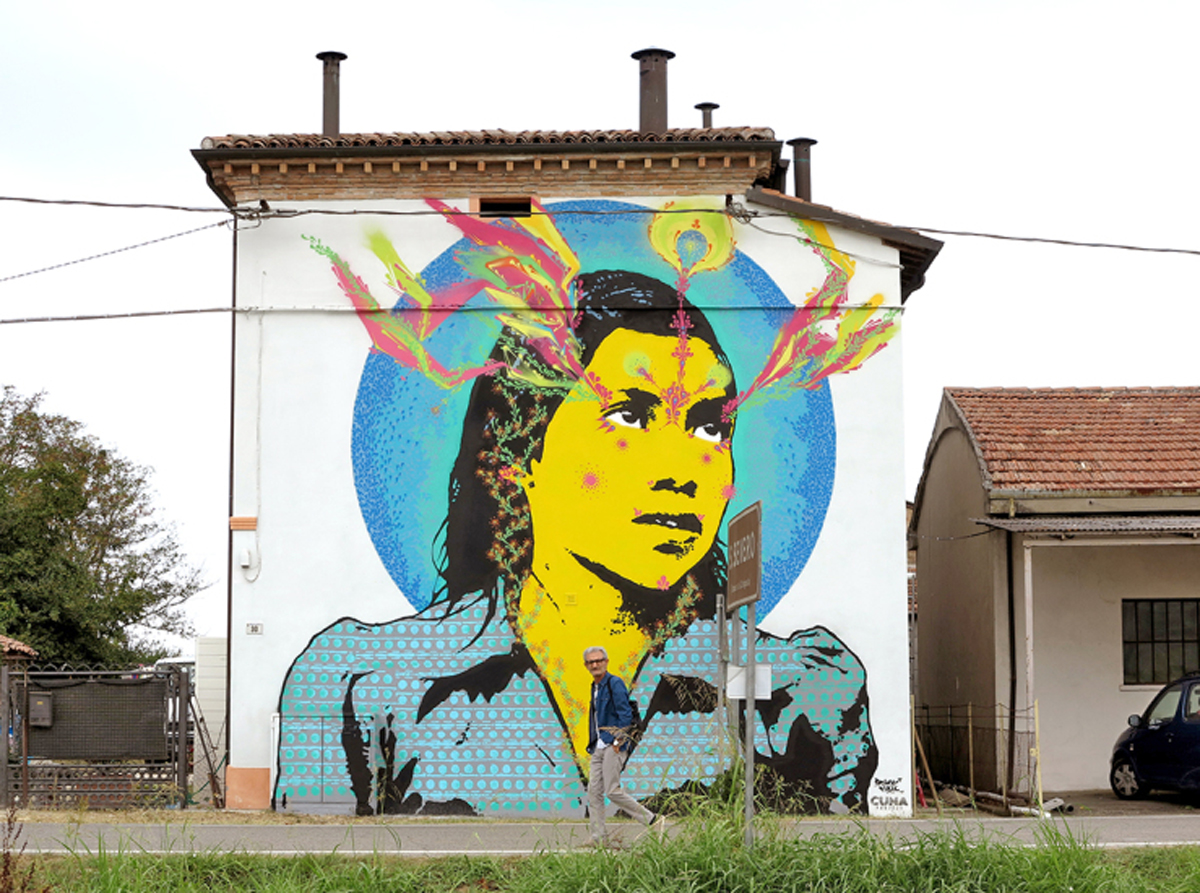 CERVIA / MILANO MARITTIMA
In Milano Marittina, the famous club Woodpecker, today undergoing renovation works, features a precious work by Blu on its dome. Not far from it, in Cervia, the project #CantiereBellezza aims to redevelop old palaces with interventions by Gue and the duo made up of Giulio Vesprini and Aris.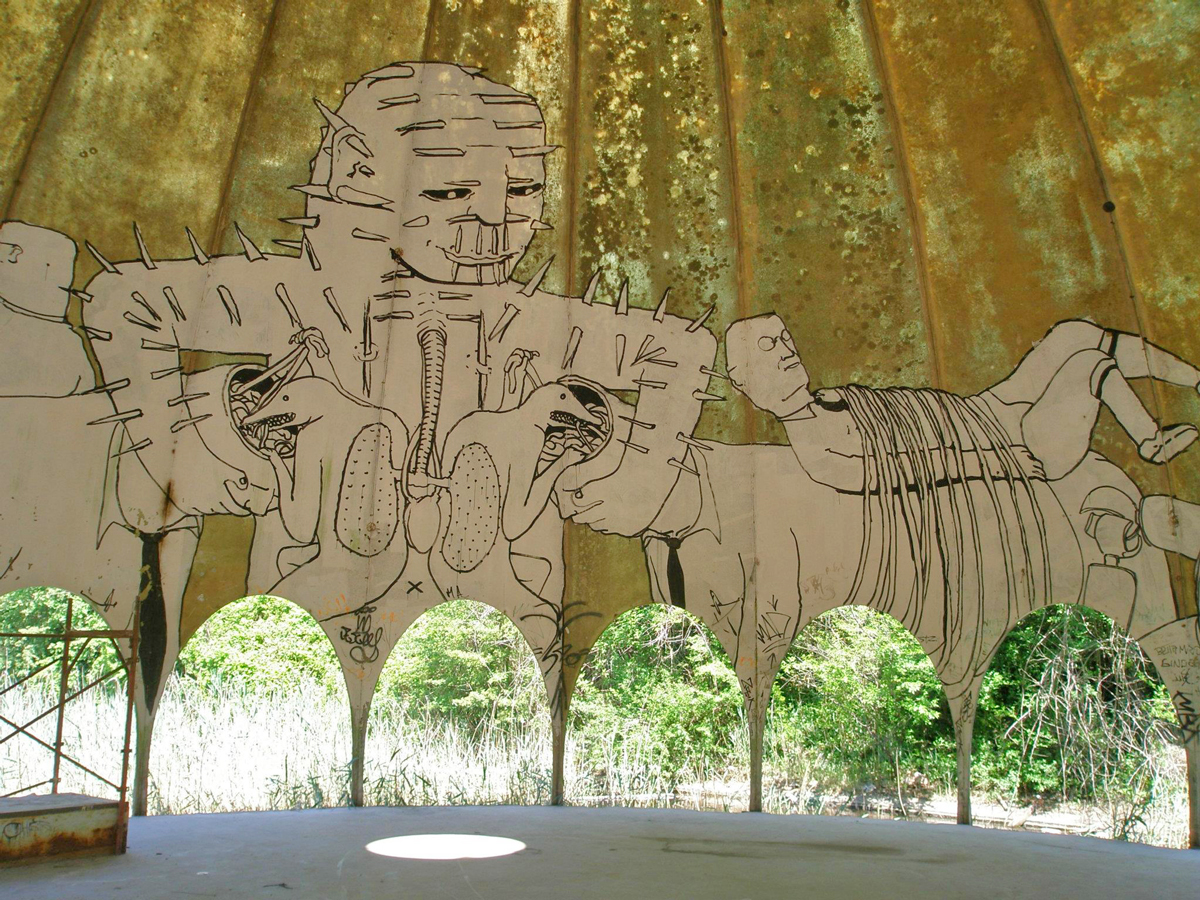 Ferrara
FERRARA
Transforming Ferrara into a more beautiful and welcoming place, fostering the knowledge of forms of contemporary art to educate new generations to live their territory with participation and respect.
Thanks to Ferrarastreetart.it, citizens and tourists can get to know urban art in the city, taking a fresh look at the environment surrounding them.
Everything is completed with photo galleries and information on projects and artists active in the territory, as: Ericailcane | Mendez | Psiko | Sfiggy | Dissenso Cognitivo | Macs | Stefano Capozzi and many others.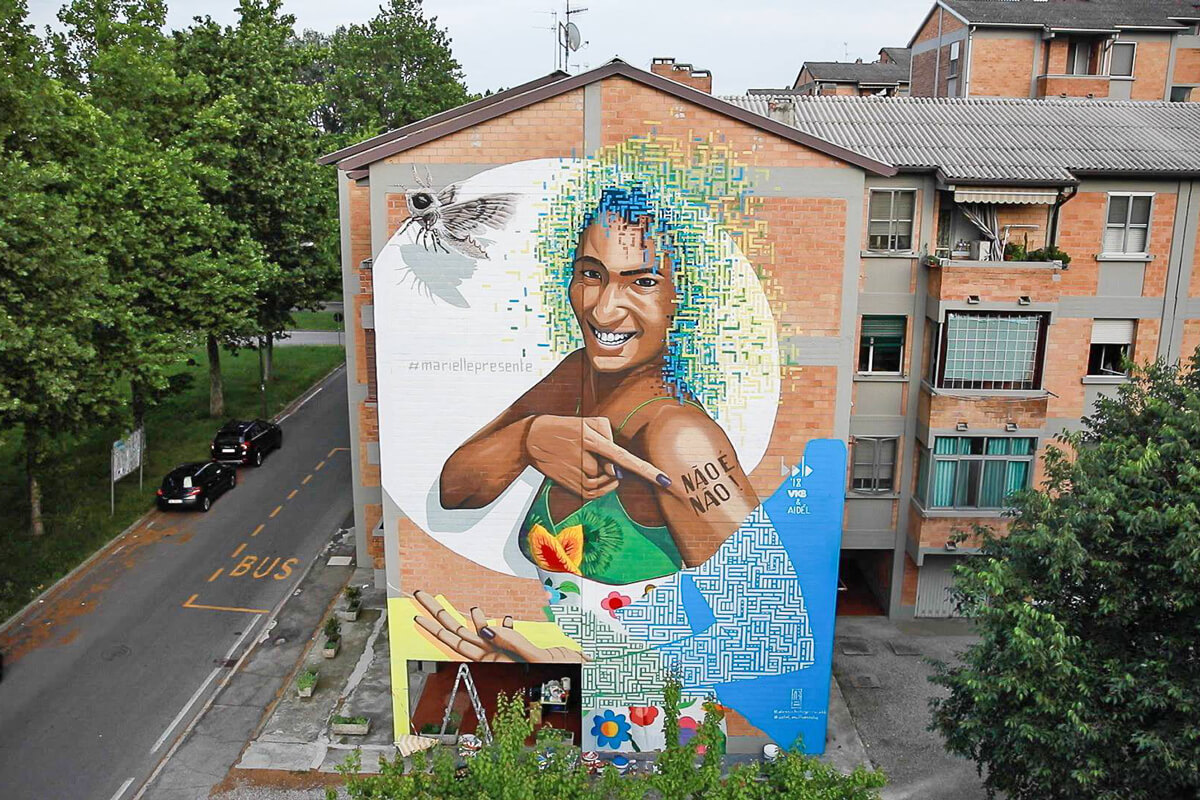 CREVALCORE, CENTO E FINALE EMILIA
Going beyond the capital of the duchy of Este and moving towards the Po Valley, you can discover a very interesting project called Rurales Emilia, born from an idea by Alessandro Gallerani.
We are in the area around Crevalcore, Cento and Finale Emilia. Once a territory full of communities of farmers, today seat of many industrial crops, silence and rural buildings in ruins. So, why not recover these abandoned places and give them new lives with street art?
COMACCHIO
It's impossible to forget the Manufactory Festival, a project created to promote and enrich urban art in Comacchio, in the heart of the Po Delta Park.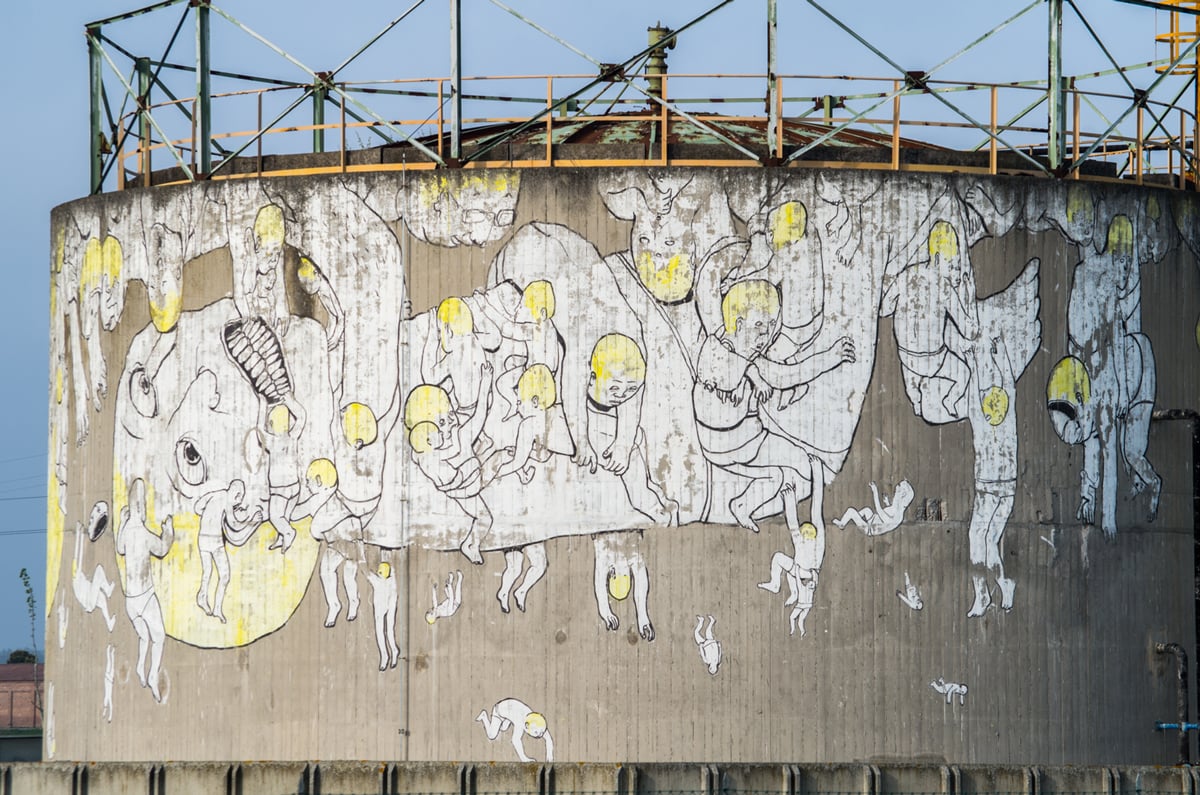 JOLANDA DI SAVOIA (LOC.TÀ GHERARDI)
An ambitious project for the small and semi-abandoned hamlet of Gherardi, in the municipality of Jolanda di Savoia (Ferrara).
In this small hamlet destined to become a Cinema Village, the association Ferrara La Città del Cinema – thanks to a regional contribution in the frame of a law dedicated to the memory of the 20th century – is carrying on many initiatives, such as the creation of a student residence, an editing room and training rooms for the 150 students of Scuola d'Arte Cinematografica Florestano Vancini of Ferrara.
The project also includes the realisation of 20 murals dedicated to the world of cinema. Among the ones that have already taken part to the project are: Mozone | Bolo e Paolo Psiko | Wasp | Giulia Pasa Frascari and Basik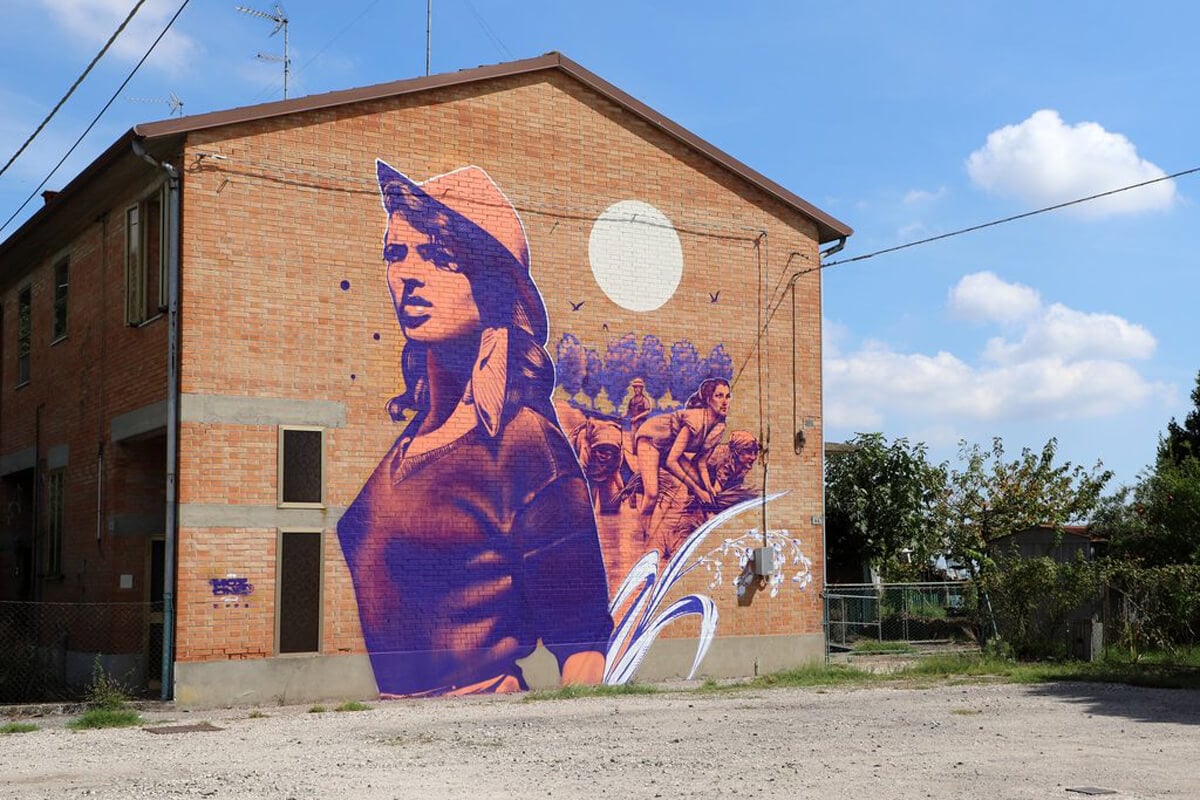 Forlì
We move along the via Emilia and get to Forlì, which has been hosting a new festival dedicated to street art called MURALI since 2018.
For the occasion, many artists coming from all over Italy – and who have already realised works also abroad – have been invited in the heart of Romagna by the curator Marco Miccoli (founder of art spaces as Bonobolabo and of the street art festival Subsidenze in Ravenna) to work on the Italian Constitution. Among them: Millo | Eron | Camilla Falsini | Gola | Zed1 | Moneyless.
In 2019, the second edition of the festival was dedicated to the Italian Risorgimento, which was re-interpreted through ideas and artworks by the Spanish artist Hyuro, the French Sema Lao and the Italians Basik and Andrea Ravo Mattoni.
Nel 2019 il festival è ripartito con nuovi murali d'autore dedicati questa volta al Risorgimento Italiano, reinterpretato attraverso l'ingegno e l'arte della spagnola Hyuro, la francese Sema Lao e gli italiani Basik e Andrea Ravo Mattoni.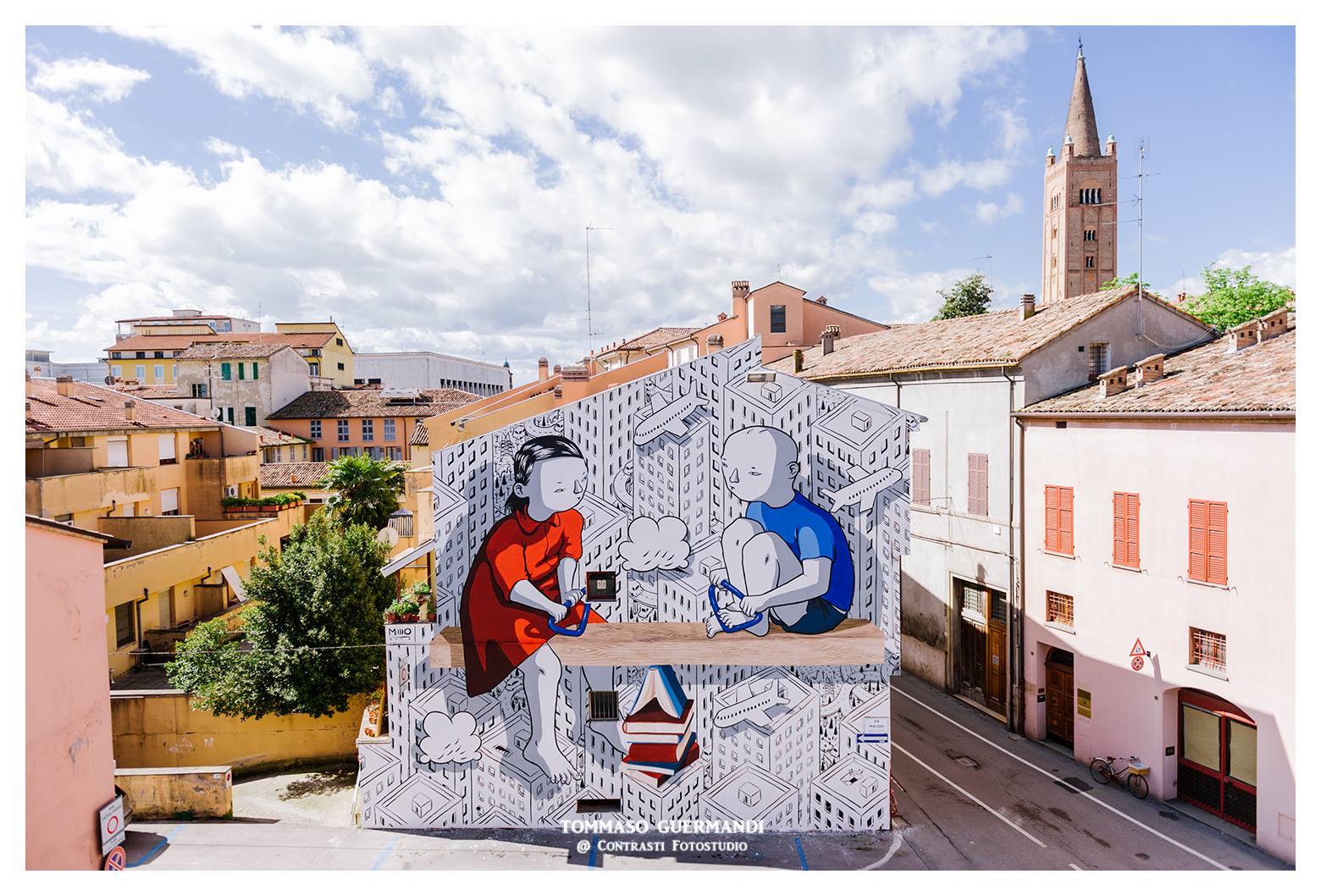 Rimini
RIMINI
A street art tour in Rimini can only start from the small fishing village of San Giuliano. Strolling around its villages it's easy to get captured by the murals decorating the facades of the houses, many of which were realised on the occasion of Festa de Borg in 1994, dedicated to Federico Fellini.
Not far from it, in via Ducale and on the wall in front of the reservoir of the Tiberius Bridge, are two murals by Bastardilla and Ericailcane.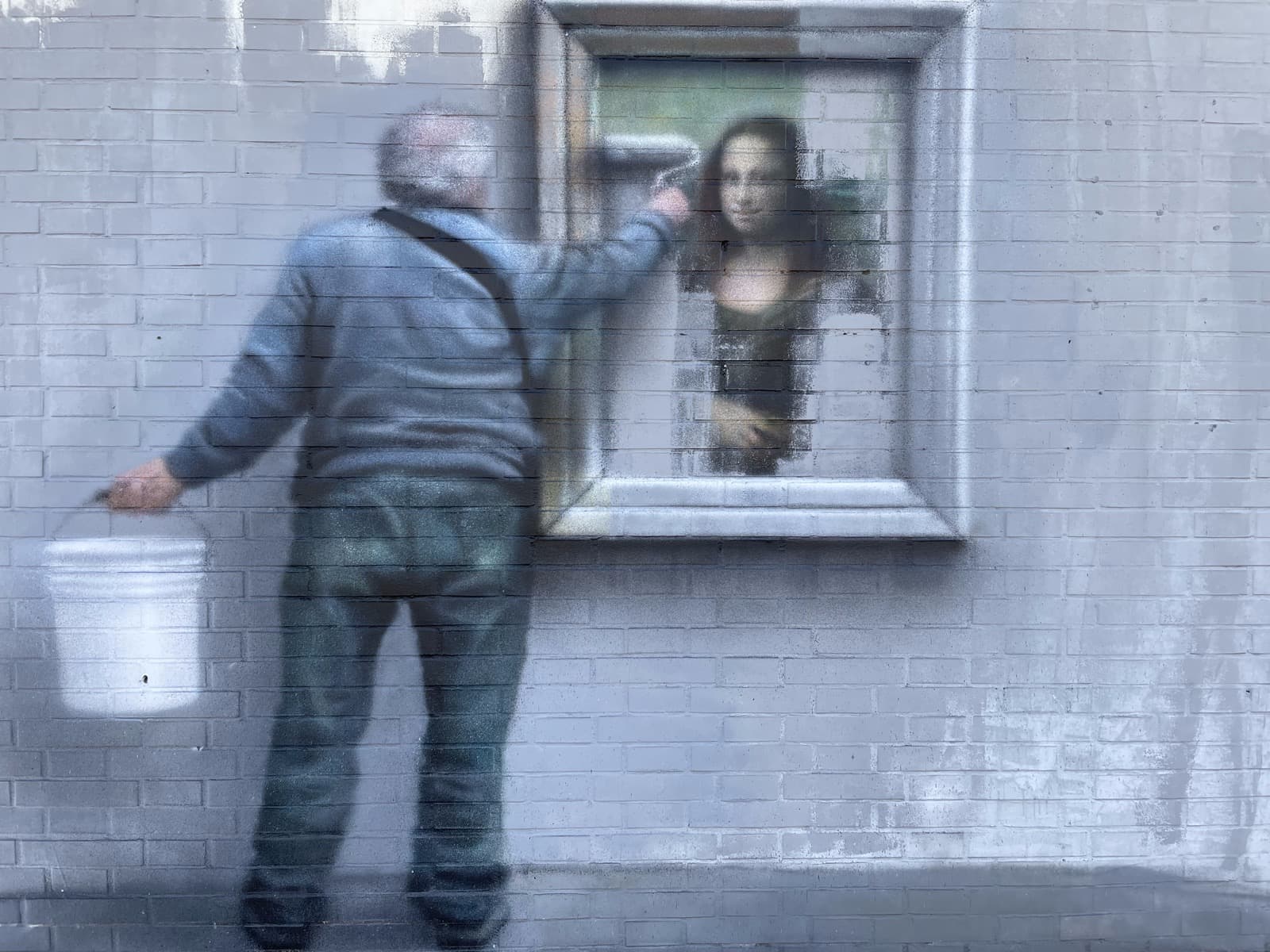 But Rimini is also the hometown of Eron, one of the most important graffiti artists on the international scene. Many works of his still resist on the walls of the ancient Roman colony, others, instead, have discoloured. Others are located inside the City Museum, such as the paintings of the series Mindscape.
The work that more than all the others consecrated Eron is "Forever and ever… nei secoli dei secoli", a trompe l'oeil mural realised on the ceiling of the church of San Martino in Riparotta in Viserba. As of today, it is the only example of street art inside a place of worship.
RICCIONE, CORIANO e SANTARCANGELO DI ROMAGNA
Moving away from Rimini, Eron's art can be found also in Riccione, in the cycle-pedestrian underpass of via Flaminia, with the work "Concrete vs Concrete"; in Coriano on the façade of the sports hall with a 350-sqm-large work dedicated to Marco Simoncelli and finally in Santarcangelo, on the façade of the ancient wash house.
Santarcangelo di Romagna, city of cultural experimentation and homeland of the festival Santarcangelo dei Teatri, hosts on its walls works by artists from all over the world. Ericailcane | Dem | 108 | Allegra Corbo | Hitnes | Kabu | Run e Zbiok are just some of the names that have reinvented the public spaces of the town with their works, thus creating an alternative itinerary.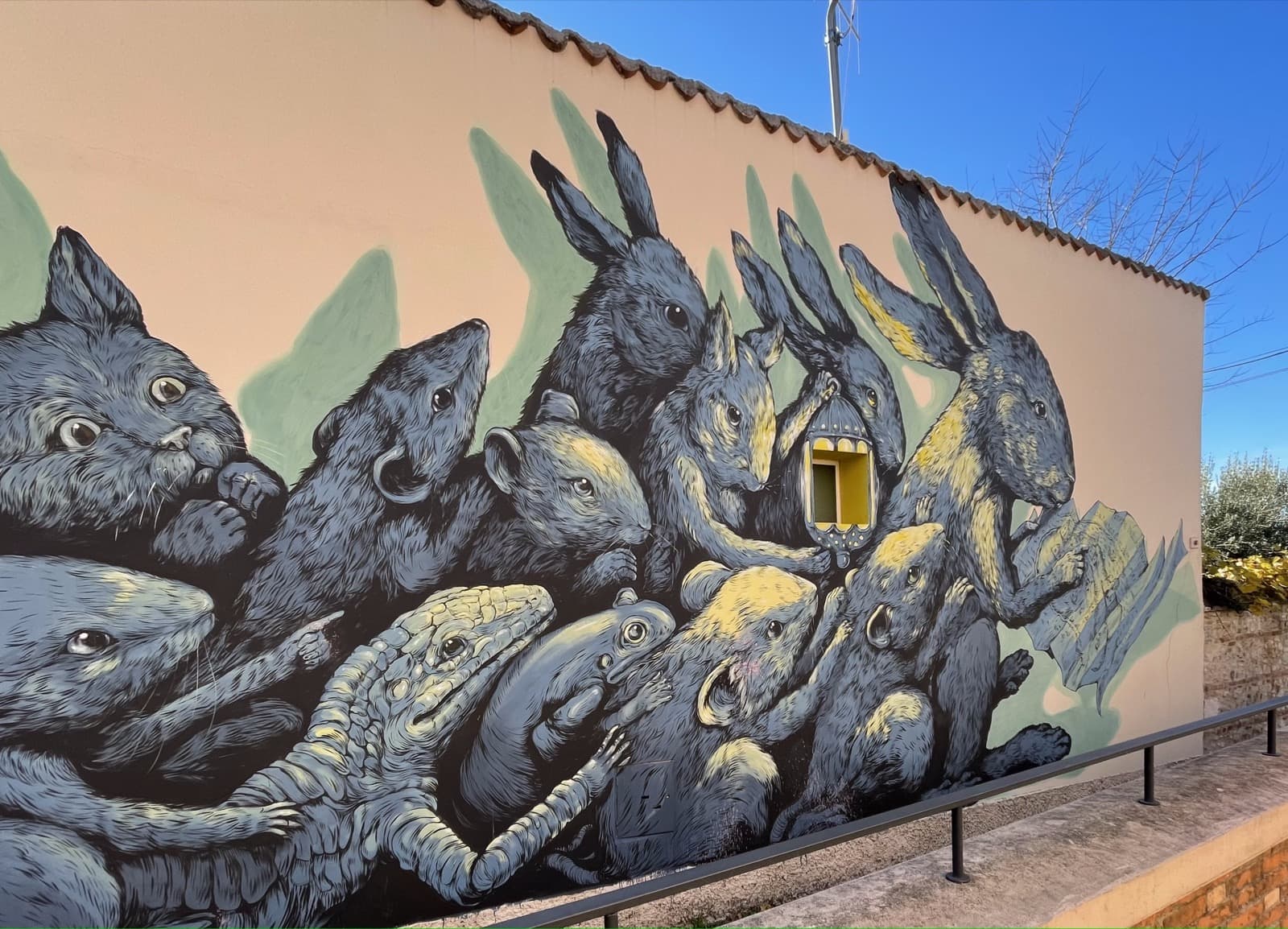 Santarcangelo also hosts the "city" of Mutonia, a community of artists and performers that has chosen to settle in the heart of Romagna, dedicating itself to re-use and recycle.
The area occupied by the community has recently been invaded by a group of street artists invited to redesign the face of this magic place thanks to the project Vertigo Truth. Among them are: Gola | Ericailcane | Bastardilla | Andreco | Tracy Pica Pica | Gio Pistone | Dem | Basik | Nicola Alessandrini | Paperesistance | and many others.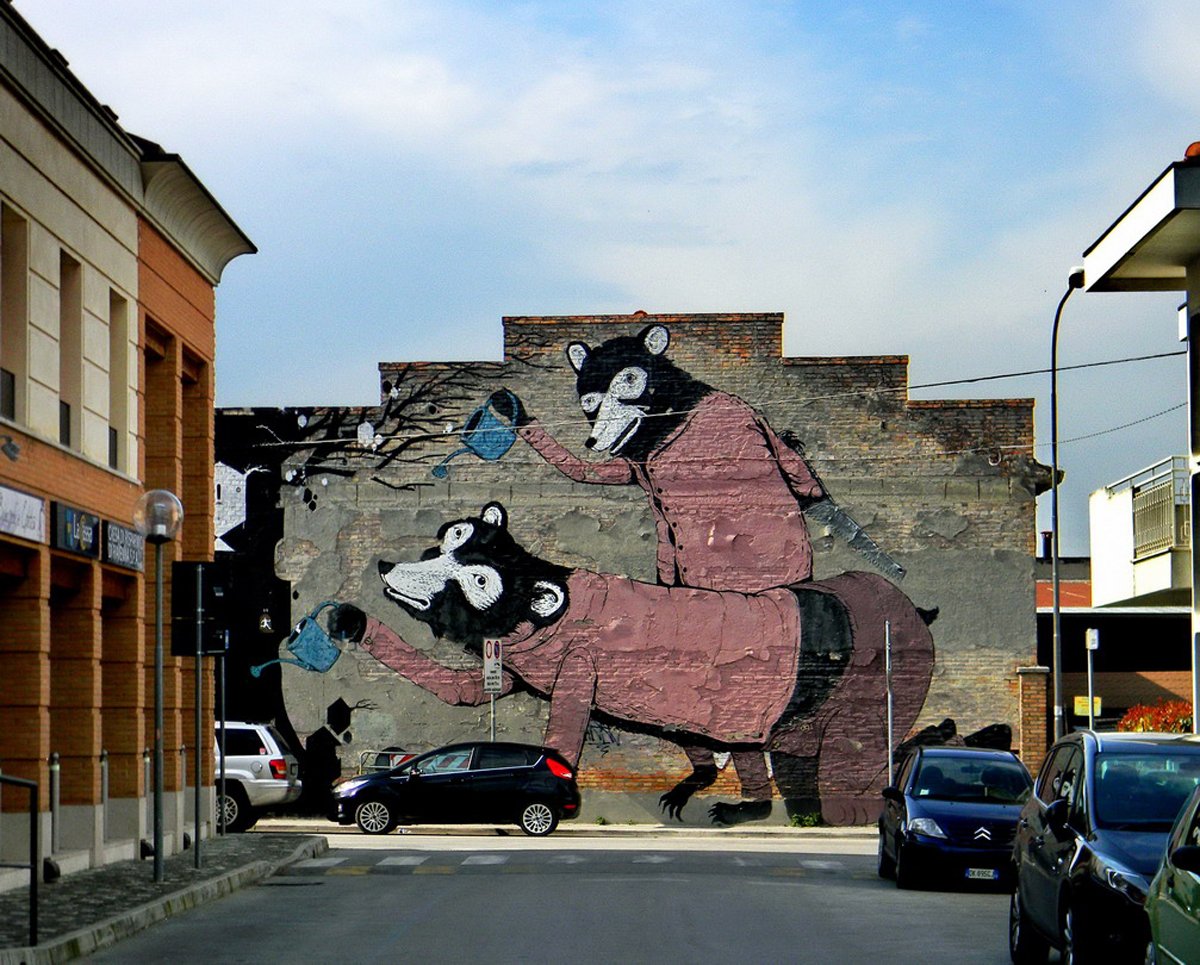 SALUDECIO
Last but not least: Saludecio. Spending a day in this little town of Val Conca means embarking on a journey among the inventions that have most changed our lives from the beginning of the 19th century.
Locomotives, cinema and photography but also radio, telephone and light bulbs. Alley after alley, the painting on the walls of the town make up an open-air exhibition including almost 50 works.
---
Reading tips
If you want to be always up-to-date on activities and initiatives related to this stunning art form, we suggest you to check http://urbanlives.it/. We're sure that it will help you to know stories and anecdotes on the walls of your city that you didn't even imagine.
You can also have a look at the Travel On Art, which blends contemporary art and travels, in which you will find many fascinating ideas on the world of street art in Italy. Anna and Anastasia have recently also published a book called "Street Art in Italia. Viaggio tra luoghi e persone", a true travel guide to the discovery of urban art in our country (available only in Italian).
Author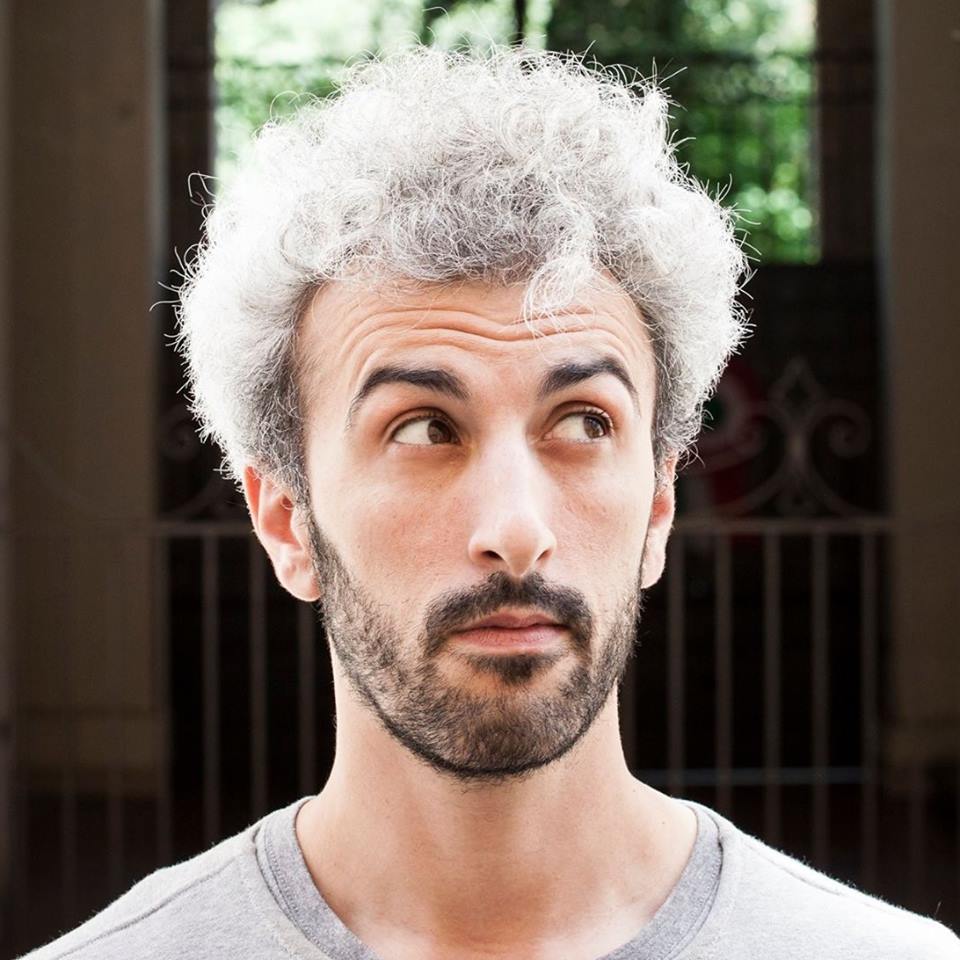 Davide Marino was born archaeologist but ended up doing other things. Rational – but not methodic, slow – but passionate. A young enthusiast with grey hair
You may also like Interested in our newsletter?
Every first of the month, an email (in Italian) with selected contents and upcoming events.
Subscribe