When people think of a short getaway from Rome, a trip to Emilia Romagna is not likely the first idea coming to mind. With Tuscany in between the two regions, Emilia Romagna may be perceived as too far away. The truth is that it's not.
Thanks to the high-speed train, planning a short break from Rome to Emilia Romagna has never been that easy. Although it is still underrated, the region has countless attractions: magnificent UNESCO World Heritage Sites, incredible traditional food delicacies, beautiful landscapes.
But there's one thing that makes Emilia Romagna unique: the passion for motors. Nowhere in the world have so many iconic cars and motorbikes manufacturers concentrated in such a small area, aptly nicknamed Motor Valley.
It's more than just about engines and speed, though. The Motor Valley combines creativity, high technology, design, and innovation. That's how brands like Ferrari, Maserati, Ducati, Lamborghini have become timeless icons across the world. A gateway to the Motor Valley is an extraordinary experience and an incredible leap when coming from Rome. In a short time, you'll feel propelled from ancient history to enthralling modernity
Furthermore, by no means the Motor Valley is a gateway "for boys only." You can do many activities in that area, which can be fun and exciting for anybody. I used to be a Formula 1 fan (not anymore, after Ayrton Senna's death).
Although it may not sound very girlish, I'm passionate about technology and cars. But I also love design, art, and good food, which you can find aplenty. Therefore, when I visited Emilia Romagna's Land of Motors, I had a fantastic time.
In Bologna, you can mix a stroll in the beautiful historical center (on a sunny day, don't miss climbing the Asinelli Tower to get stunning aerial views of the city and the surrounding hills) with a visit to the beautiful Ducati Museum.
Modena's Piazza Grande, Cathedral, and Ghirlandina Tower are breathtaking UNESCO World Heritage sites. And a stone-throw away, you have the House of Enzo Ferrari Museum, where you can also have fun trying the Formula 1 driving simulator.
There are so many great experiences to do that you'll have a hard time choosing which ones to focus on during your getaway from Rome.
How to get to Emilia Romagna's Motor Valley from Rome
The Motor Valley's main attractions are roughly located in a circular area between Bologna and Modena. For that reason, coming from Rome, it somehow makes sense to have Bologna as the focal point.
You can reach Bologna from Rome by high-speed train or by car. However, keep in mind that Bologna is about 380 km from Rome. That means a drive of about 4 h 30 minutes, not considering possible unexpected events like road works.
Instead, the journey by high-speed train only takes 2 h 25 minutes, and if you plan your getaway to Emilia Romagna in advance, you can buy discounted tickets.
There are pros and cons in both cases. Traveling by car allows you to easily reach towns like Maranello, Ferrari's headquarters, and the two Lamborghini Museums, in-between Bologna and Modena.
The trip by train is shorter and more comfortable. Still, while you'll have no difficulties visiting the Museums in Bologna and Modena, you'll need to rely on public transportation or a taxi to reach the ones in the outskirts.
Another option would be to combine the high-speed train from Rome to Bologna, and then rent a car for one or two days if you want to explore the surrounding areas.
The choice depends on you, as well as on your itinerary. I'll suggest one further on, but there are many possible variations. Take into account that Modena is about 50 km from Bologna, a 50-minute drive or a 30-minute journey by regional train.
What to see and do in the Motor Valley
BOLOGNA
High-speed train from Rome: 2 h 25 min
Driving time from Rome: about 4 h 30 min (375 km)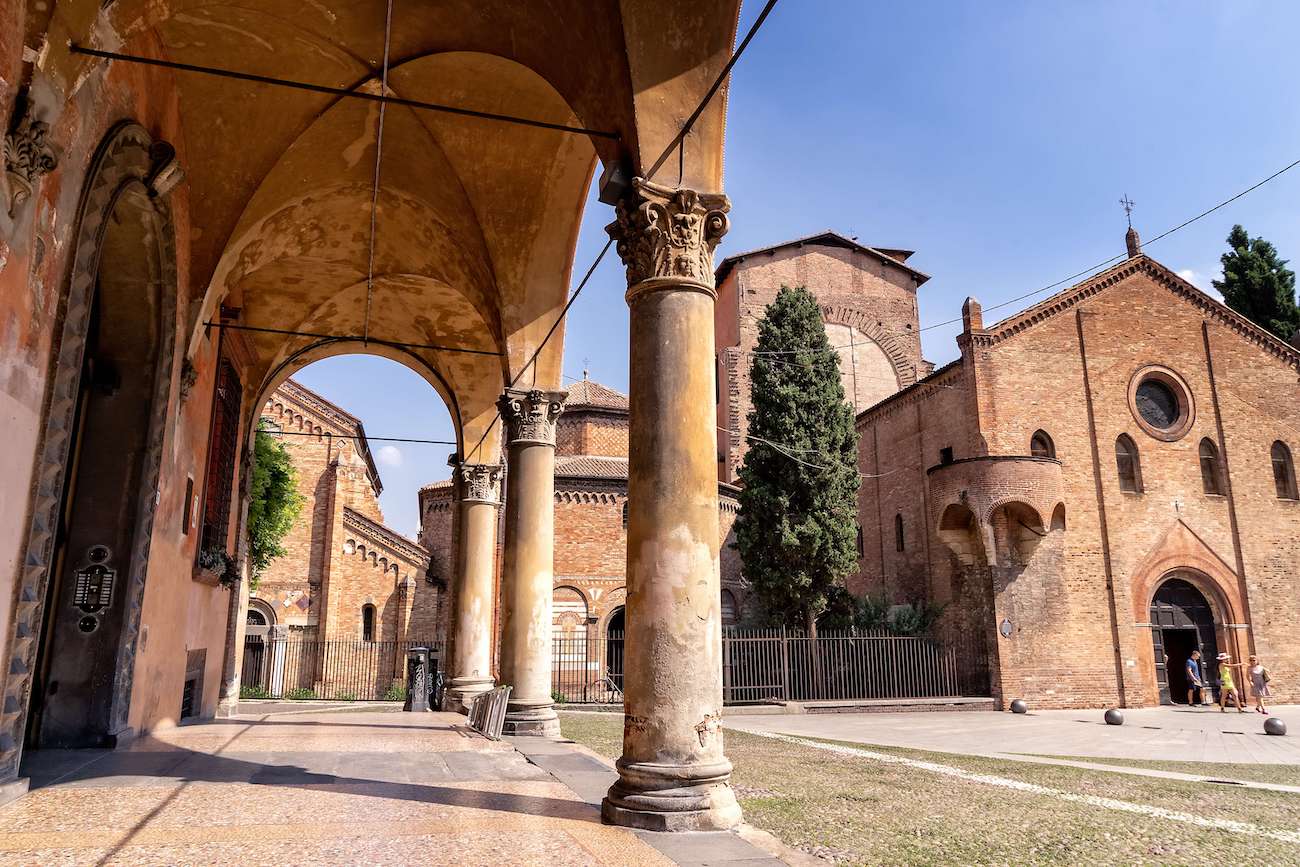 Ducati Museum
At first, I felt intimidated and even a bit skeptical. I'm not a big fan of motorbikes, know very little about the engines, and was afraid I might get bored. As it happens, I enjoyed the Ducati Museum a lot!
The museum showcases Ducati's racing history from shortly after WWII to the present day. Through the thematic rooms, I discovered fascinating facts about technology breakthroughs, history, and lifestyle.
In a way, the Ducati museum tells a piece of Italy's story, starting from recovery at the end of World War II, the reconstruction, and the sudden strong need for people to have a means of transportation.
In 1946, Ducati responded by producing a moped, which was a huge success. The first approach to races came shortly afterward, in 1949, paving the way for what would become, through unique technological innovations, one of the best racing motorbikes brands.
Looking at the motorbikes' evolution, strolling from one room to another is fascinating and a journey through history. And if you're a motorbikes enthusiast, it's also possible to visit the Ducati Factory. You'll be able to see the main phases of the production line (but don't expect industrial secrets to be revealed!).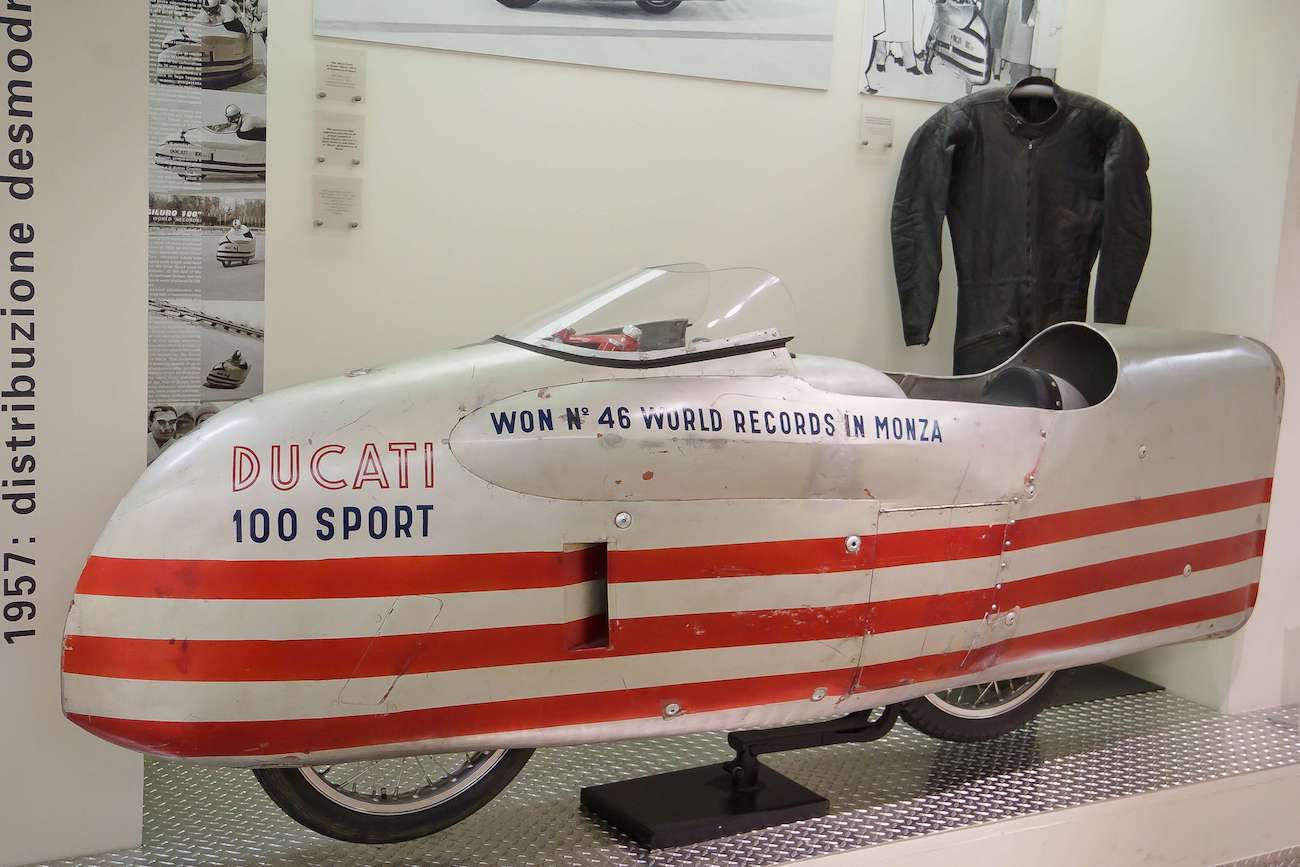 MODENA
Regional train from Bologna: about 30 min.
Driving time from Bologna: about 55-60 min. (50 km)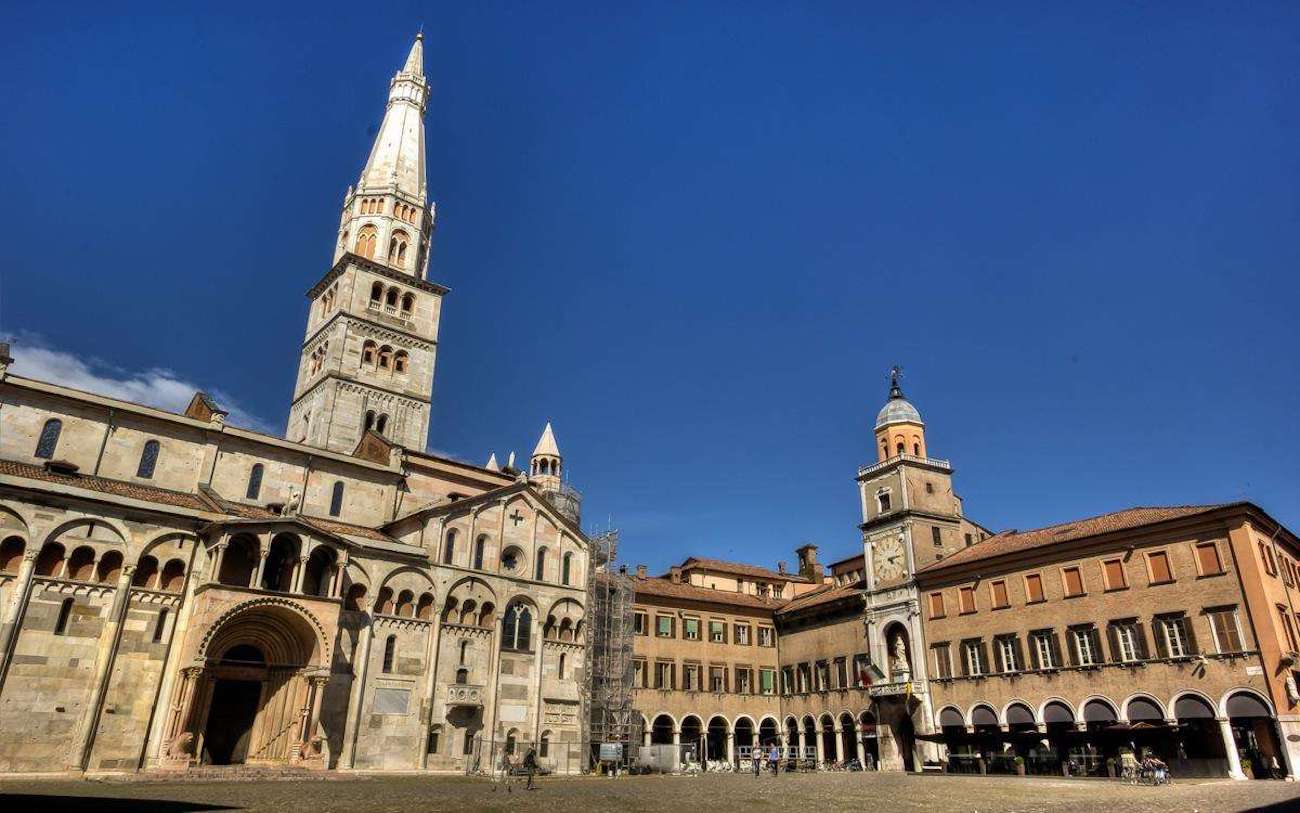 House of Enzo Ferrari Museum
In case you don't know, there are actually two Ferrari Museums: one in Modena, and another in Maranello, the headquarter of the sports and racing cars.
The House of Enzo Ferrari Museum is an impressive futuristic Pavilion built by the house where the legendary carmaker was born.
You'll start your visit from the lovingly restored old building, which once was the workshop of Enzo Ferrari's father. There, you'll retrace the fascinating history of one of the 20th century's most brilliant entrepreneurs. In the new Pavilion, you'll begin another immersive experience.
Through videos, stories, interactive tools, you'll discover more interesting facts about Ferrari and the people who made it become a legend. Many iconic cars are exposed throughout the Pavilion, laying on pedestals, enhancing their value as unique design objects, beautiful independently from their function.
At the House of Ferrari Museum, you can also put yourself in the shoes of a Formula 1 pilot, thanks to the race driving simulator. The experience is exhilarating, and believe me, it's definitely hard to get the car to remain on track!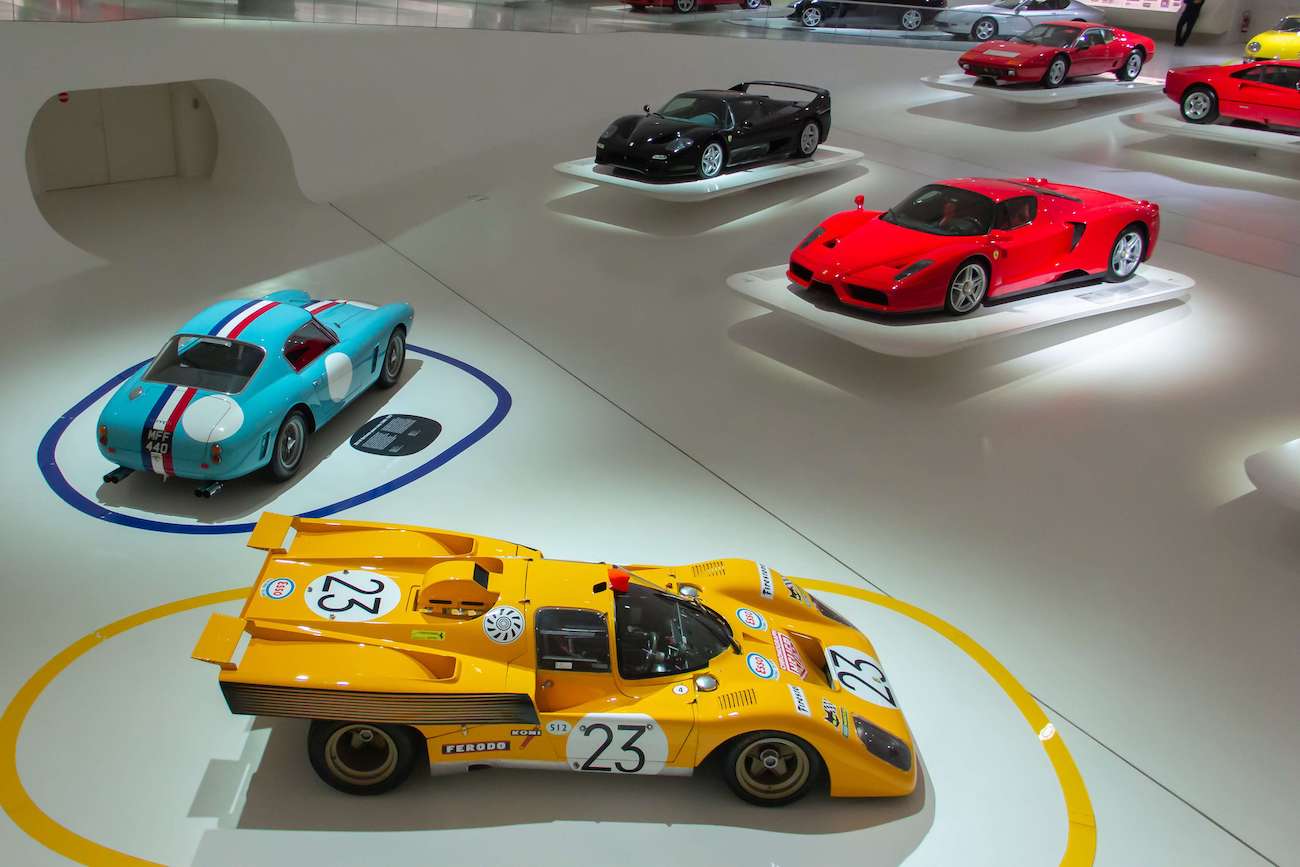 Umberto Panini Maserati Collection
Another iconic car brand, Maserati, was founded in 1914 in Bologna. Today, the Umberto Panini Maserati Collection, located in Modena's outskirts, houses some of the most iconic Maserati cars.
You'll follow the technological, historical, and design evolutions while admiring legendary cars, which marked an important step in car racing as well as in design.
If you're a racing cars enthusiast, you'll be thrilled when looking at the Maserati 6C 34, which Tazio Nuvolari (one of the first racing pilots to become a legend) drove in 1933.
You'll feel excited at the view of the Maserati 250F, the car of the unforgettable pilot Manuel Fangio and the one which introduced a woman for the first time as a racer in a Grand Prix in 1958. Then, there are many sports cars, appreciated by wealthy buyers for their engine's performance and unique design.
Even if cars are not a passion of yours, you'll find the Panini Maserati Collection very enjoyable. The vehicles are superb objects, especially the older models, which are just beautiful.
Drive a Ferrari on Modena's Racetrack
It's great to marvel at the sight of beautiful, iconic cars, but how about actually driving one? At the Autodromo di Modena, you can ride a Ferrari F430 or F458 Challenge and get a real adrenaline fix.
An instructor will show you a video about the 2.4 km winding circuit and explain how to use shift paddles and a few essential safety tips. You'll also learn when to use gas or brake to control the car.
After that, you'll be ready to wear your helmet and enter the car. No worries, though. The instructor will sit beside you, telling you what to do and when so that you can get the most of your experience. The first lap is more about reconnaissance and getting a little familiar with the car and the curves.
After that, you'll feel like you can push further, and that's when you'll get an incredible adrenaline rush. You can drive the circuit up to five laps, and it's useless to say that the fun will be over quickly at that speed. But it's one of those experiences you'll never forget.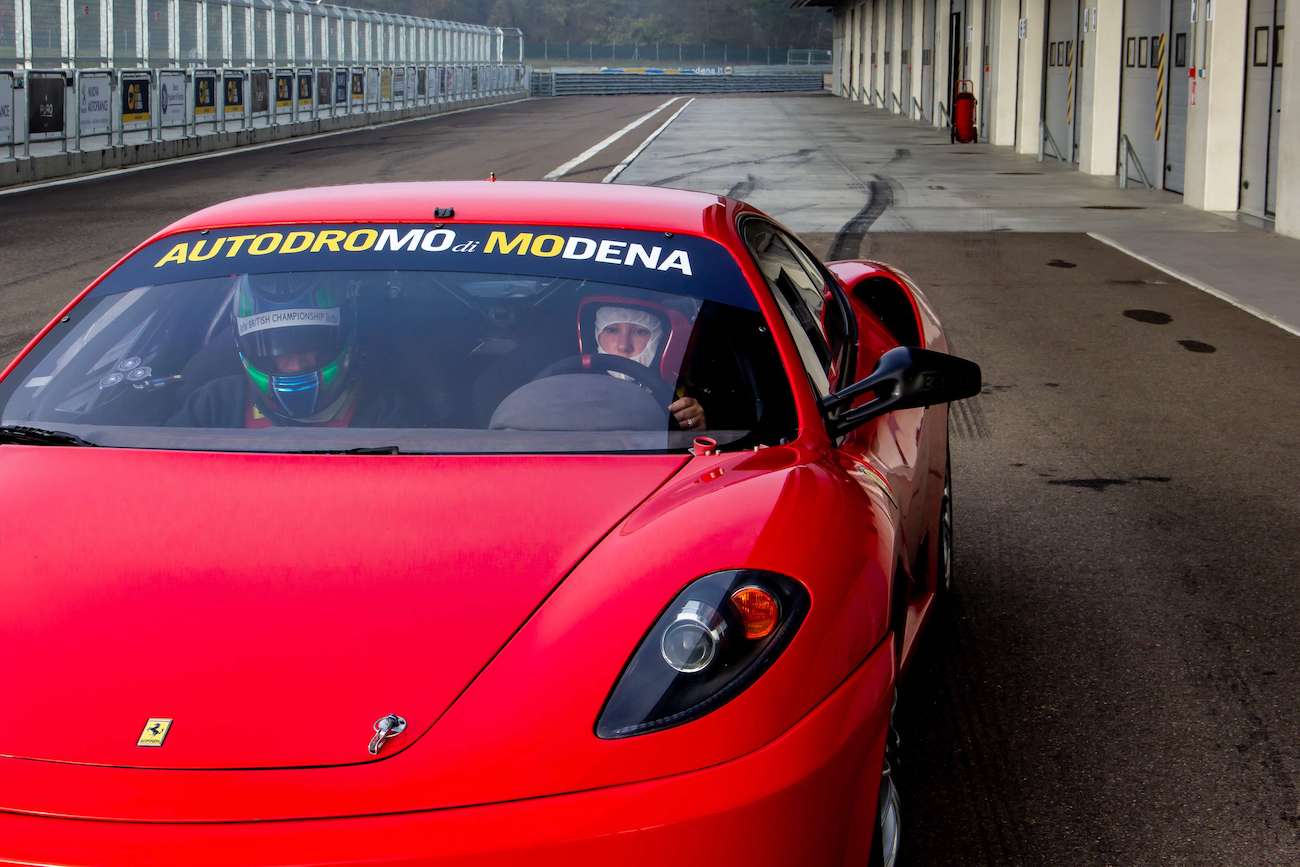 Funo di Argelato
Bus from Bologna: 35-40 min.
Driving time from Bologna: about 25 min. (15 km)
The life and achievements of Ferruccio Lamborghini tell another captivating story of genius, creativity, and innovative engineering. Although Lamborghini is famous for its luxury sports cars, Ferruccio started his entrepreneurial journey by entering the tractors' business. A multifaceted man, Ferruccio Lamborghini expanded his knowledge and passion into different industries, including the manufacturing of air conditioners and, later in his life, winemaking.
More than a traditional museum, it's a space where you'll retrace the steps of a brilliant man, his many talents, and his passions. You'll see Ferruccio Lamborghini's personal car collection, how his office looked like, and you'll discover little known stories about him, as a man and an entrepreneur. The strong link between every piece showcased and life is what makes Ferruccio Lamborghini Museum so enjoyable.
Bus from Modena: 45-50 min.
Driving time from Modena: about 25 min. (15 km)
The Ferrari Museum in Maranello is located only a few steps from the company's headquarters and factory. Whereas the House of Enzo Ferrari Museum is more of a historical, even intimate, experience, Maranello focuses on GT (Grand Tour) vehicles and racing cars.
You'll get to see cars driven by unforgettable pilots like Alain Prost, Gilles Villeneuve, Michael Schumacher, and the Hall of Trophies. As you admire the beautiful GT models, it'll be easy to see why these iconic vehicles enchanted many celebrities. Think the King of Morocco, Catherine Deneuve, Paul Newman, Frank Sinatra, only to mention a few.
If you're keen to buy a Ferrari gadget, pop in the store selling many different products for any taste and budget. Like in Modena, the racing drive simulators allow you to experience the thrill of a Formula 1 race, choosing the circuit you are keener to test.
Unfortunately, it's very complicated to reach Monte San Pietro by public transportation.
Driving time from Bologna: about 35 min. (25 km)
The private Nigelli Collection is a real treat for motorcycle lovers. The 300+ motorcycles showcased tell Bruno Nigelli's passion and highlight the history of a unique industrial district. There are, indeed, 85 motorcycle manufacturers concentrated in the area around Bologna. Some are small, others larger. Together, they create a productive reality that has no equals in the world.
Don't expect futuristic architecture and a polished exhibition style. The Nigelli Collection is a down to the earth space, speaking of an unstoppable passion and pride for the local motorcycle know-how. When I went there, it felt more like visiting a friend's fantastic hangar than a museum. And that, alone, made the visit well worth.
From Rome to Emilia Romagna's Motor Valley: Itinerary
Day 1: Bologna, Ducati Museum and the city
Traveling from Rome, you're likely to arrive around lunchtime. I suggest you head directly to the Ducati Museum to get a first taste of the Motor Valley. How long you'll spend there is really up to you, and it also depends if you're planning to visit the factory as well. In that case, be sure to book your visit in advance because the tour is, of course, guided.
In the afternoon, get back to Bologna and have a stroll in the city, famous for its porticoes covering 38 km.
---
From time to time, look up since some of the arcades' ceilings are beautifully decorated. Don't miss Piazza Maggiore, where you'll admire the iconic Fontana del Nettuno and the beautiful San Petronio Basilica, whose unfinished facade is mesmerizing. One of my favorite spots is the Archiginnasio, a gorgeous palace dating back from the 16th century, whose architecture and decorations will take your breath away.
In the evening, relax in a Trattoria, savoring Tortellini in brodo or Tagliatelle al ragù. There are several good places, but I particularly like Trattoria Anna Maria, famous for its home-made pasta.
Day 2: Modena, old town, Enzo Ferrari House Museum, and more
Travel to Modena and start your day at the Enzo Ferrari House Museum, which you can visit by yourself or by taking a guided tour (which you should book in advance). Once you've admired enough iconic cars, you can have a look at the Ferrari shop and buy a couple of gadgets to remember a memorable day. For a bit of action and a lot of fun, I suggest you try the race drive simulator. You'll be surprised how tough it is being a Formula 1 pilot.
From the museum, head to Modena's historical center to the superb Piazza Grande, Cathedral, and Ghirlandina Tower. You'll discover some of the most beautiful examples of Romanesque architecture and sculpture. Stroll in the alleys surrounding the piazza, where you'll find more charming spots.
After lunch, you can choose between different options.
In case you're keen to see more cars, visit the Panini Maserati Cars Collection. If you always dreamed of racing a Ferrari on a real circuit, you can have your dream come true at the Modena racing circuit. It's pricey but a once-in-a-lifetime experience. Be sure to book in advance to avoid a last-minute disappointment.
You may want to take a break from cars, motorbikes, and engines, though. In that case, I suggest you visit a Traditional Balsamic Vinegar producer. Of all the specialty food making I had the chance to see, Traditional Balsamic Vinegar is the most fascinating. You'll get to discover the years-long and lovingly process with which this nectar of the gods is extracted to create a condiment where every drop is a concentration of flavors and scents.
As for restaurants, Modena is home to the Osteria Francescana, run by the famous chef Massimo Bottura, 3 Michelin stars, and considered one of the best chefs in the world. Budget aside, if you want to have this unique culinary experience, you'll need to book months in advance. No worries, though, if you just want something simple and more down to the earth. There are many trattorias where you can have excellent food at very reasonable prices.
Day 3: Maranello (Ferrari Museum), or Funo di Argelato (Ferruccio Lamborghini Museum)
On your last day exploring Emilia Romagna's Motor Valley, you have once again two options. The first one is to head to Maranello for another full immersion in the Ferrari world. However, you may want to admire and know more about another iconic car brand. In that case, you can visit the Ferruccio Lamborghini Museum in Funo di Argelato, not far from Bologna.
Should you decide to spend the morning in Maranello, I suggest you have lunch at the nearby Trattoria Montana (2km away, in Fiorano Modenese). The place is teeming with Ferrari memorabilia: pilot's jumpsuits and helmets, photos of celebrities who ate at the restaurant, trophies, and more. You'll really get into the Ferrari mood!
Time to head back to Bologna and then all the way to Rome. Before heading back home, why not have another stroll in Bologna and maybe buy delicious hand-made pasta to cook at your place? If so, pop round to Le Sfogline, a small shop managed by ladies lovingly preparing the local specialties.
Author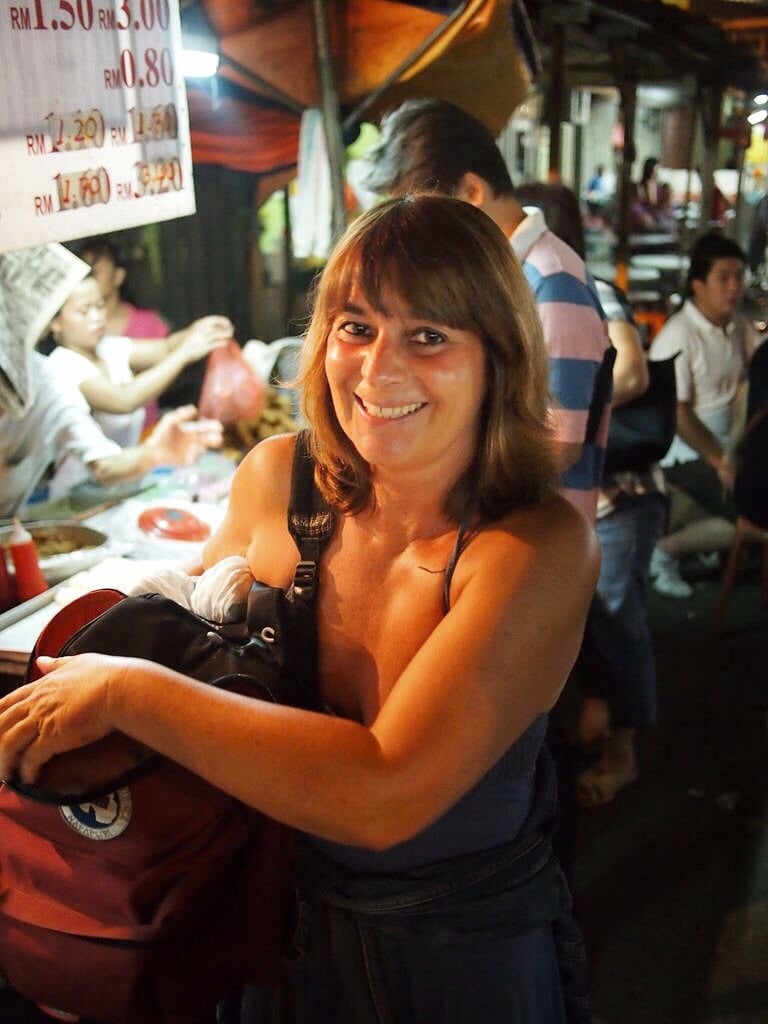 A solo traveler for 20+ years, Simon Falvo is passionate about nature and hiking and also art, architecture, and design. She is always on the look for lesser-known destinations, and in her blog, Wild About Travel, she tells stories of her journeys in words and photography.
You may also like