He is not only one of the artists whose Emilia Romagna (and Italy as well) is most proud, he is also, on closer inspection, one of the most passionate historical evidence that, after more than 200 years after his birth, still knows how to convey the love for his land.

Giuseppe Verdi has made known (and he will continue to do so thanks to his heritage) to the whole world his attachment to the origins, to the territory along the Po river between Parma and Piacenza.
He has been able to concentrate in 27 works all shades of feelings and sensations than ever abandon those who were born and grew up in the fog, heat, art, perfumes, traditional cuisine and vast expanses of fields dotted by small villages.



Giuseppe Verdi's father was the owner of a small inn in Roncole di Busseto where he also sold wine, spirits, coffee, sugar and other food products: hence probably derived the love and attention that the great composer always demonstrated for the land and its products.

In 1851, Verdi moved in a large house at Sant'Agata, near Busseto but already in province of Piacenza.
Here he composed Il Trovatore, La Traviata, La forza del destino, Don Carlos, Aida and the latest masterpiece, Falstaff.
This is where he preferred to receive close friends rather than attending social gatherings in Parma and Milan, and here he even began to take an active interest in agricultural production of his lands and cattle breeding.



Maestro Verdi deeply loved wine and as soon as the finances allowed it, he bought the land surrounding the Villa Sant'Agata, where he planted a large vineyard.
Thanks to the preserved letters, he has been described as a man used to getting up at sunrise to oversee works of his estate, where he raised horses, cows, sheep, and that, even when music led him away, he took care to write to factors to discuss in detail how to take measures to reconstruct the irrigation canals.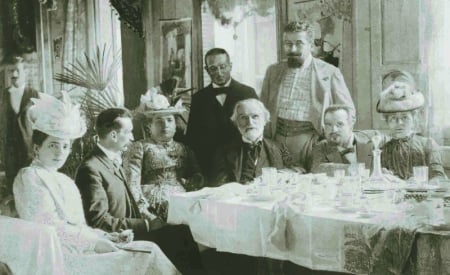 Therefore, it isn't a surprise that Verdi's lyrics have hosted more often scenes related to food and wine. And we should not forget that food and wine, consumed in 800 stages, were a side dish of the opera performances.
Inns, taverns, private banquets and toasts abound in Verdi's librettos: sometimes they are just a setting, sometimes – as in Falstaff – key places from which starts the action.
The Traviata begins around a dinner table, the time of a chat and shoot the famous Libiamo ne' lieti calici.
Otello begins in a tavern: after a few bars, here is a toast to celebrate the return of the hero.
Rigoletto starts in a convivial atmosphere and it's during a banquet that the shadow of Banco appears in Macbeth, in the second act. Sicilian Vespers starts with a toast, and it would be impossible to think of Falstaff without the "Osteria of the Garter" (which not coincidentally appears at the beginning of all three acts of the work).



A witness to the interest that Giuseppe Verdi had for good food, the many letters written by himself and his partner in life, Giuseppina Strepponi, reporting tips, recipes and cooking anecdotes.
Among the most popular products at home Verdi, the spalla cotta di San Secondo and anolini, combined with a good glass from Colli Piacentini Gutturnio or Malvasia from Colli di Parma.
Author
You may also like