For International Women's Day, we wanted to tell you a story you might not have heard.
Alfonsina Strada was the first (and only) woman to compete in the Giro d'Italia cycle race and is now considered a pioneer of gender equality in sport.
Born Alfonsina Morini on 16 March 1891 near Bologna – in Riolo di Castelfranco Emilia, to be exact – she was the second of 10 children in a humble country family.
She was given her first bicycle at the age of 10, when her father came by a rickety old machine that still did the job. Alfonsina learned to ride, and her passion for the bike was born.
Before turning 14, she had already entered several races in her area.
In 1911, aged 20, she broke the women's world speed record – 37 km/h – earning herself the sobriquet "the devil in a skirt" among the Castelfranco locals. But her parents did not approve; they tried to dissuade her and even said that if she wanted to keep competing she would have to leave home and get married.
So four years later, she duly tied the knot with mechanic Luigi Strada, who encouraged her to follow her dream: his wedding present to her was a new racing bike! They moved to Milan and pressed ahead with Alfonsina's sporting career, as she began serious, regular training with Luigi's support.
After World War I broke out, many sporting events were shelved. The Tour of Lombardy, a race starting and finishing in Milan, was one exception, and Alfonsina applied to enter it in 1917. There was no rule to stop her, so her entry was accepted. In what was her first official road race against male athletes, riding as number 74, she completed the 204-km / 127-mile course (unlike some of the men), finishing last a full 90 minutes behind the winner.
A few years later, in 1924, she became the first woman ever to ride the Giro d'Italia. Her determination paid off, as the Giro was struggling to find entrants that year, the big names having boycotted the event in protest at the meagre prize money. So the competition was thrown open to riders without a regular team, thus opening the door for Alfonsina.
In 1924, though, the Giro d'Italia meant 3618 km (2248 miles) in 12 stages on unmetalled roads, at the mercy of dust, rain, wind and potholes, on fixed-gear bikes weighing nearly 20 kg! Nevertheless, Alfonsina more than did herself justice on the early stages. She earned respectable finishes on the Milan–Genoa, Genoa–Florence, Florence–Rome and Rome–Naples stages, proving that women were eminently capable of such a herculean task. Stage after stage, the public and media interest – be it supportive or hostile – began to snowball.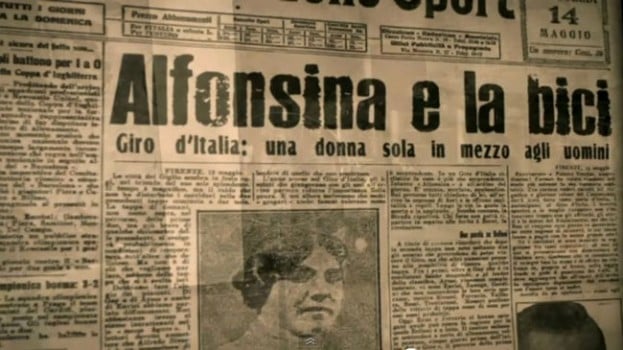 But disaster struck on stage eight, from L'Aquila to Perugia – 296 lung-bursting kilometres in wet, windy conditions. Alfonsina fell off and broke her handlebar; after a cobbled-together repair with a broom handle, she eventually wheeled in to Perugia in the dead of night, long after the cut-off time.
Under the rules, she had to be disqualified.
But the editor of the Gazzetta dello Sport, Emilio Colombo, had seen how much public interest the first ever lady cyclist had aroused, and he proposed a compromise: Alfonsina would continue, albeit not as part of the official classification.
Colombo paid for her accommodation and masseur for the remainder of the race out of his own pocket. So she resumed the race, following the same rules as the other riders, returning to Milan as one of only 30 of the original 90 starters to complete the course.
Sadly that was the last time Alfonsina was allowed to enter, but she would follow the peloton for long stretches all the same, winning the respect and friendship of many riders and journalists of the time.
In those days, the era of champion Costante Girardengo, when cycling was probably the most popular sport in Italy, a woman from Emilia was the first to blaze a trail for women racers.
Alfonsina's story reminds us that gender equality in competitive sport is a struggle that began over a century ago and is yet to be fully won. But by celebrating female athletes like Alfonsina Strada, all women and girls can take heart and believe that they can achieve just as much as the men.
Author
You may also like