"I always say that in our blood there is no blue blood, there are pins". (Micol Fontana)

Sorelle Fontana (literally "Fontana Sisters", also known as Sorelle Fontana, Alta Moda srl) is an Italian fashion house, specialized in production of high-fashion couture.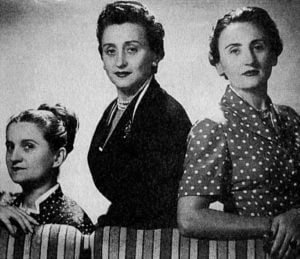 This is a story of brilliance, creativity and willpower, and, like many other stories that mix these ingredients, it begins in Emilia Romagna. This is the story of three women still known as "The fashion sisters".
Born in Traversetolo, province of Parma, Zoe , Micol and Giovanna Fontana began just girls to work helping their mother who was a seamstress. "The women in our family have always done this job – said Micol in one of the last interviews -. Two hundred years of family's knowledge has been handed down from our mother, grandmother and great-grandmother".
But the country life was too narrow according to the three sisters. Zoe, the oldest, after short stays in Milan and Paris, in 1936 decided to literally catch the first train that passes from the station of Parma, armed with suitcase, huge talent and determination: and so it was, it was a train that brought her to Rome. After two months she was reached by the two sisters and from there they would never come back.

Zoe, the first who started the adventure faraway from home, started working a in "Zecca tailoring" just from the first days in Rome, Micol instead begins just arrived to sew in a workshop, while Giovanna prefers to work at home. In 1939 the three seamstresses become entrepreneurs: they starting their own and rented an apartment in Via Emilia, which acts as a studio and residence. Destiny, lucky coincidence, the roots stronger than the distance or just a case: what is certain is that brought them a lot of luck.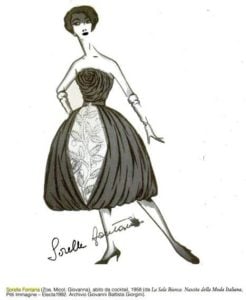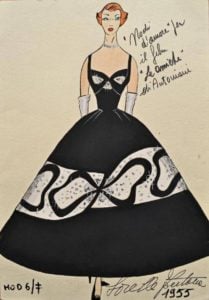 Elisa Massai, the pioneer of fashion chronicles, recalls: " They had the traditional skills and intuition of those who rise through the ranks. They made an Italian fashion, at least in embryonic form and they were the first". From Traversetolo to the Italian capital to open the doors of Made in ItalyFashion Olympus.
The turning point of their career happened in 1949, when Linda Christian bought a Fontana dress for her wedding with Tyrone Power. From then their brand gradually raised in the international jet set, and they dressed many celebrities and also several heads of state, notably Elizabeth Taylor, Audrey Hepburn, Ava Gardner, Grace Kelly, Jacqueline Kennedy Onassis, Queen Soraya, Infanta Beatriz of Spain, Frederica of Hanover, Anita Ekberg and Joan Collins.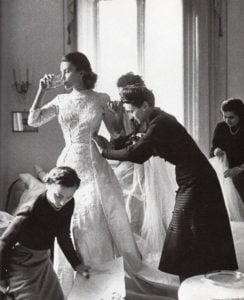 In 1950, they became ambassadors of Made in Italy all over the world once again thanks to signing the first uniform of Alitalia's hostess. In 1951, Fontana sisters were the protagonists, along with other tailors, of the birth of the High Italian Fashion, which took place in Florence, insidePalazzo Pitti's Sala Bianca, with the memorable parade organized by the Marquis Giorgini.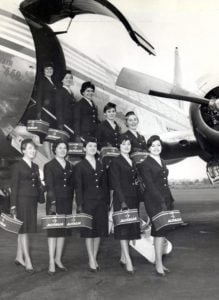 Author