Few cities in the world can sum up the roaring spirit of the Belle Époque like Salsomaggiore Terme, near Parma.
Salsomaggiore was the place to be for the European jet set. Here you could encounter intellectuals, artists, noblemen, industrialists and of course their stunning wives, lovers and muses. During this time the city flourished and became a true Art Nouveau masterpiece.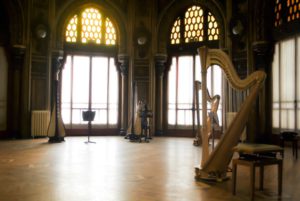 Everybody (more or less) know the Terme Berzieri, also known as "the most beautiful spa in the world". But another amazing example of true Art Nouveau in town is Taverna Rossa, the most private room of the Grand Hotel des Thermes. Its a big salon that was intended to host masquerade balls but also small concerts. It was a sot of private room for VIP guests such as Queen Margherita, Gabriele D'Annunzio, Franca Florio or the Tsarina of Russia.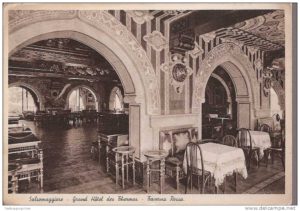 When Ritz and Pfifer decided to build a luxury hotel, Salsomaggiore was nothing but a small village and this beautiful building looked like a white elephant in the middle of it. However after a few years, when Salsomaggiore became one of the most popular social life's center, the hotel needed some renovation works. This is why painter and ceramist Galileo Chini was brought here after the completion of the spa. Chini created an unique environment that mix Moroccan and Chinese style.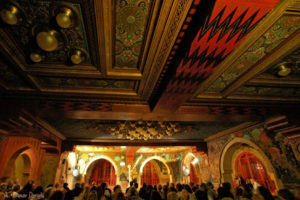 The Taverna Rossa could give you the impression of entering an exotic palace's hidden chambers, where arches and architectural decorations recreate a false perspective effect of amplifying the space. The ceiling is painted with geometric embroideries that look like authentic Turkish tapestry and the chandeliers help create a psychedelic effect. The frescoes on the walls depict scenes from nature with herons, peacocks and there's even an underwater theme corner decorated with deep sea fishes and jellyfishes. A bright red color have a dominant effect, it's a blood-like red that was inspired by the ancient Chinese lacquer.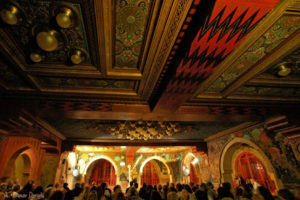 Many thanks to www.weloooooveit.com for the help.
Author