If you are looking to travel to Italy for the sole purpose of eating the best Italian food out there, Emilia Romagna is the place to go. Home to Italian classics like Parmigiano Reggiano, Prosciutto di Parma, and traditional balsamic vinegar, it is a land where food history and tradition are part of the life blood.

The Food Traveler's Guide to Emilia Romagna can help you plan the perfect trip through the breadbasket of Italy. In a full 250 pages of culinary guide book yumminess, the guide walks through the key products of the region, and how to taste them. Yes, that means there is an entire chapter on topics such as cheese, meat, pasta, and even gelato!

Part II of the book explores the wines of Emilia Romagna, and how to taste them.
If, by the end of Part II you are not either: 1) drooling all over your copy of The Food Traveler's Guide to Emilia Romagna; or 2) booking your flight to Bologna, Part III includes the practical side of exploring Emilia Romagna for food. This includes how to get to Emilia Romagna, how to get around,where to stay, and, most important: where to eat in Emilia Romagna!
To whet your taste, here is an excerpt of the book's Culinary Glossary:
A
anolini: similar to a ravioli, stuffed with cheese or meats
antipasti: a starter or appetizer
B
bollito misto: mixed plate of boiled meat
burtleina: a meat bread with the consistency of an omelet
C
cappone: usually referring to the broth that is served with tortellini or cappelletti that is made from a castrated rooster
cappelletti: smaller version of tortelloni, generally stuffed with ricotta cheese; during the holidays it is served in a meat broth
carpaccio: sliced raw meat, normally beef
chisolini: deep fried bread fritter
contorni: side dish, often a vegetable or potato
coppa: pork neck salami, with two versions, Coppa Piacentina DOP and Coppa di Parma IGP, not to be confused with coppa di testa, which is head cheese
coppia ferrarese: twisted sour dough bread
cotechino: fresh ground pork sausage made with less tender cuts of meat
culatello: pear shaped cured meat, served sliced, the best being Culatello di Zibello
E
enoteca: wine shop and wine bar, often serving food
G
garganelli: thinly rolled pasta, cut into squares, and then rolled around a small wooden stick
gnocchi: pasta made with potato
gnocco fritto: fried, puffed bread, normally in Modena
gramigna: hollow, curly, tube like pasta, made by running the pasta through a machine that looks like a small sausage maker
guanciale: cured pork cheek
M
mortadella: pale pink pork sausage usually served sliced or in cubes
N
nocino: liquor made from hazelnuts
O
osteria: less formal than both a restaurant and a trattoria
P
pancetta: more fatty than other cured porks, characterized by alternating ribbons of deep red and white
passatelli: dense, rolled pasta, made with Parmigiano Reggiano
pesto: pressed or blended, in Emilia Romagna often fresh pancetta or lard mixed with rosemary or garlic
piadina: thin, flat bread from Romagna
porchetta: stuffed pork
primi piatti: a pasta or risotto course, the first main course, or the carb course
R
ragù: meat sauce
S
salame: a singular round of cured meat
salami: the plural of salame
salsiccia: sausage
salumi: general word for cured meats
salumeria: Italian deli where cured meats are sold
secondi: a meat or fish course; the second main course
squacquerone: soft, fresh, spreadable cheese
T
tagliatelle: flat ribbon pasta, a similar shape to fettuccine
tavola calda: cafeteria style restaurant
tigelle: or crescentine, a dense round meat bread
torta fritta: fried, puffed bread, normally from Parma
tortelloni: small half moon shaped pasta, generally stuffed with cheese or meat, served in a cream sauce (crema), drizzled with balsamic vinegar (Tortelloni Vecchia Modena), or in a butter sage sauce
tortelli: similar to a ravioli, in Piacenza it is often stuffed with ricotta and spinach (tortelli con la coda, which is longer, and more twisted than elsewhere)
tortellini: smaller version of tortelloni, traditionally served in a meat broth (tortellini in brodo) but also often offered in a cream sauce (crema)
trattoria: more formal than an osteria, but less formal than a restaurant
Z
zampone: stuffed pig's trotter
About With Husband In Tow
After ten years as a corporate tax attorney, Amber left her job at the largest law firm in the world to travel. She is now a recovering tax lawyer, travel writer, and social media consultant, who travels With Husband In Tow. Together, they seek new adventures in food, wine, and luxury travel.
More on Emilia Romagna from the With Husband In Tow
 | 
Get your copy of the Guide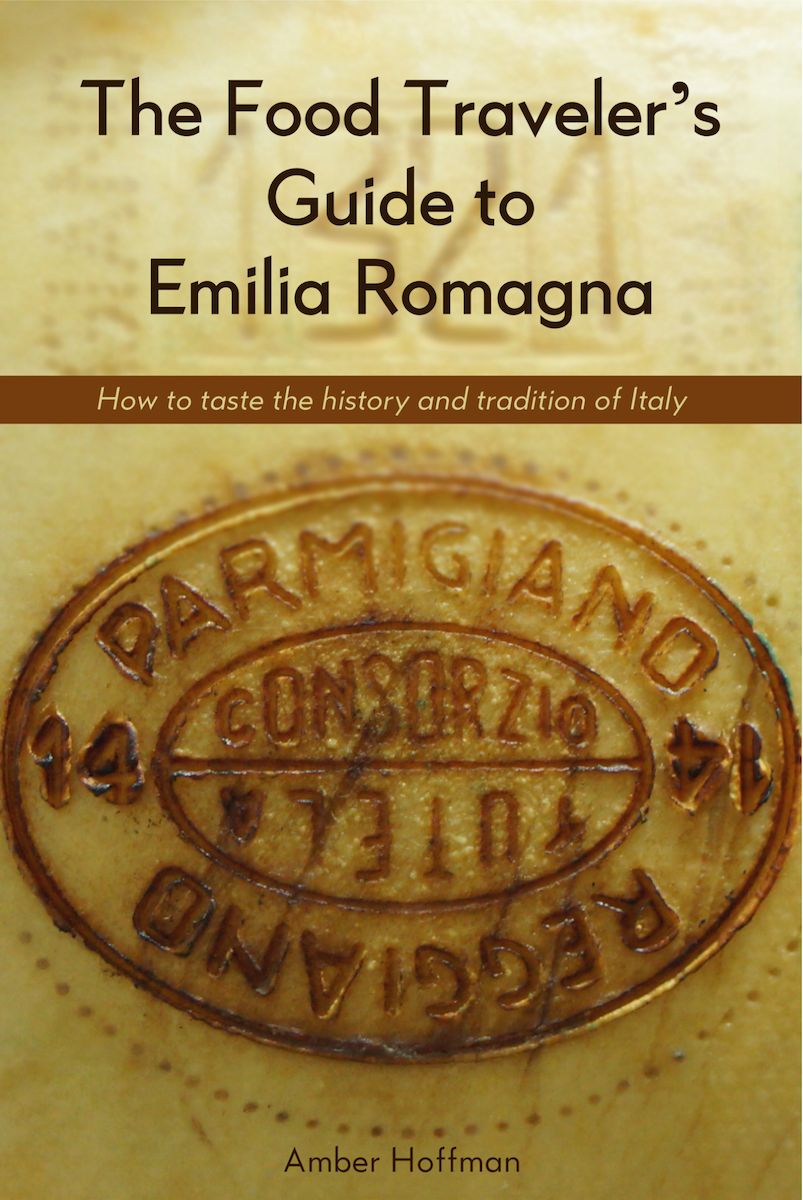 Author